6 Things to Know About the U.S. Housing Market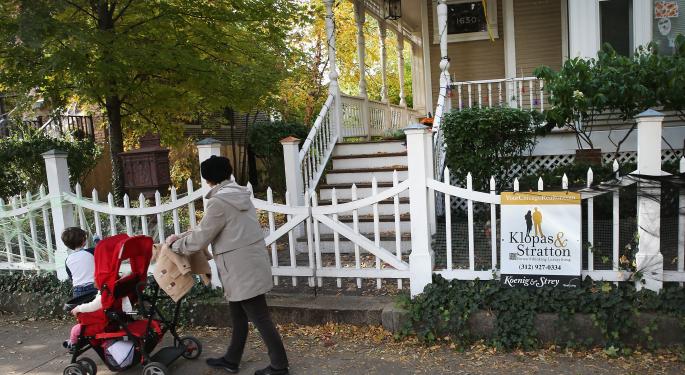 Buying a house? Thinking of selling your property? A lot of data came out in the last week that might help shape how you think about the important deal ahead. Here are some of the most important takeaways:
Sales have dipped a bit
Existing home sales in October were down slightly from September. But that doesn't mean housing is crashing. Single-family sales were off 3.2 percent from September, according to the National Association of Realtors. But October sales were up 5.1 percent from a year ago, to a seasonally-adjusted rate of 5.12 million units. The market for existing homes peaked at a 5.39 million-unit-rate.
The Realtors' conclusions are supported by data from Zillow (NASDAQ: Z), the online listing service. It also saw some slippage in sales across the country.
In addition, the Realtors' index of pending home sales was off 0.6 percent in October from September. Are the month-to-month declines a big deal? Probably not. Not unless interest rates shoot markedly higher.
Price increases are moderating
The S&P/Case-Shiller Home Price index of 20 markets was up one percent in October over September, and 13.3 percent from a year ago. But the size of the gains fell back as the year rolled along.
That's partly due to buyer unwillingness to pay up,  and partly because there have been fewer bids by money-management houses to buy distressed properties and rent them out.
Market performance varies
Zillow estimated the median price of a house in the United States at $162,800 in October. From the data they see, the price is down 0.1 percent (in other words, practically nothing) from September. There were month-to-month declines in such markets as St. Louis, Chicago, Dallas, Baltimore, Pittsburgh and Philadelphia.
Prices shot up 30 percent or more from a year earlier in Las Vegas, Riverside, Calif.; and Sacramento. Those were three of the hardest-hit markets during the housing crash.
Zillow is projecting prices will increase 2.7 percent between October 2013 and October 2014.  
So, are these price changes uniform? Of course not. All real estate markets are local, and prices react to local conditions.
The outlook for construction is improving
The Commerce Department weighed in on the topic on Tuesday -- bullishly. Building permits in September were at a seasonally adjusted 974,000 units. In October, the permit rate jumped to 1.034 million units, the best number since January 2008, when the housing market was in the process of collapsing.
Building permit data have two strengths: They reflect what builders are filing for at their local planning departments. And, as important, they offer a glimpse at what to expect over the next six months or so. If interest rates don't change much, 2014 should be a good year for construction and the economy.
If you want to get a feel for the housing market going forward, watch permits.
Housing is starting to rejoin the economy
Just how much is residential construction worth to the economy? In the third quarter, investment in residential construction represented 3.17 percent of gross domestic product, according to the Bureau of Economic Analysis. That was the tenth quarterly gain in a row. That's part of the good news.
Here's another piece of the good news. 3.17 percent is a big improvement. In the third quarter of 2010, housing construction represented 2.4 percent of GDP.
The bad news is residential construction since 1970 has averaged 4.52 percent of the GDP. So the current level of residential investment is still roughly a third lower than the long-term trend. Housing most definitely has a ways to go.
But was the housing market completely crazed in 2005 and 2006? Indeed, it was. Building permits reached 2.16 million units in 2006, the second-highest level ever after 1972's 2.22 million units. Building permits have averaged 1.37 million units since 1959.
Residential construction investment reached 6.67 percent of GDP in the fourth quarter of 2005. That's 45 percent greater than the long-term average.
The stock market is noticing...
...and it has been for some time. The iShares U.S. Home Construction (NYSE: ITB) exchange-traded fund, which tracks building stocks, is up 260 percent since bottoming on March 6, 2009. It was up 78 percent in 2012, but to get to the bottom meant a decline of 87 percent from 2006.
The ETF has had a volatile year. It was up as much as 26 percent in mid-May, when the Federal Reserve started to talk about tapering its bond purchases. That sent the bond market into a tizzy, pushing mortgage rates up to 4.67 percent, according to Bankrate.com. And it sent the ETF's price down 21.2 percent by Sept. 5, wiping out all of its gains for the year.
But the rebound since September has been strong: The ETF is now up 10 percent for the year. 
Zillow has been buffetted around by all the talk about Fed tapering. The stock went public at $20 in July 2011. It surged 402.5 percent by September, then fell back more than 22 percent. It's still up 176 percent for the year.
View Comments and Join the Discussion!
Posted-In: Housing housing constructionNews Bonds Economics Pre-Market Outlook After-Hours Center Markets Best of Benzinga