Buy Illinois Stocks, Not Chicago Bonds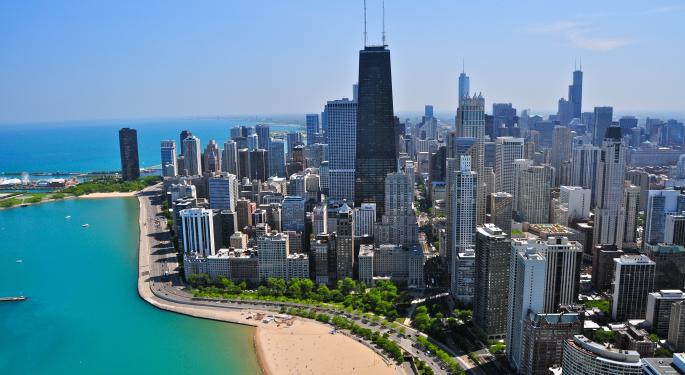 In a recent article in The Wall Street Journal by Michael Corkery and Matt Wirz, "Hedge Funds Muscling into Munis," it was reported that hedge funds are buying bonds from Chicago and other distressed cities.
According to Richard Larkin, Director of Credit Analysis at H.J. Sims & Co., "I don't think any good can come of this." Individual investors should heed that advice and buy the equity of publicly traded companies in Illinois, rather than the shaky debt of Chicago.
Fitch just downgraded the debt of Chicago by three notches. Even though the finances of the city of Chicago and the state of Illinois are a disaster, there are many fine companies headquartered in the "Land of Lincoln."
Three blue chips suitable for a long term investor's portfolio based in Illinois are Boeing (NYSE: BA), Caterpillar (NYSE: CAT), and Illinois Tools Works (NYSE: ITW). Each of these firms performs much better in providing income to investors than does a bond.
The yield for Caterpillar, the world's largest equipment manufacturer, is 2.86 percent. For Illinois Tool Works, which makes diversified machinery, the dividend paid is at a rate of 2.13 percent. Boeing, the largest U.S. exporter by dollar value, has a dividend yield of 1.47 percent. What makes the income stream even more appealing is that each of those companies has a history of increasing its dividend yield.
Related: Buy Michigan Stocks, Not Detroit bonds
Illinois Tools Works is a Dividend Aristocrat.
To earn that title, a company must have increased its dividend annually for 25 consecutive years. Boeing has pledged to increase its dividend and take other measures to return cash to its shareholders. All have sufficient cash flow to increase the dividend or initiate stock buyback programs to reward shareholders.
Wall Street is bullish on the prospects of each of these stocks, too.
That can hardly be said about municipal bonds for Chicago and other localities as the prices are so low for a reason. Now trading around $132 a share, the mean analyst target price for Boeing over the next year of market action is $144.83. The analyst community projects Caterpillar rising from about $83.95 to $90.00 over the same period. Illinois Tool Works is expected to increase from around $78.80 to $82.75 over the next twelve months of trading.
With the dividend yield folded in with a history of growing and the possibility of stock buybacks, that should result in a healthy total return for long term investors.
View Comments and Join the Discussion!
Posted-In: Long Ideas News Bonds Dividends Dividends Financing Economics Markets Best of Benzinga