Market Wrap: New Highs for Airlines, Boeing Boost Stocks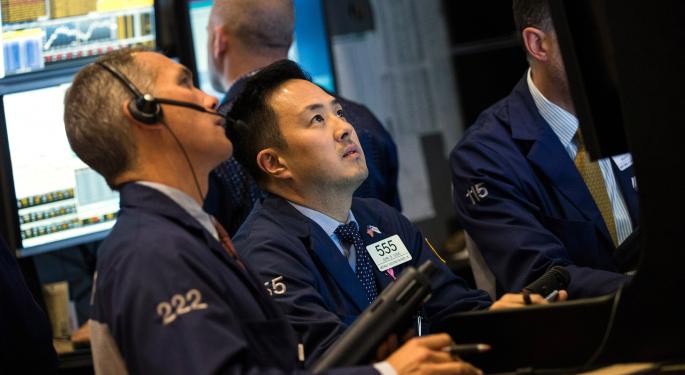 Stocks moved modestly higher on Monday for a second day in a row. The gains came despite a steep losses suffered by shares of mobile phone maker BlackBerry (NASDAQ: BBRY) and Kellogg (NYSE: K [FREE Stock Trend Analysis]) announcement it will cut seven percent of its workforce over the next several years.
The gains were fairly broad. Not only did the major indexes move higher, but small- and mid-cap indexes moved higher as well. In addition, the Dow Jones Transportation Average finished at a new high of 7,129 as a number of airlines and air freight services hit all-time highs, including Alaska (NYSE: ALK), Delta Air Lines (NYSE: DAL), FedEx (NYSE: FDX) and United Parcel Service (NYSE: UPS).
The Dow Jones industrials finished up 24 points, or 0.15 percent, to 15,639. The Standard & Poor's 500 Index rose six points, or 0.4 percent, to 1,768. The Nasdaq Composite Index added 15 points, or 0.4 percent, to 3,937.
The 10-year Treasury yield dipped to 2,602 percent from Friday's 2.62 percent.
Top Headlines
The airlines moved up in response to oil prices that have been falling since early September. Crude oil in New York settled at $94.62 a barrel -- up a penny, but it is off 13.5 percent since reaching $110.53 a barrel on Sept. 6.
Boeing (NYSE: BA) also hit a new high of $133.99 before falling back to $132.79, down 24 cents. That may be pure profit-taking. The shares are up 13 percent for the quarter and 76 percent for the year.
Also enjoying big days were oil and gas production shares, including Pioneer Natural Resources (NYSE: PXD),
Chesapeake Energy (NYSE: CHK), and Newfield Exploration (NYSE: NFX). Exxon Mobil (NYSE: XOM) added 2.54 percent to $92.10, the best performer among the 30 Dow stocks. The shares are up 8.1 percent since Oct. 9.
Equities Trading UP
Kellogg reported a 2.5 percent rise in its third-quarter profit and announced plans to cut its workforce by seven percent by 2017.
Kellogg's quarterly profit surged to $326 million, or $0.90 per share, versus a year-ago profit of $318 million, or $0.89 per share. Excluding one-time items, it earned $0.95 per share. Its sales fell 0.1 percent to $3.72 billion. However, analysts were expecting earnings of $0.89 per share on revenue of $3.71 billion. Shares closed up 0.7 percent to $62.72.
Extreme Networks (NASDAQ: EXTR) shot up 17.2 percent to $6.30 after the company reported FQ1 results. Shares of AK Steel Holding (NYSE: AKS) got a boost, shooting up 8.7 percent to $5 after Goldman Sachs upgraded the stock from Sell to Buy.
Realogy Holdings (NYSE: RLGY) was also up, gaining 7.6 percent to $43.77 after the company posted a profit in the third quarter.
Equities Trading DOWN
BlackBerry shares slumped 16.4 percent to $6.50 after the company abandoned its plan to sell itself. The company also announced its plans to replace CEO Thorsten Heins. Ryanair Holdings plc (NASDAQ: RYAAY) shares tumbled 9.4 percent to $45.62, after the European discount airline operator cut its profit outlook for the year.
World Acceptance (NASDAQ: WRLD) was down, falling 12.2 percent to $88.89 after the company announced the resignation of its President and Chief Operating Officer Mark Roland.
Commodities
Crude oil traded down 0.01 percent to $94.62 a barrel; Brent crude was up 11 cents to $106.02. AAA's Daily Fuel Gauge report put the average price of gasoline at $3.252 a gallon. That's down from $3.275 on Friday and 14.1 percent from the year's high price of $3.786 a gallon, reached on Feb. 27.
Meanwhile, gold traded up 0.11 percent to $1,314.70 an ounce. Silver traded down 0.63 percent Monday to $21.70. Copper fell 1.38 percent to $3.253 an ounce.
Eurozone
European shares were higher Monday.The Spanish Ibex Index rose 0.36 percent, while Italy's FTSE MIB Index gained 0.76 percent. Meanwhile, the German DAX rose 0.33 percent and the French CAC 40 gained 0.36 percent. Britain's FTSE-100 INdex rose 0.43 percent.
Economics
U.S. factory orders rose 1.70 percent in September, while August orders declined 0.1 percent.
Posted-In: CommoditiesEarnings News Bonds Commodities Treasuries After-Hours Center Markets Best of Benzinga
View Comments and Join the Discussion!