Market Wrap for October 23: Stocks Fall Back as Caterpillar and Cree Forecasts Dismay Traders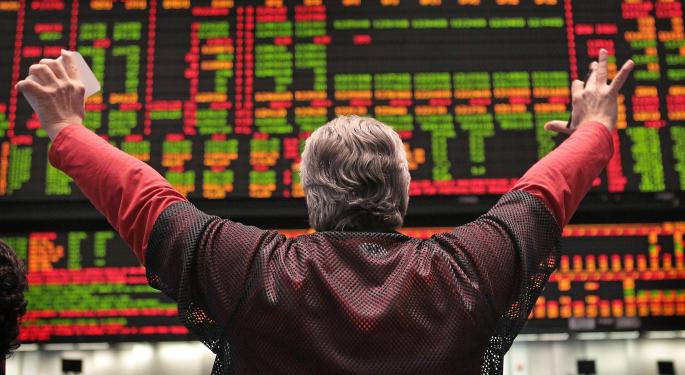 Tensions look to be building in the stock market right now over where new gains will come from in a market that's had a very big year.
Traders could see it Wednesday in momentum stocks like Tesla (NASDAQ: TSLA), which dropped 4.1% to $164.50, and Yelp (NASDAQ: YELP), down 4.9% to $66.02, and industrial stalwarts like Caterpillar (NYSE: CAT), down 6.4% after earnings disappointed and the company cut its forecast. Caterpillar cited slumping global demand for metals that's cut orders from mining companies.
And, Cree (NASDAQ: CREE), which makes LED lights, offered a weak forecast, and its shares fell nearly 17% to $61.77.
Major Indexes
The Dow fell as many as 101 points by noon ET. While the blue chips reclaimed some of that loss by the close, the index finished at 15,413.39, down 54 points, or 0.35%. The S&P 500 and the Nasdaq saw five-day winning streaks end.
The S&P 500 ended off 8 points, or 0.47%, to 1,746.38 after hitting a record close on Tuesday. The Nasdaq fell back from Tuesday's 13-year high, closing down 22 points, or 0.57%, to 3,907.07.
Economics
The market had been rallying since the government shutdown ended, but that kind of cheer can last for only so long. Tuesday's jobs report suggested growth will continue to be mediocre. Caterpillar signalled that global fundamentals aren't especially strong.
Bond yields fell on Tuesday and, again, Wednesday. The 10-year Treasury yield fell to 2.48% from Tuesday's 2.61%.
Equity Movers
Boeing (NYSE: BA) bucked the trend, rising 5.4% to $129.02. It has a robust commercial airline business, although its big defense segment is vulnerable to spending-cut pressures.
After the close, AT&T (NYSE: T) shares were unchanged at $35.30 after hours. Earnings of 36 cents after one-time charges were a penny anead of estimates. Revenue of $32.16 billion just missed the Street estimate of $32.18 billion.
Symantec (NASDAQ: SMC) shares nearly 14% to $21.23 after hour after its guidance was weake than expected.
The Dow is up 17.6% for the year, with the S&P 500 up 22.5% and the Nasdaq sporting a 29.4% gain. There are many who believe stocks can move higher because they don't see the Federal Reserve ending its bond-buying program before next year.
The Fed program has helped fuel this year's stock market rally and kept bond yields mostly in check.
But, home sales have softened in recent months, and retailers such as Wal-Mart Stores (NYSE: WMT) and Target (NYSE: TGT) have repeatedly said they see continuing consumer caution keeping sales growth in check.
Cree added to the concern with a cautious revenue outlook ($400 million to $420 million) and equally cautious earnings projection: 36 cents a share to 41 cents. The consensus estimate is 44 cents.
In addition to domestic concerns, the global picture was murky. Short-term interest rates moved higher in China. So traders worried that the People's Bank of China was worried about inflation risks. The European Central Bank said its plans a rigorous stress-test program next year to boost confidence in the continent's banking system.
Commodties
Commodities mostly moved lower. Crude oil in New York was off $1.44, or 1.4%, to $96.86 a barrel. Crude is down 5.4% this month. Gold dropped $8.60, or 0.64%, to $1,334 an ounce. Silver was down 0.76% to $22.617 an ounce. Copper fell 2% to $3.2675 an ounce.
Eurozone
European shares were lower Wednesday. The Spanish IBEX index fell 1.95%. Italy's FTSE MIB Index declined 2.38%. The German DAX index was off 0.42%, and the French CAC-40 Index fell 0.5%. Britain's FTSE-100 index fell 0.48%.
Boeing (NYSE:
BA
) bucked the trend, rising 5.4% to $129.02, as investors were impressed by the growth prospects for its commercial airline buisness.
Posted-In: Market WrapNews Bonds Economics After-Hours Center Markets Best of Benzinga
View Comments and Join the Discussion!