The Top 10 Financial Tweets For Thursday, August 29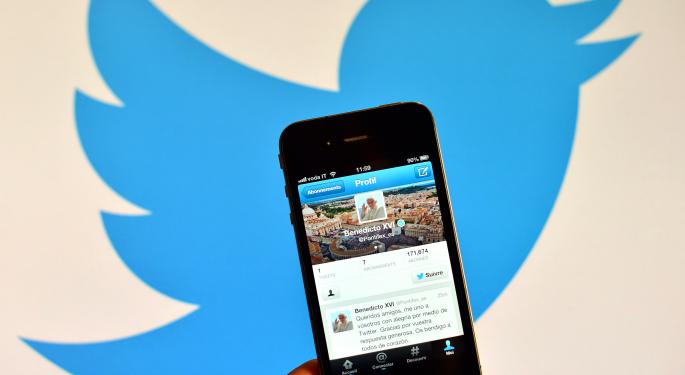 There are millions of tweets written every day. Benzinga sifts through the maelstrom of information to find the ten best tweets of the day that are either informative, insightful or just down right comical.
1. Ian Estepan
Ian Estepan ( @ianestepan ) tweeted out this morning about the latest competitive strike against Myriad Genetics (NASDAQ: MYGN ). Mandatory genetic testing by one company could have detrimental effects on another.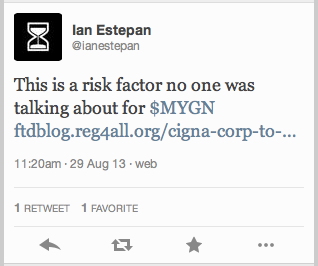 2. BI: Finance
BI: Finance ( @clusterstock ) tweeted out that the rate of price growth of a Big Mac is outpacing the wages of those who are making them. What other inflationary hikes will you being seeing? Stay tuned to find out.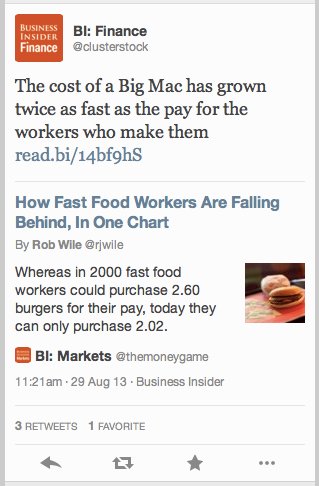 3. FXstreet.com Reports
FXstreet.com Reports ( @FXstreetReports ) tweeted out that the EME may have finally stopped sinking! Despite the massive sell off of Indian stocks, even the rupee managed to climb out of its gigantic financial hole.
India buys rupee some breathing space by @amplifytrading | http://t.co/bXyexNRu6M

— FXstreet.com Reports (@FXstreetReports) August 29, 2013
4. Seeking Alpha
Seeking Alpha ( @SeekingAlpha ) tweeted out a fantastic article about the future of Netflix (NASDAQ: NFLX ). It could be the next huge boom or the next greatest bust.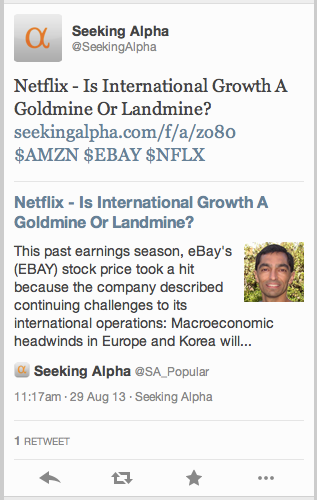 5. Business Insider
Business Insider ( @businessinsider ) tweeted out that Société Générale strategist, Albert Edwards', latest vision is more ominous than the last. This forecasting legend saw the markets only going downhill, and there is no one stopping them.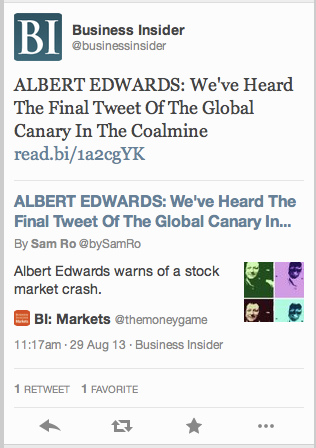 6. CNBC
CNBC ( @CNBC ) tweeted out the real deal behind Fed dynamics and decision-making. The most pressing issue isn't tapering – not by a long shot.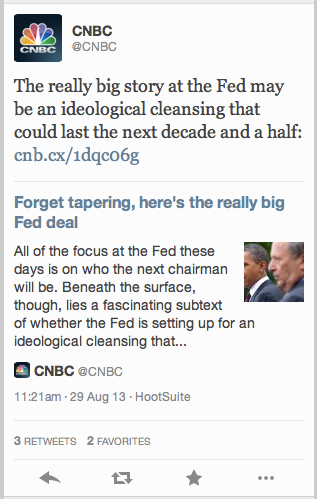 7. Market Clouds
Market Clouds ( @MarketClouds ) tweeted out about four stocks that are at their 52 week highs. Read on to find out whether their rallies continue or the pullback is rapidly on its way. The corporations mentioned include the following: Green Mountain Coffee Roasters (NASDAQ: GMCR ), Best Buy (NYSE: BBY ), Goodyear Tire and Rubber (NASDAQ: GT ), and Zale (NASDAQ: ZLC ).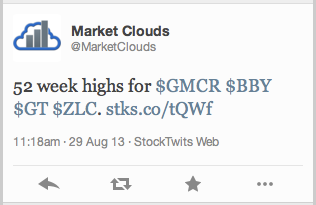 8. Zerohedge
Zerohedge ( @zerohedge ) tweeted out that quite a few helpful correlations materialized in the equity, bond, precious metal, and FX markets.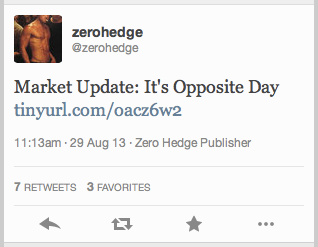 9. Joe Scarborough
Joe Scarborough ( @JoeNBC ), host of Morning Joe on MSNBC, tweeted out that what may br one small step for Ford could be a huge step for Detroit. It may not be the quickest comeback in history, but at least they're trying.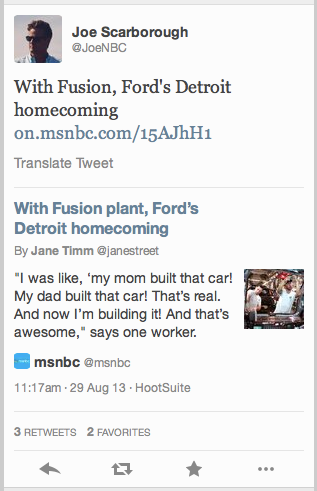 10. Carl Quintanilla
Carl Quintanilla ( @carlquintanilla ), anchor at CNBC's Squawk, tweeted out that silver has overtaken gold as the next best hedge…at least for this month.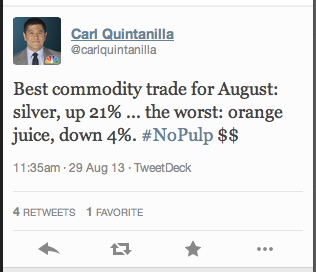 View Comments and Join the Discussion!
Posted-In: News Bonds Emerging Markets Rumors Commodities Forex Markets Media Best of Benzinga