Market Wrap for Tuesday, July 30: Technology Sector Rises; Basic Materials Hit Hard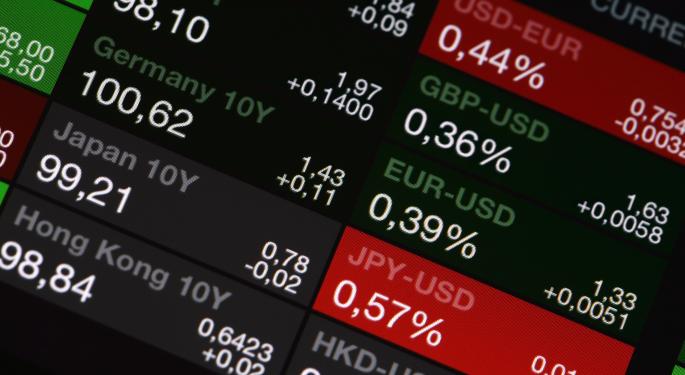 The U.S. stock market closed near the unchanged line on Tuesday as earnings season continued with another full-slate of corporate results. Most of the day's gains were concentrated in Nasdaq stocks, as the technology sector led that market higher.
Energy, basic materials and financials were the only three sectors to post losses on the day. Basic materials were hit very hard in the wake of a falling out between two foreign potash manufacturers which analysts said will trigger an immediate decline in potash prices.
Volatility was limited in other asset classes, although crude oil recorded a loss of over 1 percent on the day. The U.S. Dollar was slightly higher on the session while Treasury prices were largely unchanged. On the economic front, an index measuring consumer confidence in July missed expectations by a narrow margin.
Major Averages
The Dow Jones Industrial Average fell a little more than 1 point, or 0.01 percent, to close at 15,521.
The S&P 500 added less than a point, or 0.04 percent, to finish at 1,686.
The Nasdaq rose around 17 points, or 0.48 percent, to finish at 3,616.
Consumer Confidence
The Conference Board's Consumer Confidence Index fell slightly in July. The gauge of consumer sentiment came in at 80.3, which compared to a reading of 82.1 last month. This was below consensus estimates which expected that the index would decline to 81.6 for the month.
Related: Tuesday morning's biggest earnings misses.
Commodities
Crude oil futures fell on Tuesday. At last check, NYMEX crude futures were trading down 1.37 percent to $103.12. Brent crude futures had lost 0.50 percent and were last trading at $106.71 as the spread between WTI crude and Brent has widened slightly in recent days. Natural gas lost almost 1 percent on the day to $3.44.
Precious metals recorded modest losses on the session. COMEX gold futures had shed 0.23 percent while silver contracts were last down 0.75 percent to $19.72. Copper futures fell more than 2 percent on Tuesday to $3.0410.
In the grains complex, both corn and wheat climbed on the day. Corn futures rose 0.90 percent while wheat added 0.58 percent. Movers in soft commodities included coffee and lumber. Coffee futures fell 0.70 percent while lumber was down 1.25 percent.
Related: Value investor extraordinaire Mario Gabelli likes bourbon stocks.
Bonds
Treasuries were close to unchanged on Tuesday. Near the close of equities, the iShares Barclays 20+ Year Treasury Bond ETF (NYSE: TLT) was down 0.14 percent to $107.20.
Yields were as follows on the day. The 2-Year Note yield was sitting at 0.31 percent. The yield on the 5-Year Note was 1.38 percent. The 10-Year Note and 30-Year Bond were yielding 2.60 percent and 3.67 percent, respectively.
Currencies
The U.S. Dollar was slightly higher on the session. Approaching the closing bell, the PowerShares DB US Dollar Index Bullish ETF (NYSE: UUP), which tracks the performance of the greenback versus a basket of foreign currencies, was up 0.20 percent to $22.15.
The closely watched EUR/USD pair was last down 0.02 percent to $1.3264. Other movers included the GBP/USD, which fell 0.74 percent and the AUD/USD, which was down 1.51 percent.
Volatility and Volume
The CBOE Volatility Index was slightly higher on Tuesday. At last check, the widely watched measure of volatility expectations had risen 0.90 percent to 13.51.
Volume remained light on the day. Around 71 million SPDR S&P 500 ETF (NYSE: SPY) shares traded hands compared to a 3-month daily average of 135.4 million.
Related Profit with these ETFs in August.
Stock Movers
Shares of Boyd Gaming (NYSE: BYD) had climbed almost 18 percent near the close after the company's fiscal second-quarter earnings results came in better-than-expected.
Bankrate (NYSE: RATE) shares jumped more than 17 percent on Tuesday after the company's Q2 earnings results. The stock was also upgraded by analysts at Bank of America Merrill Lynch.
RR Donnelley & Sons (NASDAQ: RRD) rose almost 15 percent after the company released its fiscal second-quarter financial results and re-affirmed its full-year revenue outlook.
Better-than-expected fiscal Q2 results from Chart Industries (NASDAQ: GTLS) sent that stock up almost 14 percent late on Tuesday.
Pitney Bowes (NYSE: PBI) was trading up better than 13 percent late on Tuesday after its fiscal Q2 earnings report.
Goodyear Tire & Rubber (NYSE: GT) jumped around 9 percent on Tuesday after the company reported second-quarter earnings that were more than double last year's corresponding results.
Shares of Intrepid Potash (NYSE: IPI) plunged nearly 29 percent on the session amid a huge sell-off in potash stocks. Investors fear a glut in the market after Russian producer Uralkali ended its cooperation with Belarus' Belaruskali. Goldman Sachs said that the development should trigger a "significant swift decline" in potash prices.
Compass Minerals International (NYSE: CMP) fell around 18 percent after its second-quarter results. The company also has exposure to the potash market.
Potash producers Mosaic (NYSE: MOS) and Potash Corp. of Saskatchewan (NYSE: POT) also recorded large losses on the day. At last check, Mosaic was down around 17 percent while Potash had lost more than 16 percent.
Luminex (NASDAQ: LMNX) shed almost 13 percent on Tuesday despite a 25 percent increase in its second-quarter earnings. The results, however, missed Wall Street expectations.
Xylem (NYSE: XYL) lost almost 10 percent on the day in the wake of a 48 percent decline in the company's fiscal second-quarter profit.
PMC-Sierra lost roughly 6 percent during Tuesday's trading session after the chip-maker reported a wider second-quarter loss and a decline in revenue.
View Comments and Join the Discussion!
Posted-In: Bonds Broad U.S. Equity ETFs Futures Commodities Currency ETFs Forex Global Economics Best of Benzinga