Market Wrap for Wednesday, July 24: Stocks Largely Lower Despite Jump in New Home Sales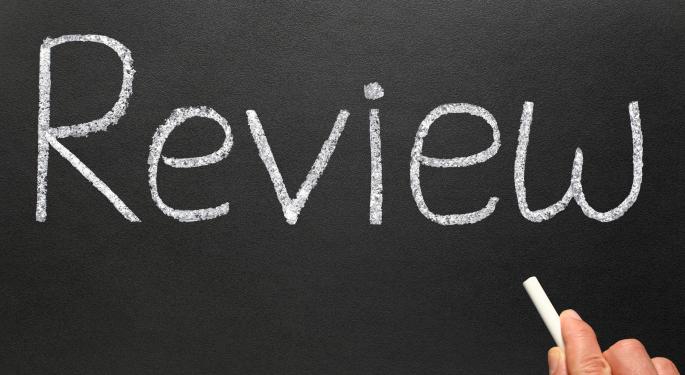 Despite a report which showed that new home sales in the U.S. are at a 5-Year high, the stock market was largely lower on Wednesday.
The losses, however, were modest and the Nasdaq actually finished slightly positive on the day. Investors dumped commodities and U.S. Treasuries on the session while the U.S. Dollar rose.
Volume remained well-below 3-month averages despite a spate of earnings reports released on Tuesday after the close and prior to Wednesday's opening bell. Volatility expectations rose on the session despite only small losses for the Dow and S&P 500, which remain near all-time highs.
Related: Earnings Expectations for the Week of July 22
Major Averages
The Dow Jones Industrial Average fell 27 points, or 0.17 percent, to close at 15,541.
The S&P 500 lost around 6 points, or 0.38 percent, to finish at 1,686.
The Nasdaq added less than a point, or 0.01 percent, to 3,580.
New Home Sales
New home sales rose for a third consecutive month in June, up 8.3 percent to 497,000 from 459,000 in the previous month. This came in ahead of consensus estimates which expected new home sales to be 483,000.
Commodities
Prices for crude oil were lower on Wednesday. At last check, NYMEX crude futures were down around 2 percent to $105.15. Brent contracts had lost 1.26 percent and were last trading at $107.05. Natural gas fell 1.20 percent on the day to $3.70.
Precious metals were also lower on the session. Near the close of equities, COMEX gold futures had lost a little better than 1 percent to $1,319.30 while silver was down 0.86 percent to $20.08. Copper lost 0.44 percent on the day and was last trading at $3.1840.
Bonds
Long-term U.S. Treasury prices fell sharply on the session. Heading into the closing bell, the iShares Barclays 20+ Year Treasury Bond ETF (NYSE: TLT) was down 1.25 percent to $107.54. The fall in prices pushed yields up on Wednesday.
Yields for U.S. Treasuries were as follows on Wednesday afternoon: The yield on the 2-Year Note was 0.35 percent while the 5-Year Note was yielding 1.38 percent. The 10-Year Note yield was last at 2.58 percent and the 30-Year Bond was yielding 3.65 percent.
Currencies
The U.S. Dollar was moderately higher on the session. Late in the day, the PowerShares DB US Dollar Index Bullish ETF (NYSE: UUP), which tracks the performance of the greenback versus a basket of foreign currencies, was up 0.41 percent to $22.28.
The closely watched EUR/USD pair fell 0.29 percent on the day. Other movers included the USD/JPY, which rose 0.72 percent and the AUD/USD, which fell better than 1.50 percent.
Related: Earnings Scheduled for July 24, 2013
Volatility and Volume
The CBOE Volatility Index (VIX) rose again on Wednesday despite only modest losses for the S&P 500. Late in the day, the VIX was trading up a little less than 6 percent to 13.38.
Volume remained well below average with around 96.5 million SPDR S&P 500 ETF (NYSE: SPY) shares trading hands compared to a 3-month daily average of 96.5 million.
Stock Movers
Shares of VMWare (NYSE: VMW) had soared around 18 percent heading into the close after the company reported better-than-expected fiscal second-quarter earnings results.
Illumina (NASDAQ: ILMN) jumped more than 10 percent near the close after the company's second-quarter earnings results.
Shares of video game-publisher Electronic Arts (NASDAQ: EA) were up around 8 percent on Wednesday after the company released its fiscal first-quarter earnings results after the closing bell on Tuesday.
Hanesbrands (NYSE: HBI) rose almost 8 percent on the session after the company agreed to acquire Maidenform Brands (NYSE: MFB) for $23.50 per share in cash, or around $575 million. Maidenform shares traded up almost 23 percent on the news.
Harmonic (NASDAQ: HLIT) rose more than 10 percent late in the day after the company's second-quarter results topped Wall Street expectations.
Lumber Liquidators (NYSE: LL) after beating quarterly estimates and raising its outlook for fiscal 2013.
Sarepta Therapeutics (NASDAQ: SRPT) lost almost 19 percent on the session after the company said it won't file a NDA for its drug, eteplirsen, until the first half of next year.
Polycom (NASDAQ: PLCM) lost 15 percent after the company's president and CEO resigned after an audit committee found irregularities in his expense submissions.
Broadcom (NASDAQ: BRCM) fell 15 percent after the chip maker's fiscal second-quarter financial results.
Panera Bread (NASDAQ: PNRA) was lower by around 7 percent in the wake of the company's fiscal Q2 results and lowered full-year guidance.
Motorola Solutions (NYSE: MSI) fell almost 7 percent after reporting disappointing quarterly earnings results.
Seagate Technology (NASDAQ: STX) traded down a little more than 2 percent after reporting a 66 percent decline in its fourth-quarter earnings. The stock recouped most of its earlier losses in afternoon trading.
Posted-In: Earnings News Bonds Broad U.S. Equity ETFs Guidance Futures Commodities Currency ETFs Best of Benzinga
View Comments and Join the Discussion!