Market Wrap for Friday, July 19: Major Averages Close Mixed in Quiet Trading Session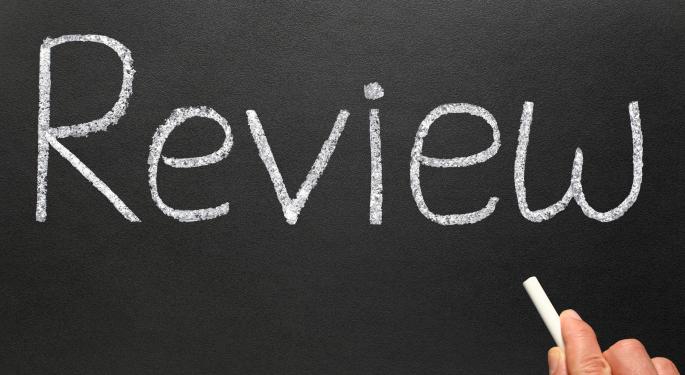 The U.S. stock market was largely lower on Friday, although the S&P 500 finished in positive territory. Losses from Microsoft (NASDAQ: MSFT), Google (NASDAQ: GOOG), and other tech companies weighed on the Nasdaq during the day. It was another low volume, quiet trading session to end the week, despite a myriad of earnings reports released on Thursday after the close and prior to Friday's opening bell.
Major Averages
The Dow Jones Industrial Average fell a little less than 5 points, or 0.03 percent, to 15,544.
The S&P 500 gained around 3 points, or 0.16 percent, to 1,692.
The Nasdaq lost 24 points, or 0.66 percent, to 2,588.
Commodities
Crude oil prices were mixed on Friday. At last check, NYMEX crude futures were up 0.29 percent to $108.35. Brent crude contracts were lower by 0.29 percent to $108.39. Natural gas was last trading down 0.58 percent to $3.79.
Precious metals rose moderately on Friday. Near the close of equities, COMEX gold futures were up 0.82 percent to $1,296. Silver contracts were last trading up 0.55 percent to $19.50. Copper added around $3.1456.
The grains complex was largely higher on the session. Approaching the closing bell, corn was unchanged while wheat futures were up 0.61 percent. Movers in soft commodities included coffee and cotton. Coffee futures fell almost 4 percent on the day while cotton was up 1.57 percent.
Bonds
Treasury prices rose strongly on the day. The iShares Barclays 20+ Year Treasury Bond ETF (NYSE: TLT) climbed 1.58 percent to $109.20. Yields fell as prices rose on Friday.
Yields were as follows on Friday afternoon: The 2-Year Note was yielding 0.30 percent. The 5-Year Note was yielding 1.30 percent. The 10-Year Note and 30-Year Bond were yielding 2.48 percent and 3.56 percent at last check.
Currencies
The U.S. Dollar traded down modestly on Friday. Late in the day, the PowerShares DB US Dollar Index Bullish ETF (NYSE: UUP), which tracks the performance of the greenback versus a basket of foreign currencies, was down 0.27 percent to $22.36.
The closely watched EUR/USD was last trading up 0.25 percent to $1.3135. Other movers included the GBP/USD, which climbed 0.29 percent, and the AUD/USD, which added 0.31 percent.
Volatility and Volume
The VIX plunged on the session despite losses for the Dow and Nasdaq. Late in the afternoon, the VIX was down around 9 percent to 12.58.
Volume was light on the day. Around 98 million SPDR S&P 500 ETF (NYSE: SPY) shares traded hands compared to a 3-month daily average of 138 million.
Stock Movers
Cubist Pharmaceuticals (NASDAQ: CBST) added a little better than 9 percent on the day after the company reported its second-quarter earnings results.
Shanda Games (NASDAQ: GAME) added another 9 percent on the session. The stock also rose sharply on Thursday after the company's game "Million Arthur" became the third-best selling title in Apple's app store in China.
Hologic (NASDAQ: HOLX) rose a little less than 9 percent after the company named a new CEO.
Chipotle (NYSE: CMG) rose more than 8 percent on the day after the company released its quarterly earnings results.
Advanced Micro Devices (NYSE: AMD) fell more than 13 percent after the company's fiscal Q2 earnings results.
Microsoft (NYSE: AMD) fell more than 11 percent on Friday after the company released disappointing Q4 results.
Acacia Research (NASDAQ: ACTG) fell 11 percent on the day after the company reported a wider second-quarter loss.
Community Health Systems (NYSE: CYH) lost 9 percent on Friday after issuing a profit warning for the fiscal second-quarter.
View Comments and Join the Discussion!
Posted-In: Earnings News Bonds Broad U.S. Equity ETFs Guidance Futures Commodities Currency ETFs Best of Benzinga