Market Wrap for Monday, July 15: Stocks Record Modest Gains to Start Week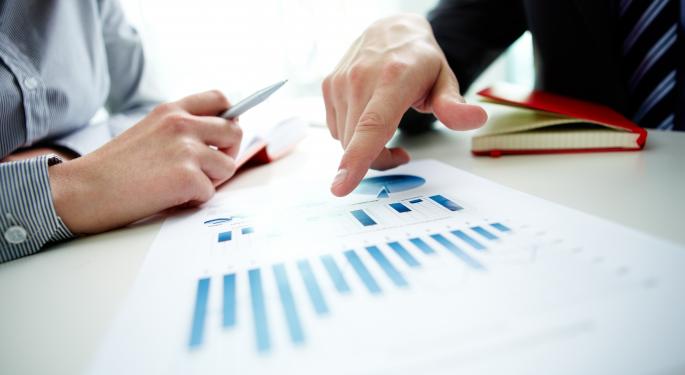 The U.S. stock market rose again in a quite trading session on Monday. Volatility was limited on the day as investors gear up for earnings season.
Citigroup (NYSE: C) shares rose around 2 percent after the company released its quarterly results prior to the opening bell. Although the gains were modest across the board, the recent rally remains firmly intact as the S&P 500 closed at another new all-time high.
On the economic front, retail sales data disappointed, but this didn't prevent investors from continuing to chase the market higher to start the trading week.
Major Averages
The Dow Jones Industrial Average climbed 20 points, or 0.13 percent, to 15,484.
The S&P 500 rose a little more than 2 points, or 0.14 percent, to 1,683.
The Nasdaq gained better than 7 points, or 0.21 percent, to close at 3,607.
Retail Sales
Retail sales rose 0.4 percent for June. This compared to an increase of 0.5 percent for May and consensus estimates calling for an increase of 0.7 percent.
Excluding the auto sector, retail sales were flat for the month compared to an increase of 0.3 percent for May. This came in below consensus estimates calling for a rise of 0.4 percent.
Business Inventories
Business inventories increased 0.1 percent for May after increasing 0.3 percent in April. This compared to consensus estimates which expected inventories to fall 0.1 percent.
Commodities
Energy prices rose on Monday to start the trading week. Late in the afternoon, NYMEX crude futures were up 0.40 percent to $106.37. Brent crude contracts rose 0.24 percent to $109.07. Natural gas futures were last trading up 0.71 percent to $3.67.
Precious metals also recorded moderate gains on the day. COMEX gold futures were last up 0.47 percent to $1,283.60 while silver contracts rose 0.67 percent to $19.93. Copper traded down around 0.21 percent on the day to $3.1485.
In the grains complex, both corn and wheat were lower. Corn futures lost around 1.13 percent while wheat fell 1.69 percent. Movers in soft commodities included coffee, which traded up more than 3 percent, and rubber, which lost a little more than 1 percent.
Bonds
Bonds were slightly higher on Monday. Near the close of trade, the iShares Barclays 20+ Year Treasury Bond ETF (NYSE: TLT) was up around 0.32 percent to $108.07.
Yields were as follows on Monday afternoon: The 2-Year Note was yielding 0.33 percent while the 5-Year Note yield was 1.39 percent. The yield on the 10-Year Note was 2.55 percent and the 30-Year Bond yield was 3.61 percent.
Currencies
The U.S. Dollar was largely unchanged on the session. Near the close, the PowerShares DB US Dollar Index Bullish ETF (NYSE: UUP), which tracks the performance of the greenback versus a basket of foreign currencies, was up 0.04 percent to $22.48.
The closely watched EUR/USD pair was last trading up 0.04 percent to $1.3066. Other movers included the USD/JPY, which rose 0.48 percent, and the AUD/USD, which added 0.43 percent on the session.
Volatility and Volume
The VIX recorded a small loss on the day as the market continued to touch new highs. The widely watched barometer of volatility expectations fell 0.94 percent to 13.71.
Volume was extremely light on the session. Only around 59 million SPDR S&P 500 ETF (NYSE: SPY) shares traded hands compared to a 3-month daily average of 144.4 million.
Stock Movers
Leap Wireless (NASDAQ: LEAP) rose better than 113 percent on Monday after the company agreed to be acquired for $1.19 billion cash.
Power Integrations (NASDAQ: POWI) rose better than 11 percent on the session after the company raised its outlook for second-quarter revenue and gross margin.
Forest Oil (NYSE: FST) had risen a little less than 5 percent on Monday after the company began a process to sell its oil and gas assets in the Texas Panhandle.
Inteliquent (NASDAQ: IQNT) climbed more than 38 percent on the session after the company boosted its full-year guidance.
Navistar International (NYSE: NAV) rose around 10 percent on the session after the company agreed to let shareholders Carl Icahn and Mark Rachesky nominate two director's each to the truckmaker's board.
Shares of Ingredion (NYSE: INGR) lost 10 percent on Monday after the company provided a profit warning. Ingredion said that weakening economic conditions in South America would weigh on profits and said that Q2 earnings could be up to 14 percent below the company's previous guidance. The maker of starches and sweeteners also provided full-year guidance which was below analysts' estimates.
OCZ Technology (NYSE: OCZ) lost more than 5 percent on the session after the company forecast a 50 percent drop in Q1 revenue.
Shares of Cash America International (NYSE: CSH) fell more than 6 percent on the day after the company slashed its Q2 profit guidance.
Profit-taking hit shares of Alexion Pharmaceuticals (NASDAQ: ALXN). The stock closed down a little less than 6 percent on the day after surging in intra-day trade on Friday in the wake of takeout rumors.
WebMD (NASDAQ: WBMD) also was dragged down by profit taking on Monday. The stock closed the session around 5 percent lower. WebMD soared on Friday after the company lifted its fiscal Q2 and full-year outlook.
View Comments and Join the Discussion!
Posted-In: News Bonds Broad U.S. Equity ETFs Futures Commodities Currency ETFs Forex Treasuries Best of Benzinga