Benzinga Market Primer: Tuesday, July 2: Futures Gain Into Fed Speak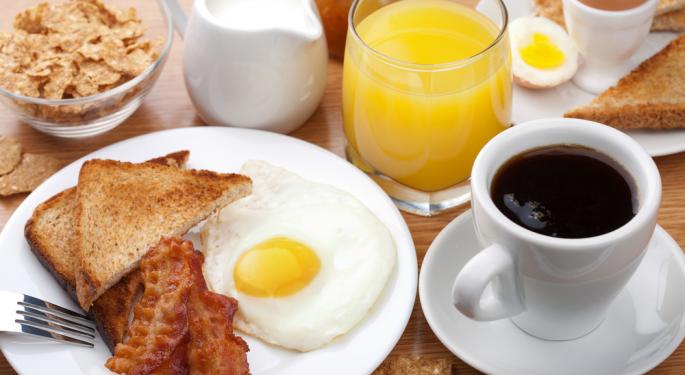 Futures Gain Into Fed Speak
U.S. equity futures rose in early pre-market trade ahead of key speeches from FOMC voting members. New York Fed President William Dudley, who is a permanent voting member and is in charge of the open market operations for the Fed, is set to speak this morning followed by a speech from Governor Jerome Powell.
In other news around the markets:


The Reserve Bank of Australia voted to keep interest rates unchanged at 2.75 percent overnight. The RBA said "the inflation outlook, as currently assessed, may provide some scope for further easing, should that be required to support demand," that the Aussie dollar is still overvalued, and that they see growth picking up in the next year globally.

Reuters reported, citing an EU official, that Greece has only three days to reassure lenders that it can deliver on promised bailout reforms as the nation faces a large financial hole which could put the country at risk of missing out on the next bailout tranche and risk a new financial crisis. European finance ministers are set to meet on July 8 to approve the disbursement.

The U.K. Construction PMI rose slightly less than expected in June to 51.0 vs. the forecast of 51.1 but rose from May's 50.8. Yesterday, the more broad Manufacturing PMI gained to a strong 52.5 from an upwardly revised May figure of 51.5 on expectations of a reading of 51.5.

S&P 500 futures gained 5.4 points to 1,612.10.

The EUR/USD was lower at 1.3027.

Spanish 10-year government bond yields were flat at 4.6 percent.

Italian 10-year government bond yields were flat at 4.41 percent.

Gold rose 0.49 percent to $1,261.80 per ounce.
Asian Markets
Asian shares were mixed overnight but saw most major markets gain. The Japanese Nikkei 225 Index gained 1.78 percent and the Topix Index rose 1.84 percent on new data that showed that the money supply grew over 30 percent from a year ago but has not yet reached a doubling pace as it is targeted to do so. In Hong Kong, the Hang Seng Index re-opened and closed down 0.7 percent while Chinese shares gained 0.57 percent, as measured by the Shanghai Composite Index. Also, the Korean Kospi slipped 0.04 percent but Australian shares rallied 2.63 percent as the RBA left scope for further easing.
European Markets
European shares were mostly lower following large rallies yesterday that coincided with mostly better than expected manufacturing data, save for Germany. The Spanish Ibex Index fell 0.07 percent and the Italian FTSE MIB Index declined 0.54 percent. Meanwhile, the German DAX fell 0.77 percent, leading declines, and the French CAC 40 Index fell 0.47 percent while U.K. shares declined 0.26 percent.
Commodities were mostly stronger overnight despite a rally in the dollar. WTI Crude futures rose 0.15 percent to $98.14 per barrel and Brent Crude futures gained 0.17 percent to $103.18 per barrel. Copper futures declined 0.17 percent to $315.15 per pound after a massive rally Monday. Gold was higher and silver futures gained 0.75 percent to $19.73 per ounce.
Currency markets saw broad dollar strength overnight as the greenback rose against most major pairs. The EUR/USD was lower at 1.3027 and the dollar gained against the yen to 99.71 after briefly rising as high as 99.91. Overall, the Dollar Index rose on strength against the euro, the Swiss franc, the Canadian dollar, the British pound, and the yen.
Key companies that reported earnings Monday include:


A Schulman (NASDAQ: SHLM) reported third quarter EPS of $0.50 vs. $0.65 expected on revenue of $548.6 million vs. $576.1 million expected. The company also lowered guidance for the full year and now expects EPS of $1.70-1.80 vs. the consensus forecast of $2.01. Previously, the company had expected EPS of between $2.08-2.13.

Xyratex (NASDAQ: XRTX) reported second quarter EPS of $0.11 vs. an expected loss of $0.05 per share on revenue of $216.2 million vs. $203.16 million expected. The company also issued guidance for the third quarter and now expects EPS to be between a loss of $0.04 per share and EPS of $0.20 vs. the consensus forecast of $0.09. Revenue was guided between $195-225 million vs. the consensus forecast of $$223.1 million.
Pre-Market Movers
Stocks moving in the pre-market included:


Achillion Pharmaceuticals (NASDAQ: ACHN) shares fell 19.02 percent pre-market after an FDA study on the company's drug Sovarprevir was placed on hold.

A Shulman Inc. (NASDAQ: SHLM) shares fell 13.4 percent pre-market after the company reported worse than expected earnings and lowered guidance.

Xyratex (NASDAQ: XRTX) shares rose 5.5 percent but were off of after-hours highs after the company reported better than expected earnings. However, gains were capped by weak revenue guidance.
Notable companies expected to report earnings Tuesday include:


Acuity Brands (NYSE: AYI) is expected to report third quarter EPS of $0.88 vs. $0.82 a year ago on revenue of $518.76 million vs. $487.5 million a year ago.

Constellation Brands (NYSE: STZ) is expected to report first quarter EPS of $0.40 vs. $0.41 a year ago on revenue of $196.52 million vs. $176.62 million expected.

The Greenbrier Company (NYSE: GBX) is expected to report third quarter EPS of $0.55 vs. $0.61 on revenue of $503.08 million vs. $507.8 million a year ago.
On the economics calendar Tuesday, motor vehicle sales will be released throughout the day and the weekly Redbook, the New York NAPM, and factory orders data are expected as well. Also, New York Fed President William Dudley and Fed Governor Jeremy Stein are expected to speak and the Treasury will hold its weekly 4-week bill auction. Overnight, global services PMIs will be released and the eurozone retail sales report is also expected.
Good luck and good trading.
Tune into Benzinga's PreMarket Info show with Dennis Dick and Joel Elconin here.
For a recap of Monday's market action, read Benzinga's daily market wrap here.
View Comments and Join the Discussion!
Posted-In: Earnings News Bonds Guidance Dividends Emerging Markets Eurozone Futures Best of Benzinga