Eurozone Economy Continues to Improve Modestly as German Manufacturing Drops, Spanish Bond Auction Spooks Markets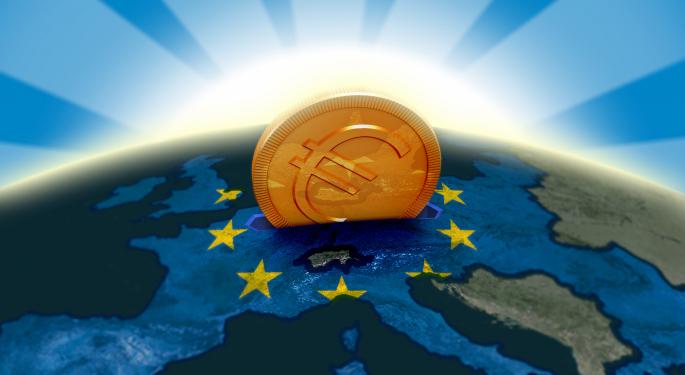 Europe had a busy day on the economic calendar Thursday with many market moving events adding to already negative sentiment emanating out of the U.S. and Asia.
Better than expected manufacturing and services PMIs from the broad eurozone were offset by manufacturing weakness in Germany while a weak Spanish bond offering sent markets lower across the continent.
Manufacturing Concerns
Germany's manufacturing PMI declined unexpectedly in the first half of June from May as the index fell to 48.7 in June from 49.2 in May. Economists were expecting an uptick in Germany's manufacturing in June to 49.4.
Meanwhile, the broad eurozone manufacturing ticked up to 48.7 in June from 48.6 in May, better than the expected decline to 48.3. Manufacturing gains in France helped boost the broad eurozone index as France's PMI rose to 48.3 from 46.4 in May on expectations of a rise to 47.0.
Services Continue Trend of Gains
Europe's services sector continued to show signs of life in June as the broad eurozone services PMI improved for the third straight month after bottoming in April. The PMI rose to 48.6 in June on expectations of a gain to 47.5 from May's 47.2. France and Germany both posted strong numbers in June.
Germany's services PMI rose to 51.3 in June from 50.0 in May, beating expectations of a gain from 49.7, posting a strong reading of expansion. France's services sector also was impressive in the first of half of June with the PMI rising to 46.5 from 44.3, better than the expected gain of 0.5 to 44.8.
Weak Spanish Bond Auction
Spain auctioned $5.31 billion of bonds with maturities of 5-, 9-, and 10-years. Demand at the auctions was rather weak and yields on the benchmark 10-year bonds rose markedly from the previous auction.
Spain sold 5-year notes to yield 3.592 percent, down slightly from the prior auction which saw yields price at 3.598 percent. The bid-to-cover ratio of the 5-year notes, a measure of the demand relative to supply of the bonds, dropped to 2.15 from the April auction's 4.09.
The yield on the 9-year note fell to 4.353 percent at auction from the prior 4.477 percent while the yield on the 10-year bond rose sharply to 4.765 percent from 4.517 percent in April. The bid-to-cover on the 9-year notes was 1.96, lower than the prior 2.06, and was 1.83 for the 10-year bonds, down from the prior 2.52.
Markets In Turmoil
European stocks reacted negatively to the hawkish FOMC coupled with the weak China manufacturing data and the bearish German manufacturing report. The Spanish Ibex Index declined 2.5 percent ahead of Europe's close following the weak bond auction while Italian stocks fell 2.05 percent. Banks and energy companies led declines in Spain while banks and industrial companies led declines in Europe.
Germany's DAX fell following the weak manufacturing data as the index declined 2.43 percent while French shares dropped 2.47 percent. Industrial companies, specifically auto makers, were notably weak in both countries and led declines.
Spain's 10-year bond yields rose sharply in Thursday trading as the yield climbed as high as 4.71 percent, or 18 basis points. Italian 10-year bond yields rose in tandem to 4.43 percent, climbing 18 basis points after touching 4.45 percent. Even yields on German bonds rose as the 10-year German bond yield climbed 11 basis points to 1.67 percent.
The euro fell nearly 1 percent against the dollar and lost ground against the British pound following the weak data. The EUR/USD declined 125 pips to 1.3170 on all of the macro news, a decline of nearly 1 percent. The EUR/GBP, meanwhile, declined sharply by 0.76 percent to 0.8522 or 65 pips.
Looking Ahead
Overnight, the eurozone's latest current account report is due out and should provide clarity on the state of exports and imports across the currency bloc. Monday, the much anticipated German IFO Business Climate Index is due out while Wednesday brings Germany's employment report.
View Comments and Join the Discussion!
Posted-In: News Bonds Forex Events Global Econ #s Economics Intraday Update Best of Benzinga