Benzinga Market Primer: Wednesday, June 19: FOMC Edition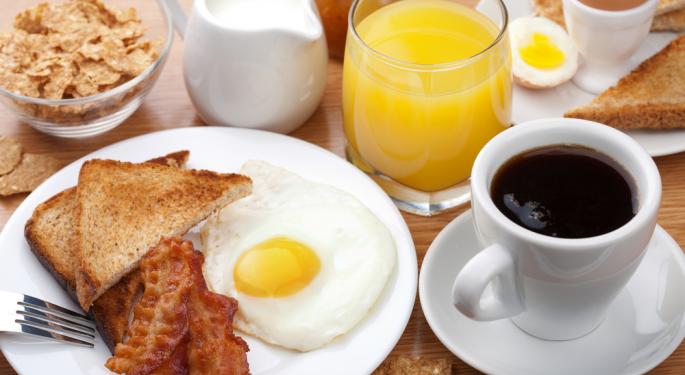 Free & Live Event: Join our very own Nic Chahine for a for a webinar tonight to discuss how to boost your weekly income using credit spreads. Click here to secure your spot now!
Futures Tick Higher Ahead of Fed
U.S. equity futures traded slightly higher ahead of the much anticipated Federal Reserve meeting Wednesday. With rumors of tapering, not tapering, and Chairman Bernanke stepping down, all eyes will be on the policy statement, the revised forecast, and the chairman's press conference.
Top News
In other news around the markets:


Japan's exports grew 10.1 percent from a year ago in May with exports to the U.S. rising over 16 percent.

Cyprus' President has asked the European creditors to revise the terms of its bailout as the nation's banks face a cash crunch. The restructuring of one of the nation's largest banks is taking longer than expected, causing a short-term liquidity crunch in the island nation.

Concerns over deficits in Greece rose again overnight as the Troika announced concerns over the finances of Greece's national health system.

S&P 500 futures rose 2.3 points to 1,647.50.

The EUR/USD was flat at 1.3390.

Spanish 10-year government bond yields rose 1 basis point to 4.56 percent.

Italian 10-year government bond yields rose 1 basis point to 4.3 percent.

Gold climbed 0.04 percent to $1,367.40.
Asian Markets
Asian shares were mixed overnight as strength in Japan was offset by weakness in other parts of the region. The Japanese Nikkei 225 Index rose 1.83 percent and the Topix Index gained 1.86 percent. In Hong Kong, the Hang Seng Index declined 1.13 percent while the Shanghai Composite Index fell 0.62 percent in China. Also, the Korean Kospi fell 0.65 percent and Australian shares rose 0.98 percent.
European Markets
European shares were mostly lower in quiet trading as markets await the Fed. The Spanish Ibex Index declined 0.61 percent and the Italian FTSE MIB Index fell 0.14 percent. Meanwhile, the German DAX rose 0.06 percent and the French CAC 40 Index fell 0.28 percent while U.K. shares dropped 0.17 percent.
Commodities
Commodities were mostly higher overnight following the stronger than expected Japanese trade data. WTI Crude futures rose 0.38 percent to $98.81 per barrel and Brent Crude futures gained 0.28 percent to $106.32 per barrel. Copper futures rose 0.36 percent to $316.65 per pound. Gold was higher and silver futures fell 0.42 percent to $21.59 per ounce.
Currencies
Currency markets were uncharacteristically quiet overnight as markets await the Fed's decision. The EUR/USD was flat at 1.3390 and the dollar fell against the yen to 95.06. Overall, the Dollar Index rose 0.05 percent on strength against the pound and marginally against the euro.
Earnings Reported Yesterday
Key companies that reported earnings Tuesday include:


Adobe Systems (NASDAQ: ADBE) is reported second quarter EPS of $0.36 vs. $0.34 expected on revenue of $1.01 billion, in line. However, guidance for the third quarter was slightly weaker than expected.

FactSet Research Systems (NYSE: FDS) reported third quarter EPS of $1.15, in line, on revenue of $215.0 million vs. $214.94 million expected.

La-Z-Boy Incorporated (NASDAQ: LZB) reported fourth quarter EPS of $0.33 vs. $0.28 expected on revenue of $359.5 million vs. $357.67 million expected.
Pre-Market Movers
Stocks moving in the pre-market included:


Adobe Systems (NASDAQ: ADBE) shares rose 5.21 percent pre-market after reporting earnings.

Tetra Tech (NASDAQ: TTEK) shares declined 10.59 percent as the company cut its guidance but announced a new share buyback.

Sprint (NYSE: S) shares fell 1.5 percent pre-market as the period for Dish (NASDAQ: DISH) to bid on the company expired while Clearwire (NASDAQ: CLWR) shares rose 1.75 percent as Dish may now bid directly for the company.

Pool Corp. (NASDAQ: POOL) shares declined 7.71 percent pre-market as the company cut full year guidance.
Earnings
Notable companies expected to report earnings Wednesday include:


FedEx (NYSE: FDX) is expected to report fourth quarter EPS of $1.97 vs. $1.99 a year ago.

Actuant (NYSE: ATU) is expected to report third quarter EPS of $0.66 vs. $0.60 a year ago.

Micron Technology (NASDAQ: MU) is expected to report third quarter EPS of $0.02 vs. a loss of $0.32 per share a year ago.

Red Hat (NYSE: RHT) is expected to report first quarter EPS of $0.31 vs. $0.30 a year ago.
Economics
On the economics calendar Wednesday, MBA Purchase Applications and the EIA Oil Status Report kick off the calendar but all eyes will be on the FOMC decision at 2:00 pm alongside the updated forecasts of the Fed followed by Chairman Bernanke's press conference. Overnight, the initial reading of the China HSBC Manufacturing PMI is due out as well as the Swiss National Bank decision and the French, German, and broad eurozone manufacturing and service PMIs. There are also British retail sales, Spanish and French bond auctions, and Ireland's GDP report.
Good luck and good trading.
Tune into Benzinga's PreMarket Info show with Dennis Dick and Joel Elconin here.
For a recap of yesterday's market action, read Benzinga's daily market wrap here.
Posted-In: Earnings News Bonds Guidance Futures Commodities Previews Forex Best of Benzinga
View Comments and Join the Discussion!