Market Wrap for Friday, June 14: Stocks Retreat on Economic Reports and Profit Taking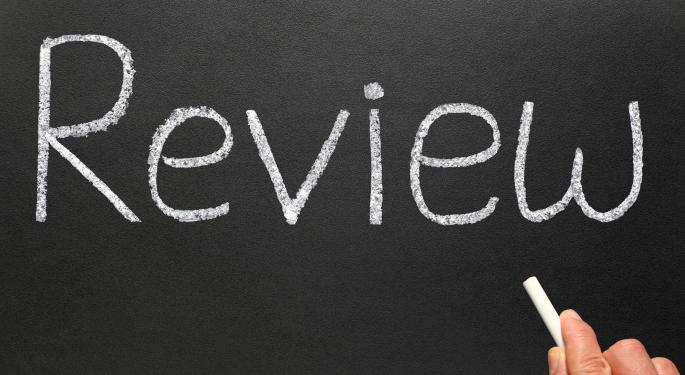 The U.S. stock market fell on Friday as a preliminary report showed a slightly steeper than expected fall in consumer sentiment for June and other economic reports also missed consensus estimates. Although the news on the economic front was hardly a cause for panic, the market also succumbed to profit-taking, which has been intermittently triggering volatility in the major averages. The Dow closed down slightly more than triple digits on the session, with the S&P and Nasdaq recording similar losses. Overall, the S&P recorded a loss of roughly 1 percent from Monday's open.
Major Averages
The Dow Jones Industrial Average fell 106 points, or 0.70 percent, to 15,070.
The S&P 500 lost almost 10 points, or 0.59 percent, to finish at 1,627.
The Nasdaq shed 22 points, or 0.63 percent, to just below 3,424.
PPI
Producer prices jumped 0.5 percent in May after recording a decline of 0.7 percent for April. This was well ahead of consensus expectations which called for PPI to be up 0.1 percent last month.
Excluding volatile food and energy costs, core PPI was only up 0.1 percent in May, the same as in April. This was in-line with consensus expectations.
Industrial Production and Capacity Utilization
Industrial production was unchanged in May after falling 0.4 percent in April. The consensus expected industrial production to rise 0.1 percent for the month.
Total capacity utilization fell to 77.6 percent versus 77.7 percent for April. This compared to consensus expectations calling for a rise in capacity utilization to 77.9 percent for May.
University of Michigan Consumer Sentiment
The preliminary report for the University of Michigan Consumer Sentiment Index showed a drop to 82.7 in June from 84.5 in May. This compared to consensus expectations calling for the index to fall to 83.0.
Commodities
Energy prices rose on Friday despite a drop in the stock market. Late in the day, NYMEX crude futures were up 1.14 percent to $97.79. Brent crude futures had risen 0.79 percent to $105.78. At last check, natural gas was trading down almost 2 percent to $3.74.
Precious metals rose on Friday, possibly on the back of PPI data. Heading into the close for equities, COMEX gold futures were up 0.75 percent to $1,388.20. Silver contracts were last up 1.89 percent to $21.99. Copper added 0.36 percent on the session to $3.1965.
In the grains complex, both corn and wheat fell moderately. At last check, corn futures were down 0.42 percent while wheat had lost 0.69 percent. Movers in soft commodities included cocoa and sugar. Cocoa futures fell 2.47 percent while sugar was trading up 3.39 percent.
Bonds
Bond prices were largely unchanged to close out a volatile week. Heading into the closing bell, the iShares Barclays 20+ Year Treasury Bond ETF (NYSE: TLT) was down 0.07 percent to $114.01.
The 2-Year Note yield was last at 0.27 percent while the 5-Year Note was yielding 1.03 percent. The 10-Year Note yield was at 2.13 percent on Friday and the 30-Year Bond was yielding 3.29 percent.
Currencies
The U.S. Dollar was slightly lower on Friday. The PowerShares DB US Dollar Index Bullish ETF (NYSE: UUP), which tracks the performance of the greenback versus a basket of foreign currencies, was last down 0.16 percent to $21.86.
The closely watched EUR/USD pair was last down 0.04 percent to $1.3340. The only other significant mover on the day was the USD/JPY, which lost 0.60 percent.
Volatility and Volume
The VIX was trading up 3.72 percent late on Friday after recording a steep drop on Thursday. At last check, the widely watched barometer of volatility expectations was trading at 17.02.
Volume was lighter than normal on the day despite the fall in the major averages. Only around 110 million SPDR S&P 500 ETF (NYSE: SPY) shares traded hands compared to a 3-month daily average of 134 million.
Stock Movers
Restoration Hardware (NYSE: RH) jumped almost 17 percent after the company's fiscal first-quarter earnings results. The house furnishings also announced two new business lines and raised its full-year guidance.
Daily deals site Groupon (NASDAQ: GRPN) rose more than 11 percent after the stock was upgraded at Deutsche Bank.
Elan (NYSE: ELN) jumped almost 9 percent after the company put itself up for sale.
SolarCity (NASDAQ: SCTY) rose better than 6 percent after the shares were upgraded to Outperform at Credit Suisse.
Strategic Hotels and Resorts (NYSE: BEE) climbed nearly 7 percent on rumors that the company may be up for sale.
Myriad Genetics (NASDAQ: MYGN) lost almost 14 percent a day after the Supreme Court struck down the company's human gene patents.
Gannett (NYSE: GCI) fell 6 percent on what appeared to be profit taking. The stock soared on Thursday after the company announced the acquisition of Belo Corp. (NYSE: BLC) for $1.5 billion.
A recent sell-off in Arena Pharmaceuticals (NASDAQ: ARNA) picked up steam on Friday as the stock lost nearly 7 percent. Shares had previously jumped on buyout rumors.
Shares of Walter Energy (NYSE: WLT) fell more than 17 percent on a Bloomberg report said that the company will not follow through on a proposal to refinance $1.55 billion in debt. The stock was last halted pending news.
Himax Technologies (NASDAQ: HIMX) lost almost 8 percent on Friday after pricing a secondary offering.
Posted-In: Earnings News Bonds Broad U.S. Equity ETFs Guidance Futures Commodities Currency ETFs Best of Benzinga
View Comments and Join the Discussion!