Is Spain Back? (EWP)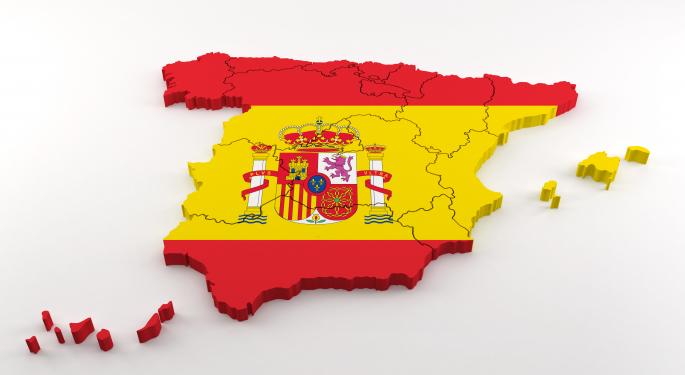 Recent economic trends may suggest that Spain could be bottoming and that the long-awaited turnaround is not too far away.
Spain's financial sector is in ruins. It's housing market continues to deflate from a massive bubble. Unemployment runs at record levels while half of the nation's youth remain jobless. It's deficit continues to widen. And yet, the economy now seems to be showing signs of life.
Recent Data Trends
Economic data emanating from the Iberian nation of late has not been as bad as expected. In fact, several key indicators have surprised to the upside as of late.
Last week, Spain reported what some economists called blow-out employment data, as the employment situation appeared to improve markedly in May. Spain reported that the number of people claiming unemployment benefits dropped by over 98 thousand people. This drop is the third consecutive monthly drop following a period where the number of those claiming unemployment benefits increased six out of seven months.
Over the past three months, nearly 150 thousand people have ceased claiming unemployment. A rebound in exports following the period of economic adjustment has created new jobs in the economy in new sectors.
Export Gains
Spain's exports have gained as of late, a key sign that the economy is near the bottom in its "internal devaluation." An internal devaluation is a period where a country's economy has to adjust through deflation of wages and prices because it cannot do so through a currency devaluation. Similar patterns are being seen in Greece and Italy as they readjust to become competitive once again.
Spain's current account, or exports minus imports, has run a net surplus of 641.93 billion euros ($852.8 billion) from December of 2012 through March of this year (latest data is as of March). Also, Spain has run a net current account surplus of 3,148.93 billion euros ($4,183.35 billion) going back to July of 2012. Part of the gain is attributed to a drop in imports due to shrinking domestic demand, however exports have been growing steadily as well.
Signs of Life
The housing market in Spain also appears to be gaining some legs. Although home prices continue to drop, the pace of declines is moderating. Meanwhile, the number of home transactions in April grew 10.8 percent from April 2012. Previously, the number of transactions had fallen at an annualized rate of 12.6 percent.
Industrial production has also seen an uptick in recent months. Industrial production contracted only 1.8 percent in April vs. an expected contraction of 2.6 percent. Industrial production fell 0.8 percent in March.
PMI data has been improving as well. Spain's manufacturing PMI improved to 48.1 in May from 44.7 in April as the rate of decline in manufacturing output, new orders, and employment all eased. Meanwhile, Spain's services PMI improved to 47.3 in May from 44.4 in April, the best reading in 23 months. Again, the rate of decline in business activity, new orders, and employment all eased, reflecting trends seen in the manufacturing sector heading into peak tourism season, where the economy tends to improve.
Inditex Strength
One company responsible for the turn-around in Spain is Inditex, the parent company of retailer Zara. Zara is well known for its implementation of technology into its business model in order to constantly roll out new items that meet current customer preferences, rather than guessing months in advance. Along with its technology, it is vertically integrated across Spain giving it massive flexibility in its efforts to constantly have hip items.
Zara's sales have grown each year since 2008, defying the trend of most companies. Sales have grown about 11.2 percent annualized per year since 2008, showing the strength of the brand and besting many rivals and outperforming the world economy by multiple percentage points.
The company has also seen a boost in profits and cash flows while it decreases its debt load. EBITDA has grown 15.4 percent per year since 2008 while EBIT has risen nearly 18 percent per year and net income has grown 16.6 percent per year. Meanwhile, free cash flow has grown 15.5 percent per year, figures any company would love to replicate.
The company has been paying down debt as well, reducing its net debt to equity into negative territory as its cash balance grows. Inditex has also increased its number of stores by 41 percent over the period.
Banking Woes
Questions around the health of the Spanish banking system continue to swirl, one key risk to any recovery. A flare up in the European financial crisis could jeopardize the recovery.
Spanish bank stocks have risen from the doll-drums of last summer and continue to improve. However, many of them were barely saved by the bank bailout from last summer, when the Spanish government borrowed 100 billion euros to inject capital into the banking sector.
Future Outlook
This week, Spain is expected to release inflation data as well as the home price index and its labor cost index. Inflation is expected to have moderated from April to May slightly but on an annualized basis, remain flat at 1.7 percent.
Posted-In: News Bonds Previews Forex Global Econ #s Economics Intraday Update Best of Benzinga
View Comments and Join the Discussion!