Market Wrap for Thursday, June 6: Stocks Reverse Mid-Day; Rally to Close at Session Highs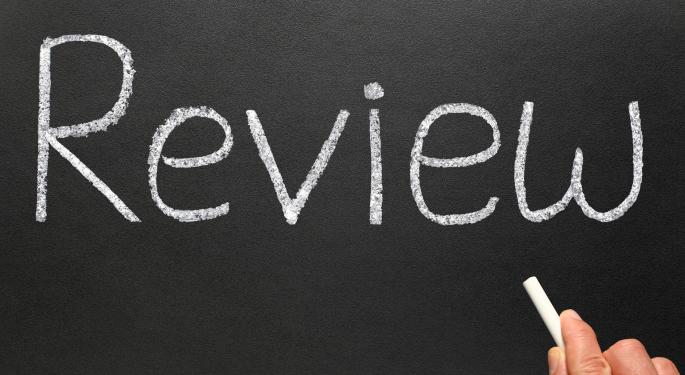 The U.S. stock market surged on Thursday after an afternoon rally lifted the major averages out of negative territory.
Stocks closed near their best levels of the session, with the Dow adding around 80 points. Around mid-day, the market appeared to be in danger of adding to its recent losses, and a washout was not out of the question.
A sharply declining U.S. dollar, however, triggered risk appetite across asset classes. The rally will certainly be viewed as a positive development by investors who have been beaten up over the last 5 trading days amid a correction in share prices.
Major Averages
The Dow Jones Industrial Average climbed around 80 points, or 0.53 percent, to finish at 15,041.
The S&P 500 added almost 14 points, or 0.85 percent, to just above 1,622.
The Nasdaq rose almost 23 points, or 0.66 percent, to 3,424.
Jobless Claims
Initial jobless claims fell to 346,000 for the week ending June 1 from 357,000 for the week ending May 25. This compared to consensus estimates calling for initial claims to fall to 348,000.
Continuing claims declined to 2.952 million for the week ending May 25 compared to 3.004 million for the week ending May 18. The consensus expected continuing claims to fall to 2.980 million.
Commodities
Oil prices were higher on Thursday. At last check, NYMEX crude futures were trading up 1 percent to $94.69. Brent contracts had risen 0.47 percent to $103.52. Natural gas plunged almost 4 percent on the session and was last sitting at $3.85.
Gold continued to rise on the day. COMEX gold futures climbed around 1 percent to $1,412.80. Silver traded up around 0.55 percent to $22.60 near the close of trading. Copper futures were last down 1.39 percent on the session.
Corn and wheat were mixed on Thursday. Corn futures were last up better than 1 percent while wheat had shed 0.53 percent. Movers in soft commodities included cocoa, which added 2.38 percent and cotton, which was up 1.62 percent.
Bonds
Bond prices were largely unchanged on the day. Near the close of equities, the iShares Barclays 20+ Year Treasury Bond ETF (NYSE: TLT) was down 0.03 percent to $115.25.
The 2-Year Note yield was sitting at 0.29 percent while the 5-Year yield was 1.01 percent. The 10-Year Note yield was 2.07 percent and the 30-Year Bond was yielding 3.23 percent.
Currencies
Currency trading was very volatile on Thursday, with the U.S. dollar falling sharply. Near the close of equities, the PowerShares DB US Dollar Index Bullish ETF (NYSE: UUP), which tracks the performance of the greenback versus a basket of foreign currencies, was down 1.32 percent to $22.12.
The closely watched EUR/USD pair jumped 1.16 percent to $1.3245. The British Pound also surged against the greenback with the GBP/USD rising 1.30 percent. The biggest mover on the session was the extremely volatile USD/JPY, which was last down more than 2 percent -- a huge move for a currency market.
Volatility and Volume
Volatility expectations fell on Thursday as the market rebounded from a string of losses. The VIX was last trading down around 5 percent to 16.60.
Volume remained elevated on the session as investors positioned themselves amid the recent correction. Around 183 million SPDR S&P 500 ETF (NYSE: SPY) shares traded hands compared to a 3-month daily average of 127.5 million.
Stock Movers
Ciena (NASDAQ: CIEN) soared around 17 percent late on Thursday after the company reported a narrower second-quarter loss.
JDS Uniphase (NASDAQ: JDSU) climbed around 8 percent on the Ciena news and Finisar (NASDAQ: FNSR) added a little less than 5 percent.
ACADIA Pharmaceuticals (NASDAQ: ACAD) jumped more than 12 percent on the day after Baker Brothers Advisors, a very successful biotech-focused hedge fund, disclosed a 22.6 percent stake in the company.
Shares of Conn's (NASDAQ: CONN) were trading up around 11 percent near the closing bell after the company reported its fiscal first-quarter earnings results.
Regeneron Pharmaceuticals (NASDAQ: REGN) jumped a little less than 10 percent after the company said that its Eylea drug met its main goal in a new late-stage clinical trial.
Shares of VeriFone Systems (NYSE: PAY) traded down 21 percent after the company's Q2 earnings results.
Ascena Retail Group (NASDAQ: ASNA) fell almost 9 percent after the company's Q3 report.
Retailer Vera Bradley (NASDAQ: VRA) lost 8 percent after the company's fiscal first-quarter profit fell 27 percent.
Francesca's Holdings (NASDAQ: FRAN) lost 9 percent after missing Wall Street sales estimates for its first-quarter earnings results.
Chinese game developer Giant Interactive Group (NYSE: GA) lost more than 7 percent after a secondary offering priced at a discount.
Click here to register for Benzinga's PreMarket Info show, broadcast daily at 8:15 am EST!
View Comments and Join the Discussion!
Posted-In: Earnings News Bonds Broad U.S. Equity ETFs Guidance Futures Commodities Currency ETFs Best of Benzinga