Market Wrap for Friday, May 3: Stocks Jump on Strong Jobs Data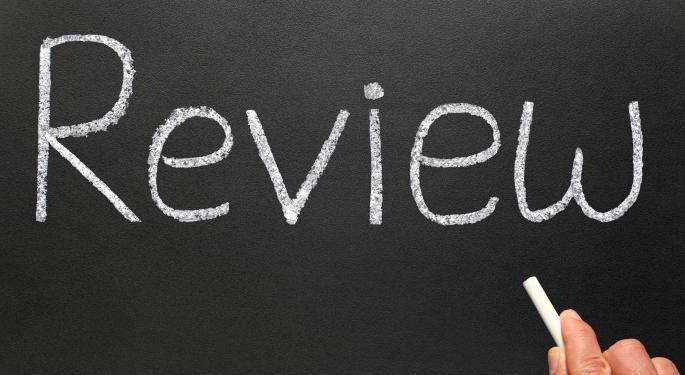 The U.S. stock market jumped on Friday to end the trading week. The catalyst for the move higher was a strong jobs report, which briefly sent the Dow Jones Industrial Average over 15,000 for the first time in history.
Heading into next week, the markets will be sitting at new year-to-date highs after the S&P added a little better than 2 percent over the last 5 days.
Major Averages
The Dow Jones Industrial Average rose 142 points, or 0.96 percent, to 14,974.
The S&P 500 added 17 points, or 1.05 percent, to 1,614.
The Nasdaq rose 38 points, or 1.14 percent, to 3,379.
Nonfarm Payrolls
Nonfarm payrolls for the month of April increased by 165,000 which was 10,000 above consensus expectations of 155,000.
Private payrolls rose by 176,000 versus consensus estimates of 166,000. In March, private payrolls rose by 154,000.
Unemployment Rate
The unemployment rate ticked down as a result of job growth in April. The figure for last month was 7.5 percent compared to 7.6 percent in March. The consensus expected unemployment to remain unchanged.
Factory Orders
Factory orders declined by 4 percent for March versus a 1.9 percent increase in February. This was worse than consensus expectations, which expected factory orders to fall by 2.5 percent.
ISM Services
The ISM non-manufacturing Index fell from 54.4 in March to 53.1 in April. This was above consensus estimates, which called for the Index to fall to 54.0.
Commodities
Crude oil prices rose along with stocks on Friday. At last check, NYMEX crude futures were trading up 1.57 percent to $95.47. Brent crude futures had added 1.14 percent to $104.02. Natural gas climbed around 0.77 percent and was last trading at $4.06.
Precious metals also rose on Friday. COMEX gold futures were last up around 0.06 percent to $1,468.50 while silver had added 1 percent to $24.07. Copper futures registered a huge gain of over 6.50 percent to close out the week.
Bonds
Bonds were crushed on the session in the wake of a rally in risk assets. The iShares Barclays 20+ Year Treasury Bond ETF (NYSE: TLT) fell 2.39 percent to $120.89. Yields rose sharply in the wake of falling prices.
The yield on the 2-Year Note climbed two basis points to 0.22 percent. The yield on the 5-Year Note rose eight basis points to 0.73 percent and the 10-Year Note yield jumped eleven basis points to 1.74 percent. The 30-Year Bond yield moved up fourteen basis points to 2.96 percent.
Currencies
The U.S. dollar was essentially unchanged to close out the week. The PowerShares DB US Dollar Index Bullish ETF (NYSE: UUP), which tracks the performance of the greenback versus a basket of foreign currencies, closed down 0.04 percent to $22.32.
The closely watched EUR/USD pair was last up 0.40 percent to $1.3109. Other movers on the day included the USD/JPY, which rose 1.10 percent, and the AUD/USD, which added 0.56 percent.
Volume and Volatility
The VIX continued its decline on Friday, notching a loss of around 5.50 percent to 12.84.
Volume was slightly above average as the market rallied. Around 130 million SPDR S&P 500 ETF (NYSE: SPY) shares traded hands compared to a 3-month daily average of 128 million.
Stock Movers
Regeneron Pharmaceuticals (NASDAQ: REGN) jumped 7 percent on Friday after the company's fiscal first-quarter earnings results.
Charles Schwab (NYSE: SCHW) climbed more than 6 percent as investors pushed the stock higher amid optimism about the economy.
Gilead Sciences (NASDAQ: GILD) climbed almost 6 percent despite reporting less than stellar first-quarter financial results.
Kraft Foods (NASDAQ: KRFT) climbed 5 percent in the wake of that company's quarterly results.
Caterpillar (NYSE: CAT) was the leading Dow stock on the session, adding better than 3 percent.
Procera Networks (NASDAQ: PKT) jumped 27 percent after the company raised its forward-looking guidance.
ComScore (NASDAQ: SCOR) surged 19 percent after the company released its first-quarter earnings.
LinkedIn (NASDAQ: LNKD) lost 13 percent in the wake of the company's Q1 earnings report.
Arena Pharmaceuticals (NASDAQ: ARNA) lost 9 percent after its Q1 report.
View Comments and Join the Discussion!
Posted-In: Earnings News Bonds Broad U.S. Equity ETFs Guidance Futures Commodities Currency ETFs Best of Benzinga