Spain Slashes Growth Forecasts, Sees Widening Deficit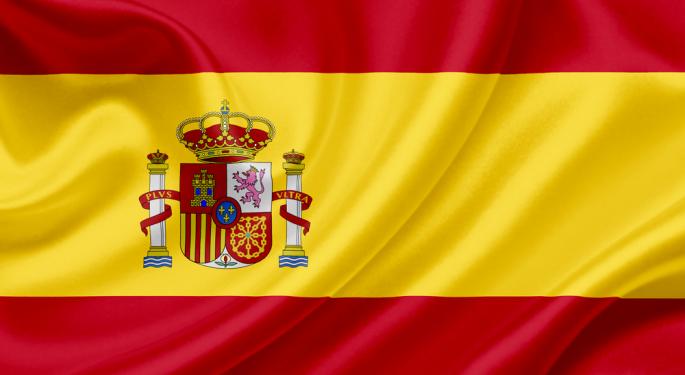 Just as markets were gripping with , Spain has slashed its growth forecasts for 2013 and now expects a wider contraction in 2013. Also, Spain does not expect to meet the EU deficit targets for an additional two years under the current assumptions.
For 2013, Spain revised down its growth forecast from a 0.5 percent contraction to a 1.3 percent contraction but still expects a return to 0.5 percent growth in 2014. The government has also revised down its deficit forecast for 2013 to 6.3 percent of GDP. It predicts the public deficit will be 5.5 percent of GDP in 2014, 4.1 percent the following year and 2.7 percent in 2016.
Under these deficit forecasts, Spain would not reach the EU budget deficit target of 3.0 percent of GDP for two additional years in 2016. Although the revision are rather negative on the growth front and were expected on the deficit front, Spanish bond yields did not widen much and Spain's Ibex stock index traded in-line with where it was before the data.
Record Unemployment
Thursday, Spain reported that its unemployment rate rose to a record 27.2 percent in the first quarter from a previous record 26.02 percent. Economists had expected the rate to rise only to 26.5 percent in the first quarter. Also, in its forecasts, Spain expects the unemployment rate to be 27.1 percent for 2013, 26.7 percent in 2014 and 25.8 percent in 2015.
Deputy prime minister Soraya Saenz de Santamaria said there was no need for major new reforms or taxes following both the negative growth and deficit revision and unemployment report. She added that the government would try to cut taxes in the future as part of a pro-growthj program but not until deficits are reeled in.
Market Reaction
Spanish 10-year bond yields traded with a yield of 4.2596 percent after the data, higher than before the data release but still lower on the day by about 1 basis point. 2-year bond yields rose, however, to 1.948 percent, a gain of 1.1 basis points as short-term finances appear more stretched following the worse deficit forecasts.
Financial stocks led the Spanish Ibex Index lower. Banking giant BBVA (NYSE: BBVA) shares declined 1.48 percent while shares of Banco Santander (NYSE: SAN) declined 0.56 percent in New York listed shares. Lastly, shares of embattled lender Bankia declined 8.56 percent to 12.59 euros in Madrid.
Gross Domestic Product
Next Tuesday, April 30, Spain will announce its preliminary Q1 GDP estimate. Economists surveyed by Bloomberg expect the economy to have contracted 0.5 percent in the first quarter from the fourth quarter, better than the 0.8 percent rate of contraction seen in the fourth quarter from the third quarter. However, on an annualized basis, GDP is expected to fall 2.0 percent compared to the 1.9 percent annualized rate of growth seen in the fourth quarter.
Spain will also announce retail sales and consumer price data next week, followed by current account data and housing permits. In addition, on Thursday May 2, Spain's manufacturing PMI for April is set to be released, forecast at 44.6, ahead of the ECB interest rate decision.
European Central Bank
The European Central Bank could ease Spain's pain next week by cutting rates. Many economists have revised forecasts to call for a rate cut to the ECB's main repo rate and now the consensus forecast calls for a 25 basis point rate cut, with 40 economists surveyed by Bloomberg expecting a cut 25 basis point cut to 0.5 percent, 26 expecting no change, and one daring economist predicting a 50 basis point cut to 0.25 percent.
Economists do not expect the ECB to lower the deposit rate at the meeting; such a cut would take the rate negative, as it is already 0 percent, and could throw money markets into turmoil. Instead, economists are also calling for a cut to the marginal lending rate by as much as 50 basis points, which would reduce the rate to 0.4 percent. The MLR is similar to the Fed Funds rate in the U.S.
View Comments and Join the Discussion!
Posted-In: News Bonds Previews Forex Events Global Econ #s Economics Best of Benzinga