Forget The Housing Crash, This Market Has Been Booming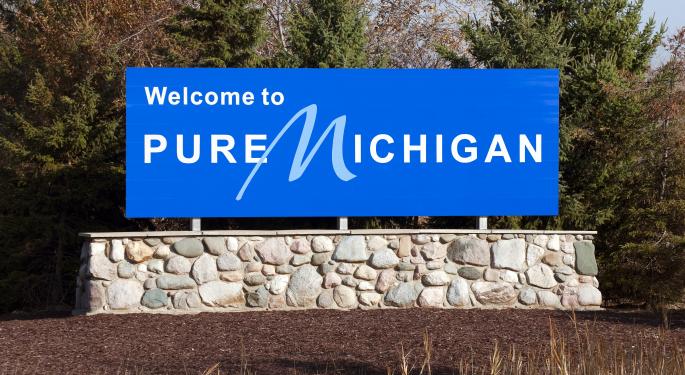 The housing crash of 2007-2008 that spilled into the great financial crisis is not news to any investor. Many are familiar with the devastating effects that collapse of the over-leveraged housing market had on the lives of individuals around the country.
However, despite all of the negativity in the nationwide housing market, one city has been booming in particular. With average capitalization rates form buildings near 20 year lows and new development around the city, this location has been a developers dream city.
But this dream may become a nightmare very quickly... Which city is this that is booming so rapidly, that is attracting hot money from big developers all around the country? No, it is not New York or San Francisco, and it's not some glitzy suburb of silicon valley.
The city in question is none other than Ann Arbor, Michigan, home to the University of Michigan's main Ann Arbor campus. Following a massive re-zoning plan in 2005 that finally passed a few years later, the property market has been absolutely on fire.
High rises have been popping up around the city's downtown and new development is seen all around the city. Key student housing developments such as Zaragon Place, owned by Chicago-based Galileo Associates, were developed to target the continued influx of students of wealthy parents enrolling in the school, offering a luxury student housing experience to those who could afford it.
And afford it being key... apartments in the Zaragon Place building run well over $1,000 per month... PER BED. These ultra-luxury buildings cater to a specific student, the kind to which there is only a limited supply. Since Zaragon opened in 2008, a few other buildings have opened to compete with it and there are many more either beginning to develop, being planned and seeking approval, or are near opening.
For those not educated in the real estate market, mixed-use buildings such as these student housing buildings, most of which have retail operations on the first floor making them mixed-use, are valued using capitalization rates. Capitalization rates are essentially the premium that a buyer pays over the operating income a property generates, and lower cap rates imply a hotter market (because the value of the property is equal to the NOI divided by the cap rate).
Cap rates for these sorts of buildings in Ann Arbor reached a 20-year low in the fourth quarter of 2010 and have hovered just near these levels since then. However, cap rates have recently been on the uptrend.
Not helping the uptick in cap rates in the fear of lots of new supply of these sorts of buildings. Zaragon was so successful with its first project that Zaragon II opened this year only a few blocks from the first building. Another, larger building was opened two blocks away and the city council just approved plans for a fourth building to be built just behind Zaragon I.
Also, plans are being discussed and hotly debated among citizens and the city council for more properties to be developed. Earlier this month, the city council turned down a proposal from New York based Valiant Partners to construct a new hotel and conference center on top of the newly built underground, public parking structure. Also, just last night, the city council was unable to end debate for a vote on another such property in the city's downtown.
All of the new development is raising fears that the city will soon become overdeveloped and also will jeopardize the existing architecture of the city that gives Ann Arbor the small town feel that it once had before the University grew to its current size. In fact, the city council even considered a 6-month moratorium on all new development and proposals just to let the market cool earlier this year.
All of the new supply is raising fears that the current high rents and low cap rates is not sustainable. The owners of one of the new buildings that opened this year recently sold just to get out of the market. Thus, the market appears to be frothy and could be set to bust, just as did most of the U.S. a few years back.
Posted-In: Ann ArborNews Bonds Events Econ #s Economics Intraday Update Markets Best of Benzinga
View Comments and Join the Discussion!