Nifty Junk Bond ETFs Your Broker Forgot to Mention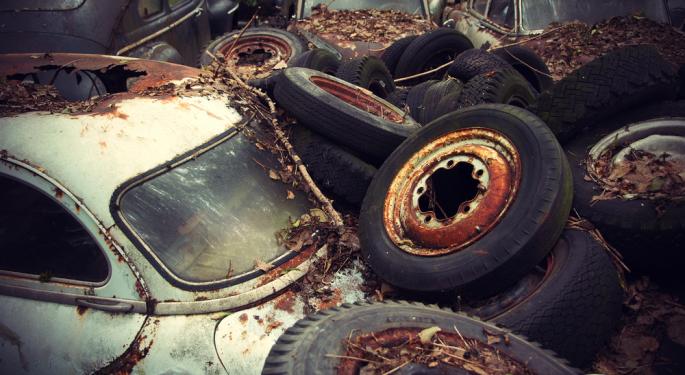 There has been plenty of chatter regarding a great rotation out of bonds into stocks, but ETF inflow data indicate otherwise. In the month of March U.S. stock funds hauled in $11.2 billion in fresh cash, but bond ETFs were sturdy with $4.6 billion in inflows, according to Morningstar data.
Morningstar points out the leaders among bond ETFs in terms of first-quarter inflows were the Vanguard Short-Term Bond ETF (NYSE: BSV) and the PowerShares Senior Loan Portfolio (NYSE: BKLN) at $2.2 billion and $1.5 billion, respectively. Year-to-date, BKLN is the top asset-gather in the entire PowerShares lineup with inflows of $1.73 billion, according to issuer data.
BKLN and BSV have been steady in terms of pure performance as well, but there are some unheralded options within the high-yield bond ETF universe that investors may want to consider. Consider the following funds.
AdvisorShares Peritus High Yield ETF (NYSE: HYLD)
If one follow enough mainstream financial media reporting on high-yield bond ETFs, one is apt to come away with two thoughts. First, the issue of outflows from these funds has been greatly overstated. Second, there are two only high-yield bond ETFs worth looking at: The iShares iBoxx $ High Yield Corporate Bond Fund (NYSE: HYG) and the SPDR Barclays Capital High Yield Bond ETF (NYSE: JNK).
Nothing could be further from the truth as HYG and JNK have plenty of credible challengers, including the Peritus High Yield ETF, an actively managed product with over $222.5 million in assets under management.
Actually, it is HYG and JNK that have a hard time holding a candle to HYLD, at least in terms of performance this year. HYG and JNK, the two largest junk bond ETFs by assets, are up an average of 2.9 percent year-to-date. HYLD is higher by 5.2 percent and has been 150 basis points less volatile than its large rivals. The rub is investors will pay up for active management with a net expense ratio of 1.35 percent.
PIMCO 0-5 Year High Yield Corporate Bond Index Fund (NYSE: HYS)
Just a couple of months shy of its second birthday, the PIMCO 0-5 Year High Yield Corporate Bond Index Fund does not lead a completely anonymous existence. Nor does it receive the fanfare that HYG and JNK do. Still, there is no denying HYS is massive ETF with nearly 1.9 billion in AUM.
HYS competes directly with the SPDR Barclays Short Term High Yield Bond ETF (NYSE: SJNK), another prime example of a junk bond ETF the mainstream press has all but ignored. That is OK because SJNK had almost $519 million in AUM in early December. It now has over $1.1 billion.
So there is roughly $3 billion in two short duration junk bond ETFs, indicating investors like the idea of high yields with diminished interest rate risk. HYS delivers with an estimated yield to maturity of 4.51 percent, a distribution yield of 4.87 percent and an effective duration of 1.87 years, according to PIMCO data. That duration is slightly lower than the modified adjusted duration of 2.06 years on SJNK.
iShares Emerging Markets High Yield Bond Fund (NYSE: EMHY)
The iShares Emerging Markets High Yield Bond Fund, which has amassed nearly $258 million in AUM in just over a year of trading, is one ETF international bond investors might want to keep an eye on in the coming days. Actually, keep an eye on EMHY on Friday and Monday because the ETF has one of the largest exposures to Venezuela.
Venezuela holds a general election Sunday, the first since the death of former President Hugo Chavez. Chavez's heir, Nicolas Maduro is expected to win and that is an outcome the bond market may not like. And one that could make EMHY somewhat vulnerable with an almost 17 percent weight to Venezuela. Turkey is EMHY's largest country weight and the Philippines is third after Venezuela.
EMHY has a distribution yield of 5.43 percent and an effective duration of 5.97 years, according to iShares data.
For more on ETFs, click here.
View Comments and Join the Discussion!
Posted-In: Long Ideas News Bonds Short Ideas Specialty ETFs Emerging Market ETFs Currency ETFs Events Best of Benzinga