Benzinga Market Primer: Wednesday, April 10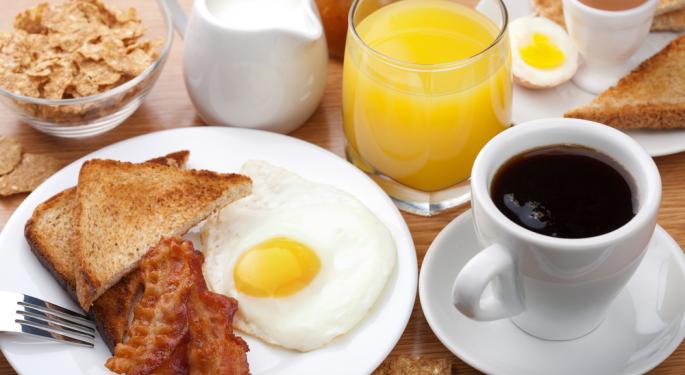 Futures Higher as Yen Slides, Eyeing FOMC Minutes
U.S. equity futures rose in early pre-market trade Wednesday as the markets continued to react to Japan's easing policies. Later today, the minutes of the latest FOMC meeting will be released and markets will be focused on any language related to an exit policy of the Fed. Monday night, Chairman Bernanke hinted that any pullback in easing would start with hikes in the interest on excess reserves (IOER).
Top News
In other news around the markets:


China's trade balance was less than expected in March as import growth far surpassed expectations and exports grew slightly less than expected. The trade balance was reported as a deficit of $0.88 billion vs. an expected surplus of $15.15 billion, mostly due to imports growing 14.1 percent from a year ago on expectations that imports would grow 6.0 percent.

Herbalife (NYSE: HLF) and Skechers (NYSE: SKX) shares were both halted for over an hour Tuesday as the companies both announced that KPMG was resigning as its auditor after discovering that a senior partner at KPMG responsible for the accounts was selling secrets to traders in an insider trading scandal.

Reserve Bank of Australia board member Kent spoke overnight saying that cooling inflation data opens the door to more easing while Treasury Secretary Swan said that the Australian dollar remains strongly overvalued.

S&P 500 futures rose 4 points to 1,567.50.

The EUR/USD was was higher at 1.3097, the highest since mid-March.

Spanish 10-year government bond yields fell to 4.71 percent from 4.72 percent.

Italian 10-year government bond yields fell to 4.34 percent from 4.35 percent.

Gold fell 0.4 percent to $1,580.60 per ounce.
Asian Markets
Asian shares were mostly higher overnight led by Japanese shares as the easing efforts of the Bank of Japan pushed investors into stocks. The Japanese Nikkei Index rose 0.73 percent, the highest close since August 2008, and the Shanghai Composite Index rose 0.02 percent while the Hang Seng Index rose 0.75 percent. Also, the Korean Kospi rose 0.77 percent and Australian shares slipped 0.18 percent.
European Markets
European shares were sharply higher in early trade on hopes of additional easing measures. The Spanish Ibex Index gained 2.19 percent and the Italian FTSE MIB Index rose 1.4 percent. Meanwhile, the German DAX rose 1.36 percent and the French CAC added 1.28 percent while U.K. shares gained a mere 0.73 percent.
Commodities
Commodities were lower overnight after sharp gains over the past two days following the weaker than expected Chinese trade balance and export data. WTI Crude futures fell 0.2 percent to $94.04 per barrel and Brent Crude futures fell 0.35 percent to $106.00. Copper futures slid 0.38 percent to $343.35 per pound on the weak Chinese export data and concerns from the Australian officials. Gold was lower and silver futures slid 0.65 percent to $27.75 per ounce.
Currencies
Currency markets continued to see the yen sell off overnight as the markets continue to react to the BoJ's latest round of easing, a massive round at that. The EUR/USD was higher at 1.3097 as Japanese money flows into European bonds in search of yield and the dollar gained against the yen to 99.43 as the pair tries to make a run at the dreaded 100 level. Overall, the Dollar Index fell 0.04 percent on weakness against the euro, the Swiss franc, and the Canadian dollar despite the strength against the yen and the pound. Also, the Australian dollar rallied against the greenback and the yen.
Earnings Reported Yesterday
Key companies that reported earnings Tuesday include:


PriceSmart (NASDAQ: PSMT) reported second quarter EPS of $0.82 vs. $0.77 expected on revenue of $607.4 million vs. $609.67 million estimated.

Healthcare Services Group (NASDAQ: HCSG) reported fourth quarter EPS of $0.22 vs. $0.19 expected on revenue of $273.9 million on estimates of $281.34 million.
Zep (NYSE: ZEP) reported second quarter EPS of $0.12 vs. $0.11 forecasted on sales of $163.4 million vs. $167.06 million estimated.
Pre-Market Movers
Stocks moving in the pre-market included:


PriceSmart shares rose 3.48 percent pre-market following its earnings report.

J.C.Penney (NYSE: JCP) shares rose 0.5 percent pre-market following the sharp 12.22 percent drop yesterday after the company announced that it had fired Ron Johnson as CEO after only 17 months.

Microsoft (NASDAQ: MSFT) shares rose 0.14 percent pre-market after rising 3.57 percent Tuesday on news that the company may be rolling out the newest Xbox earlier than expected, a technical breakout, and that the company is partnering with NBC Sports for streaming digital content.

Facebook (NASDAQ: FB) shares rose 1.58 percent pre-market as GM has reversed its decision to pull ads from the website, the decision it initially made last summer.
Earnings
Notable companies expected to report earnings Wednesday include:


ADTRAN (NASDAQ: ADTN) is expected to report first quarter EPS of $0.08 vs. $0.20 a year ago.

Bed Bath and Beyond (NASDAQ: BBBY) is expected to report fourth quarter EPS of $1.68 vs. $1.48 a year ago.

Fastenal (NASDAQ: FAST) is expected to report fourth quarter EPS of $0.37 s. $0.40 a year ago.

Family Dollar (NYSE: FDO) is expected to report fourth quarter EPS of $1.23 vs. $1.15 a year ago.

JinkoSolar Holdings (NYSE: JKS) is expected to report a fourth quarter loss of $0.80 per share vs. a loss of $2.58 a year ago.

Ruby Tuesday (NYSE: RT) is expected to report fourth quarter EPS of $0.10 vs. $0.18 a year ago.

Constellation Brands (NYSE: STZ) is expected to report fourth quarter EPS of $0.45 vs. $0.69 a year ago.
Economics
On the economics calendar Wednesday, MBA Mortgage Applications are due out followed by the FOMC meeting minutes later. Also, Richard Fisher of the Dallas Fed is set to speak and the Treasury is set to auction 10-year notes. Overnight, Australian employment data and the ECB Monthly Report are both expected and should move markets.
Good luck and good trading.
Posted-In: Earnings News Bonds Guidance Dividends Futures Commodities Previews Best of Benzinga
View Comments and Join the Discussion!