The Sequester Isn't the Real Fiscal Crisis, But This Is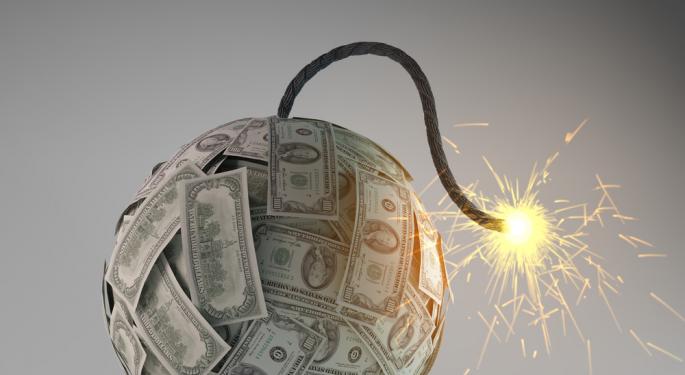 With the deadline approaching for Congress to avert the looming sequester, the markets seem to be shrugging their shoulders at the situation. If lawmakers cannot reach a deal, severe cuts to the federal budget will come into effect starting March 1st.
Wall Street's indifference is well deserved, as the small magnitude of the sequester is not the real issue.
The sequester amounts to $1.2 trillion in spending cuts over the next nine years with $85 billion in cuts set to take place in 2013. In 2013, the sequester amounts to a mere 0.5 percent of GDP and amounts to approximately seven percent of GDP growth over the next nine years, assuming a three percent growth rate.
So, if the magnitude of the spending cuts this year are not the issue underlying the sequester, then what is the true underlying issue? Well, the issue has two parts, but it comes down to very public debates that have yet to be had: those over the inability of politicians to agree to a sustainable, long-term fiscal plan for the country and the need to reform entitlements.
It's no surprise that entitlements need to be reformed, but there is no political will to actually reform entitlements. Consider this: when Social Security was created, there were 16 working people paying in for each person receiving benefits from the program. Today, just two pay in for each one, and by 2030, there will be more people receiving benefits than contributing new funds.
Social Security is just one entitlement program that needs reform. This debate will tie directly into the other key issue, that of the long-term fiscal health of the U.S. government. So far, no politician has credibly addressed this issue in a formal setting; it has only been addressed informally and has only been discussed in the context of addressing that there is at least an issue.
What is needed is not a plan that cuts spending this year, or next year, or even in 2015; what is truly needed is a plan that looks out a decade or two and says, where can we begin to curtail spending down the road to reign in deficits and eventually shrink the size of the fiscal balance sheet? Where can we make changes to entitlements and social spending that will eventually lead us back to a healthy fiscal path?
One thing that is needed is growth; debt-to-GDP has two variables, the debt and GDP. Launching massive policies now that would aim at lowering the debt drastically now would only serve to hurt GDP. Thus, both the denominator and the numerator would fall and the chance of the debt-to-GDP ratio falling substantially would decrease to near zero.
Disagree with this idea? Just ask Greece, Spain or Italy how massive austerity feels? Spain has an unemployment rate around 25 percent, Italy's is above 11 percent, and Greece has experienced one of the worst depressions to strike a modern economy in all of economic history. The point is that we do not have a fiscal crisis now; we have a political crisis and if it can be addressed, it can avoid a real fiscal crisis altogether.
Until entitlements and the long term fiscal health of the nation are addressed, these minor "fiscal crises" will remain as ancillary, small debates in the scope of the underlying issues. Until these issues are addressed, it might just be best to put Washington on mute.
Posted-In: News Bonds Previews Politics Events Global Econ #s Economics Best of Benzinga
View Comments and Join the Discussion!