How Ugly Did Europe Just Get?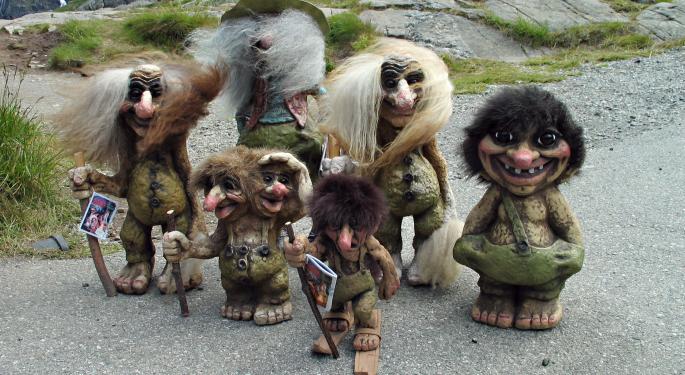 Monday, global financial markets got beat down on what was effectively a repricing of sovereign and political risk in Europe. Bond yields rose, bank stocks fell, and broadly, risk assets traded weakly.
Europe just looked pretty ugly Monday. Beginning in Italy, 10-year government bond yields crept to two-month highs Monday on fears that former Prime Minister Silvio Berlusconi may be gaining in the polls ahead of the upcoming elections.
It was under his regime that Italy built up massive debt levels and investors fear that a return to a Berlusconi government would ensure that austerity measures would be thrown by the wayside.
Italian 10-year government bond yields rose as high as 4.47 percent Monday and climbed further to 4.55 percent early Tuesday before declining back to 4.45 percent, showing increased solvency risks in Italy. Further, 2-year bond yields, a relative measure of the liquidity of a nation, rose to 1.73 percent Monday and climbed as high as 1.77 percent Monday.
The rise in bond yields as of now is not worrisome, however should yields rise for successive days, it could weigh on confidence in the health of the economic and financial recoveries. Further, it would call into question the credibility of the European Central Bank, whom with nothing but words sent bond yields lower over the summer.
Italian banks were clobbered Monday, with Unicredit, one of the nation's largest banks, declining 8.29 percent and Banca Monte dei Paschi di Sienna and Banco Popolare both declining over 5 percent. In fact, only one stock in the FTSE MIB Index, Saipen, traded in positive territory Monday, however it is also the one company that declined more than 20 percent in the week before.
Moving to Spain, where sovereign risk crept up also as Prime Minister Mariano Rajoy allegedly funneled political money into personal accounts, according to Spanish media reports. The Prime Minister refuted the allegations, however uncertainty surrounding the political stability of Spain is negative for the nation's sovereign debt.
Spanish 10-year government bond yields rose to 5.44 percent Monday and climbed as high as 5.5 percent early Tuesday, marking the highest level for the yields since mid-December. Further, 2-year bond yields rose to 2.88 percent Monday and climbed as high as 2.95 percent Tuesday before retreating lower. All in all, investors became less confident in the fiscal health of Spain due to political uncertainty.
Stock moves in Spain were similar to Italy. Financials and industrial stocks traded lower as did technology companies. All in all, Spanish and Italian bonds and stocks simply repriced political and sovereign risk Monday, a clear sign that Europe still has a long way to go before it fully exits its crisis.
View Comments and Join the Discussion!
Posted-In: News Bonds Futures Previews Forex Events Global Econ #s Best of Benzinga