German Investor Sentiment Surges in January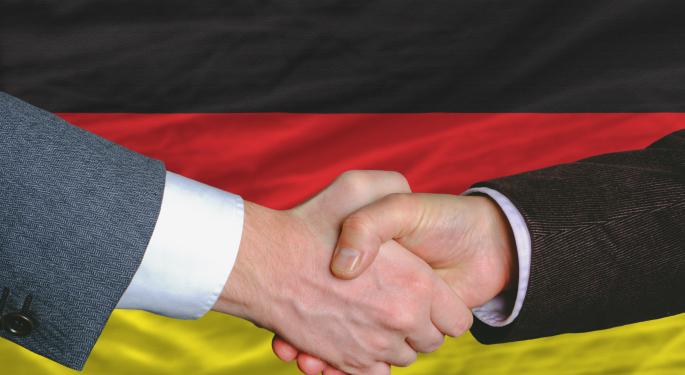 A key measure of investor sentiment in Germany surged this month to the highest level since May 2010 on improved economic conditions and a better outlook for the economy over the next six months. The ZEW Survey of investors confidence surged to 31.5 in January, much better than the reading of 6.9 seen in December and beating economist expectations of a reading of a reading of 12.0.
"The renewed rise in economic expectations shows that financial market experts believe the economic outlook for Germany to have improved for the next six months," ZEW President Wolfgang Franz said. Franz also highlighted reduced uncertainty as to the future of the eurozone, with Greek, Spanish and Italian finances seeming healthier over the last few months, as key reasons why the outlook for Germany's economy has improved.
A key sub-index of the survey which is much more reliable is the financial market players' index, a survey of key market participants rather than the pool of analysts and investors who are surveyed for the broad index. The sub-index inched higher by 1.4 points to 7.1 in January, still an improvement but not the monstrous strength seen in the headline index.
Franz believes that improving sentiment is a key factor in creating a sustainable recovery in Europe. In his opinion, improving sentiment conditions build confidence in companies to invest in hard assets and infrastructure, investment projects that may have long been on hold and that could help to spur growth in the long-run. Also, he noted that many of Germany's key trading partners, such as other eurozone countries as well as the U.K. and Poland, still remain weak and the outlook for these economies is not expected to improve much. Thus, he sees limited upside to growth in 2013 despite strong domestic tailwinds.
The positive ZEW survey came on the back of other positive European data earlier Tuesday. Spain reported that house prices fell less than expected in December, with prices falling at an annualized rate of 9.8 percent in December, worse than the previous reading of a 9.3 percent rate of contraction but better than forecasts of a 10.0 percent rate of contraction. Improvement in home prices in Spain will help to bolster the Spanish banks, as many have been crippled by falling housing prices hurting real estate assets. An improvement in the housing sector would be one step on the road to recovery for Spain.
In addition, Spain successfully auctioned short term bills of maturities of 3- and 6-months. Spain auctioned $1.61 billion of 3-month bills to yield 0.441 percent, well below the previous auction's 1.195 percent. Spain also auctioned $2.1 billion of 6-month bills to yield 0.888 percent, nearly half of the 1.609 percent paid at the previous auction. Overall, the improvement in Spanish yields and the strong ZEW survey painted a slightly better picture of the European economy.
Despite positive data, European shares declined in midday trade as weakness from Asia spilled over to weigh on stocks following slight disappointment from the Bank of Japan. The German DAX declined 0.73 percent on fears that the German banking regulator BAFIN may order some large banks to be broken up after the regulator ordered Deutsche Bank (NYSE: DB) to explore break up options. Also, the Spanish Ibex 35 Index declined 0.35 percent despite the positive bond auction and the Italian FTSE MIB Index gained 0.42 percent as bond yields fell.
The euro initially rose on the positive news but has since retraced most of its gains as markets traded in a clear risk-off mode. The EUR/USD rose 0.04 percent to 1.3318 after trading as high as 1.3357 earlier in the session and the EUR/JPY declined 0.83 percent to 118.31 as yen strength was seen in multiple crosses. Also, the EUR/CHF cross, which has been manipulated by the Swiss National Bank since September 2010 with a floor at 1.20, declined to 1.2387 following two weeks of consistent gains which saw the pair reach its highest level in nearly two years.
European markets will be watching ECB President Mario Draghi at 1 pm eastern standard time Tuesday, as he is set to speak in Frankfurt on the state of the European economy.
View Comments and Join the Discussion!
Posted-In: News Bonds Futures Commodities Forex Events Global Econ #s Best of Benzinga