Ben Bernanke Addresses Michigan Students at the Ford School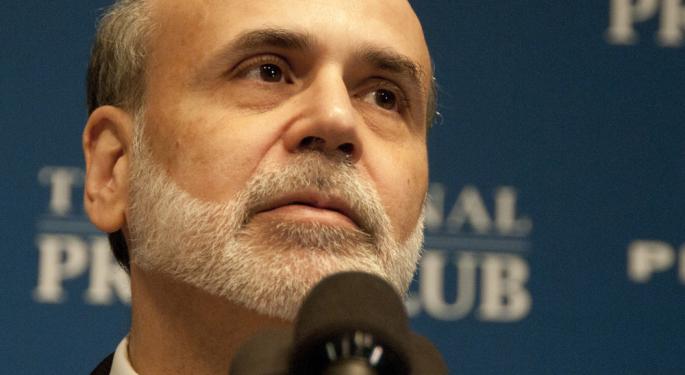 Federal Reserve Chairman Ben Bernanke spoke Monday at the University of Michigan's Ford School, addressing students on monetary policy. In the conversation setting, the Chairman addressed pressing issues such as the Debt Ceiling, Fed Policy, and Fed Independence.
Bernanke opened the conversation at the school by commenting on the state of fiscal policy in the U.S. He said that there remains two big issues in fiscal policy, the long run debt sustainability of the U.S. and the fragile economy.
Bernanke noted that the Fiscal Cliff threatened the recovery from the financial crisis and is afraid of the looming fiscal problems ahead. For 2013, Bernanke expects a fiscal drag of 1-1.5 percent.
In regards to current policy choices, Bernanke reiterated that the Fed has a dual mandate, full employment and stable inflation. Bernanke thus reiterated that it is the high level of unemployment that has continually allowed him to air on the side of easing policies.
Although longer-term inflation risks remain, Bernanke was coy on the threat of high inflation now and noted that inflation has remained below the Fed's target of near 2 percent inflation for some time.
Bernanke also commented on the state of the economy in the discussion, noting that growth has slowed globally for a variety of reasons. The Chairman highlighted the weakness in Europe resulting from policies aimed at resolving the debt crisis has been a large drag on the economy, however those effects seem to be waning recently.
Also, he noted weakness in emerging markets recently has also been a drag on the global economy and noted that Chinese leaders have engineered a slower economy to focus more on domestic consumption than export-driven growth.
Lastly, Bernanke spoke about the Fed's independence and the movement to increase oversight on the Fed. Bernanke noted that the Fed is fully audited by both private sector accountants but also by the GAO.
Notably, Bernanke said that the Federal Reserve Act exempts audits to policy decisions made by the FOMC and it is this clause that the audit the Fed movement wants to change. However, changing this clause would allow the GAO, and thus politicians, to audit and judge any and every decision made by the Fed. Thus, it would completely jeopardize the Fed's independence and limit its ability to act quickly in times of crisis.
Posted-In: News Bonds Futures Commodities Forex Events Global Econ #s Best of Benzinga
View Comments and Join the Discussion!