Japan's LDP Leading in Exit Polls, Set to Claim Majority in Lower House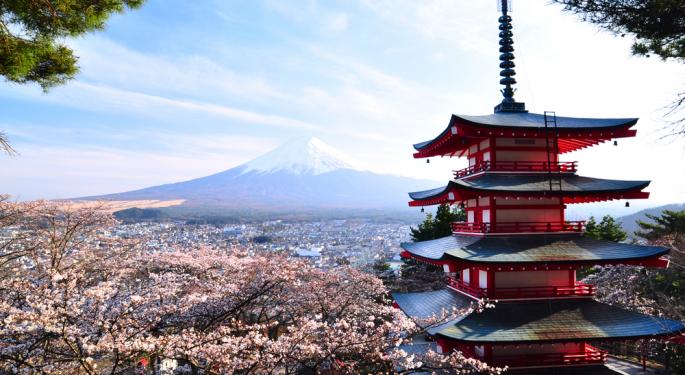 Japan's Liberal Democratic Party (LDP) surged back to power three years after being forced out of a majority in elections held this weekend. The LDP won 300 of a potential 480 seats in the lower house of Parliament, paving the way for the party of former Prime Minister Shinzo Abe to launch radical economic policies aimed at spurring growth.
The Japanese economy has stagnated for decades following the collapse of the domestic property bubble in the 1980's. Low inflation accompanies low growth as zombie banks were kept on life support through low interest rate policies of the Bank of Japan. However, the LDP is set to change the mandate of the BoJ, increasing the inflation target to three percent from one percent. In this scenario, the Bank would have to launch new, aggressive rounds of quantitative easing to have inflation reach the new target.
Also on the agenda of the LDP is a new round of fiscal stimulus. With government debt-to-GDP levels the highest in the world and total debt levels also the highest at over 500 percent of GDP, fiscal stimulus may be muted and the task of stimulating the economy will most likely fall on the shoulders of BoJ Governor Masaaki Shirakawa to effectively implement the monetary policy.
One key hindrance on the Japanese economy over the past few years has been the strong yen. The hope is that the new monetary policy objectives of the BoJ would help to weaken the yen and restore competitiveness back to Japanese exports. Companies such as Honda Motor Corp. (NYSE: HMC) and Toyota Motor Corp. (NYSE: TM) have, over the past few years, mentioned how the strong yen has been a drain on profitability. Therefore, the new policy, if successful, could return these automakers back to prowess in the industry.
Other issues are also important to the LDP besides the economy, although that is what markets may focus on. The LDP is strongly opposed to Chinese territorial claims over islands in the South China Sea and is also pro-nuclear energy. Even after the Fukishima disaster, the party still supports nuclear energy and will hope to restore some sense of stability to Japan's seemingly broken political structure; remember, Japan has had a mere five Prime Ministers since September 2007 and has been in nearly a constant state of political flux over the period.
Posted-In: News Bonds Futures Previews Forex Events Global Economics Best of Benzinga
View Comments and Join the Discussion!