Don't Spin The Roulette Wheel on a Caesars Special Dividend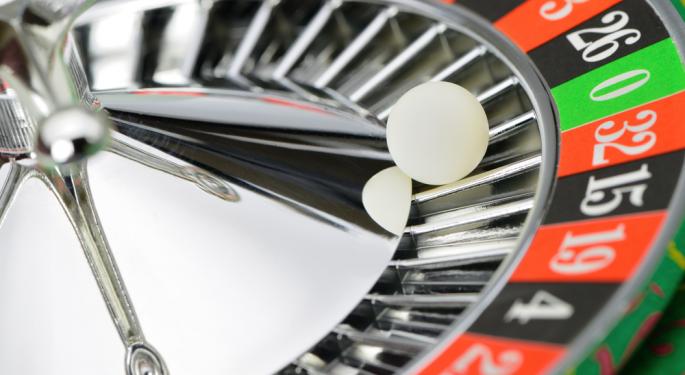 Shares of casino operator Caesars Entertainment (NASDAQ: CZR) are up 11.3 percent today on volume that is already more than 25 percent higher than the daily average and it may not be hard for investors to figure out why. News released last week that Caesars will shutter Bill's Gamblin' Hall & Saloon probably is not the catalyst behind a move of 11.3 percent.
Rather, it could be speculation that downtrodden Caesars is prepared to join rivals Las Vegas Sands (NYSE: LVS) and Wynn Resorts (NASDAQ: WYNN) in paying a special dividend to shareholders. Amid fears of an increased dividend tax should the fiscal cliff come to pass, scores of companies are announcing special dividends.
That includes a special dividend of $2.75 per share announced by Las Vegas Sands in November and a special payout of $8 per share paid by Wynn last month.
The logic here, albeit flawed, is clear. A couple of companies in a specific industry announce special dividends and the investment community suddenly expects all of those companies rivals to follow suit. However, the example of Caesars and its rivals is not comparable to Coca-Cola (NYSE: KO) and PepsiCo (NYSE: PEP).
The two largest soft-drink makers each raise their dividends like clockwork every year. Most of the reason for this is because management from both firms know the market views their stocks as "dividend stocks." However, it is not unreasonable to say that Pepsi knows it has to keep boosting its payout as long as Coca-Cola keeps doing so and vice-versa.
Thing is those companies can afford to continuously raise their dividends. Las Vegas Sands and Wynn can afford to pay regular dividends and issue special payouts. A legitimate case can be made that Caesars cannot afford to join the special dividend club, nor should it try.
Admittedly, the temptation could easily be there for Caesars. It can be said that shareholders deserve some type of compensation for sticking by this company. Think Facebook (NASDAQ: FB) is the worst IPO of 2012? Think again. Shares of Caesars have plunged almost 56 percent since the company's February IPO. The stock was trading around $15 in early February. Even with today's 11 percent surge, the shares are still below $7 and with a market capitalization of less than $860 million, Caesars is firmly entrenched in small-cap territory.
The bull case for a special dividend from Caesars revolves around the $9.50 per share in cash the company reportedly has. Based on 125.31 million shares outstanding, if Caesars spent "just" $4.75 a share on special dividend, the cost would be $595.2 million.
Hey, all Caesars needs to do to fund a special dividend of $595.2 million is sell nearly 2.4 million Celine Dion tickets at $250 a pop.
Unfortunately, life is not that easy for this company. Caesars is saddled with $20 billion in debt and servicing that debt costs $1.5 billion a year. Said another way, if Caesar's shares stay flat for the rest of 2012, the company will have spent nearly double its market cap on interest on its on its debt this year. The debt burden possessed by Caesars is by far the largest in the casino industry.
Making matters worse, Standard & Poor's lowered its outlook on Casears to negative from stable in August. Moody's Investors Services has a Caa1 credit rating on Caesars, junk status, and calls the company a credit risk. In September, Fitch Ratings also lowered its outlook on Caesars to negative from stable. Fitch even hinted that Chapter 11 bankruptcy could be a possibility for Caesars, according to the Las Vegas Review-Journal.
Fitch said to investors Caesars may need to obtain a covenant amendment or waiver by late 2013 or early 2014, the Review-Journal reported. That is not a good sign. Perhaps the company could spin-off its Caesars Interactive business, a unit that would become attractive if and only if online poker is officially legalized in the U.S.
That would be one option for unlocking some semblance of shareholder value and perhaps staving off bankruptcy. On the other hand, a special dividend, given Caesars' financial position, borders on the irresponsible.
Posted-In: Long Ideas News Bonds Short Ideas Dividends Dividends Rumors Management Best of Benzinga
View Comments and Join the Discussion!