Canadian to Head Bank of England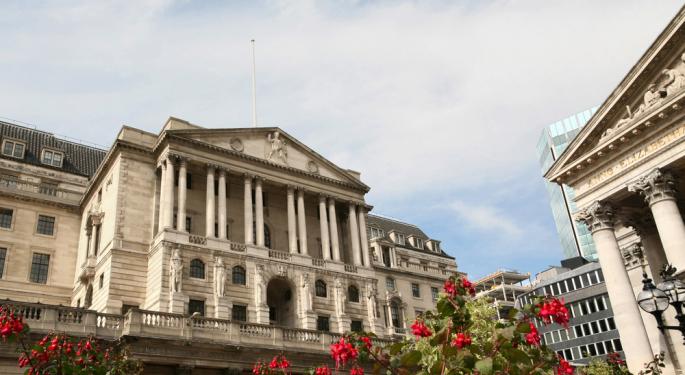 Governor of the Bank of Canada, Mark Carney, has been tapped to head the Bank of England when BoE governor Mervyn King's term ends in June 2013. Carney is the first non-UK citizen to be named to head the UK's central bank and comes to the BoE at a time when the central bank is getting sweeping new power.
Carney's tenure at the Bank of Canada has been generally well-received. Canada has avoided the worst of the financial crisis that started in 2008 and Carney has been given credit for his astute handling of Canada's monetary policy, which has been imitated by the Fed.
Carney has a PhD in economics and spent 13 years working for Goldman Sachs in London, New York, Tokyo and Toronto. His background, with its combination of both public sector and private sector experience, is considered to be unique for a central bank chief.
Little is known about where Carney fits in on the scale from hawk to dove. The Bank of Canada does not publish minutes of its meetings. As governor, Carney did replace four of the five deputy governors who decide interest rates.
Carney is seen as someone who will bring fresh ideas to the BoE at a time when the central bank has been harshly criticized for its role in the Libor rate fixing scandal that erupted earlier this year.
Despite his history working for Goldman Sachs, Carney has made it clear that he is not in the bankers' pocket. "A few months after becoming governor in February 2008, Carney earned the wrath of Canadian bank CEOs by suggesting they were hoarding cash and not lending enough to businesses, a message he has repeated on several occasions," Reuters wrote.
In addition to heading the Bank of Canada, Carney is in charge of the Financial Stability Board (FSB) set up by the G20 nations to coordinate financial regulation. It is thought that Carne's expertise in financial regulation will help him in overseeing London's financial markets, one of the largest in the world. The Bank of England is taking on more of a regulatory role in the financial markets as the result of changes that will be implemented starting next year.
Although the move was a surprise, it has been greeting positively throughout the financial world. The UK's Chancellor of the Exchequer, George Osborne, in announcing the decision to hire Carney for the BoE, said, "He is quite simply the best, most experienced and most qualified person in the world to be the next Governor of the Bank of England."
Posted-In: News Bonds Futures Forex Global Econ #s Economics Markets Best of Benzinga
View Comments and Join the Discussion!