US 10 Yr Note Still In Consolidation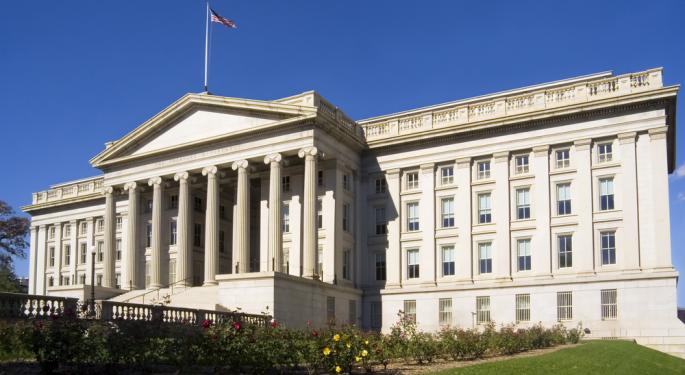 Most markets are quiet this Veteran's day as the bond market is closed. The focus amongst traders and investors is clearly the fiscal cliff situation. If the US government gives the market confidence that they can come to a resolution on how not to put the brakes on a re-awakening US economy, we think the equity markets can reverse their recent sell-offand head back to 2012 highs, and thus the US bond market prices would potentially see a sell-off.
The recent sell-off in the US equity markets isn't for want of good economic data, it is more the result of the forward-looking nature of the markets. Markets trade off of the perceived view of the future, not the past. Thus, equity and bond markets are focusing on their perceptions of how the fiscal cliff scenario will resolve. It can be tough to imagine a real extended bond-market sell-off when QE policies are clearly in place, but stranger things have definitely happened.
In commodities news, the grain futures markets continue their overall bearish tone this morning with soybeans getting hammered this morning, down around 2%. Corn is down almost 1%, and wheat is currently down 1.07%. Soybean futures recently broke their 200-day moving average on the heels of Friday's production increase from USDA.
We focus our deeper analysis on the US 10 yr futures (DEC12). In 12 months, this market has seen a significant rally, and is now consolidating at the area of recent highs. We have drawn an important supportive trendline going back all the way to October 2011. The 10yr market is still above this support line currently, although has spent more time recently closer to this line. If it does break this line, we look for the first support level of right below 132 to be hit, and then for a sell-off to 130. The truth is, we believe the technically speaking the bond market is a tough call now. It could definitely continue to rally based of recession fears due to fiscal cliff and additional geo-political uncertainty.
However, no one rings a bell at the top (famous trading aphorism). This market could be ripe for a sell-off just because no one is really expecting it. We think the next major fundamental piece of data for the bond market (besides economic data) is speculation on who will replace Bernanke as the time gets closer to that event.
Would You Like to See Data and Information on Our Alternative Money Managers?
Would You Like to Discuss Personalized, Broker-Assisted Trading with a Lido Isle Advisors Trading Professional?
Get on the Inside of the Commodities, Futures, and Options Markets…Click Here Now.
Lido Isle Advisors is an elite provider of futures and options brokerage and Mobile Trade Alerts signals. The CEO of Lido Isle Advisors has been featured on CNBC and referenced in leading publications such as Financial Times, Wall Street Journal, Reuters, Benzinga, Futuresmag, & Marketwatch for his expertise on the futures and commodities markets.
PAST PERFORMANCE IS NOT NECESSARILY INDICATIVE OF FUTURE RESULTS. TRADING COMMODITY FUTURES AND OPTIONS IS SPECULATIVE, INVOLVES RISK OF LOSS, AND IS NOT SUITABLE FOR ALL INVESTORS.
The preceding article is from one of our external contributors. It does not represent the opinion of Benzinga and has not been edited.
Posted-In: Bonds Markets Trading Ideas
View Comments and Join the Discussion!