Futures Flat After Strong Chinese Data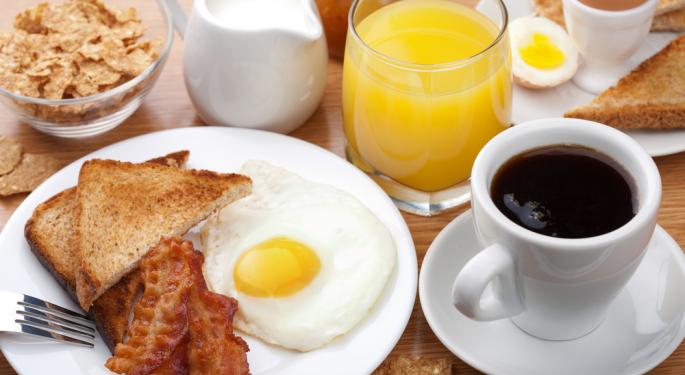 U.S. equity futures were flat in pre-market trading for the third straight day despite stronger than expected industrial production data from China, a proxy for growth. The National Bureau of Statistics in China reported that industrial production grew at an annualized rate of 9.6 percent, better than forecasts of a 9.4 percent gain.
Top News
In other news around the markets:


Former Treasury Secretary Larry Summers spoke overnight, stating that Europe's woes were more urgent than the fiscal cliff and said that he is not sure who will fill Fed Chairman Ben Bernanke's seat when he retires in 2014. Summers is widely regarded as the top choice of the President for the post.

The Royal Bank of Australia cut its growth estimate for the Australian economy to 2.25-3.25 percent from 2.75-3.25 percent in its monetary policy statement, following its rate decision last week.

French industrial output fell 2.7 percent in September for the prior month, much weaker than forecasts of 1.0 percent drop. Also, industry investment is only seen rising 1.0 percent in 2012, lower than previous estimates of a 5.0 percent increase.

Andreas Dombret, Bundesbank board member in charge of financial stability, statistics, and risk control, spoke overnight about central bank bond purchases, calling them no substitute for winning back investor trust. On the banking union, Dombret said it would help break the link between the sovereigns and the banks and its goal would not simply to be pool risk.

S&P 500 futures fell 1.1 points to 1,374.20.

The EUR/USD was lower at 1.2724.

Spanish 10-year government bond yields rose to 5.853 percent.

Italian 10-year government bond yields fell to 5.038 percent.

Gold rose 0.41 percent to $1,733.10 per ounce.
Asian Markets
Asian shares were lower overnight, once again reflecting the earlier weakness in U.S. stocks. The Shanghai Composite Index fell 0.12 percent despite the strong economic data and the Japanese Nikkei Index fell 0.9 percent. Meanwhile, the Hang Seng Index dropped 0.85 percent in Hong Kong and the Korean Kospi slipped 0.52 percent while Australian shares fell 0.49 percent following the cut in growth forecasts from the RBA.
European Markets
European shares were also lower overnight on fears that Greece may not get its funding and default on its t-bills due to mature in the middle of November. The Spanish Ibex Index fell 1.08 percent and the Italian MIB Index slipped 0.63 percent while Greek shares declined 0.4 percent. Also, the German DAX fell 0.74 percent while the French CAC declined 0.14 percent and U.K. shares dropped 0.34 percent.
Commodities
Commodities were mixed overnight as prices were relatively flat overnight. WTI Crude futures fell 0.06 percent to $85.04 per barrel and Brent Crude futures rose 0.08 percent to $107.34 per barrel. Copper futures fell 0.71 percent to $344.50 per pound on the RBA growth cut despite the strong Chinese data. Gold was higher and silver futures rose 0.14 percent to $32.29 per ounce.
Currencies
Currency markets were in clear risk-off mode as the dollar and the yen reigned and the euro slipped. The EUR/USD was lower and the dollar fell against the yen to 79.24 and U.S. yields have moved lower over the past three days. Overall, the Dollar Index rose 0.11 percent to 80.90 on strength against the euro, the Swedish krona, the pound, and the Swiss franc. The Aussie dollar was stronger against the U.S. dollar and the euro but weaker against most other counterparts including the yen, the Canadian dollar, and the New Zealand dollar (commonly known as the Kiwi).
Pre-Market Movers
Stocks moving in the pre-market included:


Groupon (NASDAQ: GRPN) shares fell 17.09 percent after the company reported weak earnings and dismal sales data from Europe.

Disney (NYSE: DIS) shares fell 2.62 percent pre-market following the company reporting weaker than expected earnings.

Goldman Sachs (NYSE: GS) shares rose 0.5 percent as coverage was reinstated with a Buy rating at Bank of America (NYSE: BAC).

Safeway (NYSE: SWY) shares fell 7.62 percent after the company reached a new labor agreement with its union workers in Northern California.
Earnings
Unfortunately, earnings season is slowing and fewer companies are reporting for the next few weeks. JC Penney (NYSE: JCP) is expected to report third quarter EPS of -$0.07 vs. $0.11 a year ago.
Economics
On the economic calendar Friday, import and export prices and trade data is due out. Also, consumer confidence data is expected. Later Friday, Chinese trade data is due out and will shed further light on the state of global trade.
Good luck and good trading.
Posted-In: Earnings News Bonds Guidance Futures Commodities Previews Forex Best of Benzinga
View Comments and Join the Discussion!