Futures Flat Monday Despite Better Economic Data from U.S.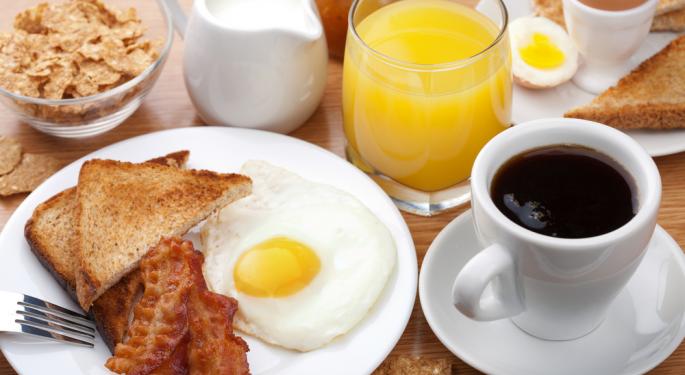 U.S. equity futures were flat in early Monday trading as positive sentiment from better economic data in the U.S. was offset by bad news out of Spain. Over the weekend, German paper Die Welt reported that the European Central Bank may have broken its own rules in collateralized financing operations with Spanish banks, which could result in up to 17 billion euros ($21.7 billion) collateral calls on the Spanish banking system. For perspective, this would be some 17 percent of the entire bank bailout.
Top News
In other news around the markets:


The number of unemployed people rose 2.7 percent from September to October, the government reported. The drop marked the third consecutive monthly fall since the end of tourist season.

The British service sector expanded slower than expected in October, according to new data. The British Services PMI slipped to 50.6 from 52.2 in September, weaker than forecasts of a slight drop to 52.0.

The recent agreements surrounding the Greek bailout may be made void by one of a few parties involved in the talks, resulting in Greece not getting its bailout funds. This could result in Greece outright defaulting, which some economists say it should have done years ago.

The Washington Redskins lost Sunday, potentially predicting a Romney victory in Tuesday's Presidential election.

S&P 500 futures slipped 0.8 points to 1,404.70.

The EUR/USD was lower at 1.2792 on the Spanish headlines.

Spanish 10-year government bond yields rose to 5.738 percent.

Italian 10-year government bond yields rose to 4.987 percent.

Gold futures for December delivery rose 0.19 percent to $1,678.40 per ounce following the large drop on Friday.
Asian Markets
Asian shares were mostly lower overnight, as service PMI's for the region were released, showing strength in some nations and weakness in others. However, Spanish debt fears kept shares lower. The Japanese Nikkei Index slipped 0.48 percent and the Shanghai Composite Index fell 0.14 percent while the Hang Seng Index fell 0.47 percent in Hong Kong trading. Meanwhile, the Korean Kospi fell 0.55 percent and Australian shares rose 0.32 percent.
European Markets
European shares shares were lower following the bad news about Spanish banks and the bad news out of Greece. The Spanish Ibex fell 1.36 percent and the Italian MIB Index fell 1.24 percent while Greek shares slipped 0.71 percent, showing broad weakness in the periphery. Meanwhile, the German DAX fell 0.67 percent and the French CAC 40 slipped 0.99 percent. Also, the U.K. FTSE fell 0.63 percent on the weak services PMI.
Commodities
Commodities were mostly weaker in early Monday trade save for gold futures. WTI Crude futures slipped 0.25 percent to $84.65 per barrel and Brent Crude futures fell 0.26 percent to $105.40 per barrel. Copper futures declined 0.62 percent to $346.00 per pound and Gold was stronger while silver futures fell 0.1 percent to $30.83 per ounce.
Currencies
Currency markets showed broad euro weakness overnight following the news from Spain. The EUR/USD was lower in early trade at 1.2792 and the dollar fell against the yen to 80.24. Overall, the Dollar Index rose 0.14 percent to 80.71 on strength against the euro, the pound, and the Swiss franc. The euro was broadly weak as the single currency fell against most major pairs, including the Aussie dollar which was stronger ahead of the Royal Bank of Australia's rate decision. In addition, Turkey's bonds were raised to investment grade sending the lira higher.
Pre-Market Movers
Stocks moving in the pre-market included:


Ford (NYSE: F) shares rose 1.97 percent pre-market as the company reported strong sales in China.

Du Pont (NYSE: DD) shares fell 1.0 percent pre-market as the company cut fiscal year 2012 guidance and laid off workers.

Citigroup (NYSE: C) shares fell 0.93 percent in pre-market trading as the bank is set to waive fees for customers affected by Sandy.

Hewlett-Packard (NYSE: HPQ) shares fell 0.44 percent on despite a positive article on Seeking Alpha highlighting a potential turnaround at the company.
Earnings
There are several notable companies expected to report earnings Monday, including:


CF Industries (NYSE: CF) is expected to report third quarter EPS of $5.70 vs. $5.16 a year ago.

EOG Resources (NYSE: EOG) is expected to report third quarter EPS of $1.12 vs. $0.83 a year ago.

Express Scripts Holding Co. (NASDAQ: ESRX) is expected to report third quarter EPS of $0.99 vs. $0.79 a year ago.

Humana Inc. (NYSE: HUM) is expected to report third quarter EPS of $2.05 vs. $2.67 a year ago.

Silver Wheaton (NYSE: SLW) is expected to report third quarter EPS of $0.42 vs. $0.38 a year ago.

Tesla (NASDAQ: TSLA) is expected to report a third quarter loss of $0.90 per share vs. a loss of $0.55 per share a year ago.

Transocean LTD (NYSE: RIG) is expected to report third quarter EPS of $0.76 vs. $0.70 a year ago.
Economics
On the economic calendar Monday, the ISM Non-Manufacturing Index is set to be released and will give investors a better view into the largest portion of the U.S. economy. Also, the Treasury is set to auction 4-week, 3-, and 6-month bills. Overnight, the Royal Bank of Australia is set issue its rate decision and European service PMI's for several nations including Spain, Italy, and Germany are expected.
Good luck and good trading.
Posted-In: Earnings News Bonds Guidance Futures Commodities Previews Forex Best of Benzinga
View Comments and Join the Discussion!