Benzinga Market Primer, Thursday, October 25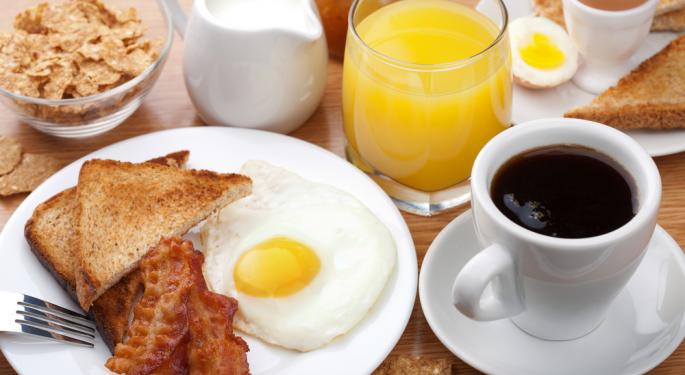 U.S. equity futures rose in early Thursday trading as the U.K. economy was confirmed as exiting recession in the third quarter, due in large part to the Olympic boost. The economy there grew 1.0 percent in the third quarter from the second quarter, well above economist estimates of a 0.6 percent gain.
Top News
In other news around the markets:


The Greek Parliament is in sheer chaos this morning, as confusion and conflicting reports surrounding the agreement to extend Greece's bailout program by two years has hurt the credibility of finance minister Stournaras within the Parliament.

Nikkei reported overnight that the Bank of Japan is set to launch a new round of easing of approximately 10 trillion yen, or $125 billion.

Eurogroup finance ministers will meet beginning today through Tuesday to finalize the terms of the spending cuts in Greece and hopefully will release the next bailout trance then.

M2 money supply in the eurozone rose 2.7 percent in September, below expectations of a 3.0 percent rise as loan growth to the private sector fell 0.8 percent in the month on expectations of a 0.6 percent drop.

S&P 500 futures rose 9.1 points to 1,414,40.

The EUR/USD was higher at 1.3015.

Spanish 10-year government bond yields fell to 5.538 percent.

Italian 10-year government bond yields fell to 4.802 percent.

Gold rose 0.85 percent to $1,716.10.
Asian Markets
Asian shares rallied overnight despite weakness in China following comments from a government minister saying that it is yet to be seen if the economy has reached a bottom or is just leveling off for a short period. The Japanese Nikkei Index rose 1.13 percent and the Hange Seng Index rose 0.21 percent while the Shanghai Composite Index fell 0.68 percent. Also, the Korean Kospi rose 0.55 percent and Australian shares gained 0.1 percent.
European Markets
European shares were also higher on hopes of a resolution to this latest Greek tragedy. The Spanish Ibex Index rose 0.13 percent and the Italian MIB Index rose 0.5 percent in early trade. In addition, the German DAX rose 0.62 percent and the French CAC rose 0.63 percent while the U.K. FTSE 100 Index rose 0.48 percent following the GDP report. Notably, Greek shares rose 0.82 percent in Athens.
Commodities
Commodities were stronger in early Thursday trade, as oil futures attempted to rally off of three-month lows. WTI Crude futures rose 0.86 percent to $86.47 per barrel and Brent Crude futures rose 0.77 percent to $108.68 per barrel. Copper futures rose 0.21 percent in overnight trade as relaxed fears over Chinese growth and positive signs from Australia's economy boosted prices. Gold was higher and silver futures rose 1.79 percent to $32.185 per ounce.
Currencies
Currency markets showed broad dollar weakness in overnight trade, showing a clear risk-on sentiment. The EUR/USD was higher and the dollar gained against the yen to cross above the 80 level. Overall, the Dollar Index fell 0.21 percent on weakness against the euro, the pound following the GDP data, and the Canadian dollar. The pound was stronger across the board following the data release and the Aussie dollar was fairly strong as well.
Pre-Market Movers
Stocks moving in the pre-market included:


Honeywell (NYSE: HON) shares rose 1.2 percent in the pre-market as Morgan Stanley (NYSE: MS) increased its price target on the company to $70.

Hewlett-Packard (NYSE: HPQ) shares rose 0.85 percent in the pre-market as the company announced new long-term growth plans.

Abercrombie and Fitch (NYSE: ANF) shares fell 1.4 percent pre-market after earnings missed estimates and the company cut guidance.
Earnings
There are several notable companies reporting earnings Thursday, including:


Amazon Inc. (NASDAQ: AMZN) is expected to report third quarter loss of $0.08 per share vs. a profit of $0.14 per share a year ago.

ConocoPhillips (NYSE: COP) is expected to report third quarter EPS of $1.19 vs. $2.52 a year ago.

JetBlue (NASDAQ: JBLU) is expected to report third quarter EPS of $0.13 vs. $0.12 a year ago.

Occidental Petroleum (NYSE: OXY) is expected to report third quarter EPS of $1.65 vs. $2.18 a year ago.

Potash Corp. (NYSE: POT) is expected to report third quarter EPS of $0.78 vs. $0.94 a year ago.

Procter and Gamble (NYSE: PG) is expected to report first quarter EPS of $0.96 vs. $1.03 a year ago.
Economics
On the economic calendar Thursday, weekly jobless claims are due out along with durable goods orders. Also, regional economic data will be released in the form of the Chicago Fed National Activity Index and the Kansas City Fed Manufacturing Index. Lastly, pending home sales and the EIA Natural Gas reports are due out.
Good luck and good trading.
Posted-In: Earnings News Bonds Guidance Futures Commodities Previews Forex Best of Benzinga
View Comments and Join the Discussion!