Bernanke to Step Down at End of Term in 2014, Bankers Need Not Apply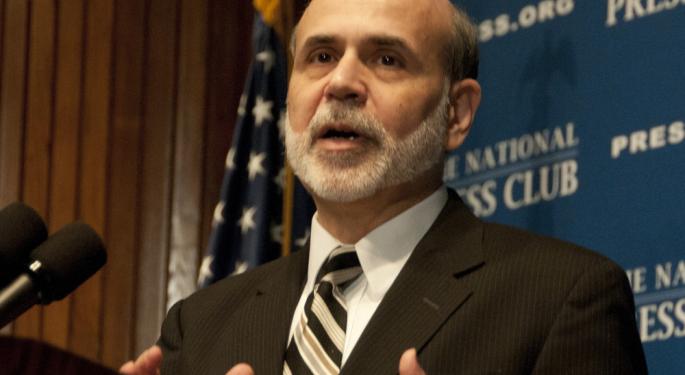 Federal Reserve Chairman Ben Bernanke, who has held that role since taking over for Allan Greenspan in 2006, looks set to step down in January 2014 at the end of his existing term. Bernanke has indicated to close friends that even if he were nominated, he would turn the job down and return to academia. No matter who wins the election, it looks as though the U.S. will have a different Treasury Secretary and Federal Reserve Chairman in less than 15 months.
The news makes the upcoming presidential election that much more crucial for the future of economic policy in the United States. Mitt Romney, most likely due to pressure from the far right, has announced that he would not renominate Bernanke in any scenario and the news paves the way for him to select a more conservative candidate that appeals more to the right. In light of the news that the two top economic policy making positions will become vacant, let us look at potential successors for both Treasury Secretary Timothy Geithner and Bernanke.
For the position of Treasury Secretary, one name has popped up for both candidates: Erskine Bowles. The namesake of the Simpson-Bowles deficit reduction plan, Bowles is the former chief of staff under the Clinton administration. For President Obama, appointing Bowles would be a clear sign that deficit reduction is a top priority, whereas for Governor Romney a Bowles appointment would be a clear sign at attempting to reach across the aisle and have a bipartisan cabinet.
J.P. Morgan Chase (NYSE: JPM) CEO Jamie Dimon's name has been thrown around as a potential candidate for Obama, however the trading loss earlier in 2012 probably cost him his chance at a cabinet position. Blackrock (NYSE: BLK) CEO Larry Fink has also had his name thrown around, but given his close relationship with Secretary Geithner and Blackrock's dealings with the government, it would look like a serious conflict of interest appointing Fink, however much he supports President Obama. Dark horse candidates for the President include Kenneth Chenault, CEO of American Express (NYSE: AXP), Dan Doctoroff, CEO of Bloomberg LP and Jacob Lew, Obama's current chief of staff.
For the Federal Reserve Chairman, Larry Summers' name has been mentioned multiple times and his resume fits the bill of becoming a central bank Chairman. Also, current Vice-Chairman Janet Yellen is on the short list, as is Allan Krueger. Don't rule out Geithner for this position though, as he is a career public servant and would surely love to return to the Fed where he had more control over decisions and less political influence than at the Treasury.
For Romney, Glenn Hubbard (who led the Council of Economic Advisors under President George W. Bush and advisor to the Romney campaign) looks set to land one of the two positions, most likely the Treasury position. Should he be appointed this position, the list for the Federal Reserve Chairman slot is rather limited to N. Gregory Mankiw, who also once led the Council of Economic Advisors, and John Taylor, an economist at Stanford.
Should Hubbard be given the Fed position, the list for the Treasury Secretary becomes much longer. Robert Zoelick, former head of the World Bank and also former Managing Director of Goldman Sachs (NYSE: GS) is most likely at the top of the list, followed closely by Rob Portman and Mike Leavitt. Portman is a senator from Ohio who has become close to Romney and has experience with budgetary matters as he was the Director of the Office of Management and Budget under President Bush. Leavitt, the former governor of Utah, is a close confidant of Romney's and is shoe-in for some position in Romney's cabinet.
One key theme is the lack of bankers on this list. Jamie Dimon and Larry Fink are the only two names on the list as they are viewed as the best of the bunch. Even so, it seems nearly impossible that any banker could be appointed given sentiment surrounding Wall Street and the fear of the interwoven nature of Wall Street and Washington. No matter who gets selected, investors better hope for just one thing: a quick, smooth appointment and approval process. The longer the process gets dragged out in Congress, the more uncertainty it will create, and uncertainty never bodes well for stocks.
Posted-In: News Bonds Politics Forex Events Global Econ #s Economics Best of Benzinga
View Comments and Join the Discussion!