Benzinga Market Primer, Friday October 12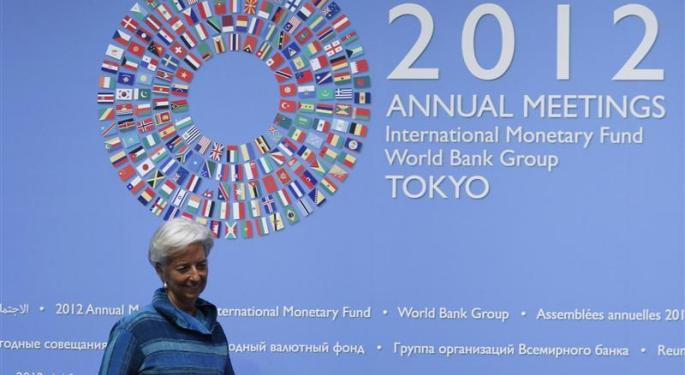 U.S. equity futures rose slightly in early Friday trading as IMF Chief Christine Lagarde warned that the global financial system is just as weak as it was before Lehman Brothers failed in 2008. Speaking at the IMF conference in Tokyo, Lagarde also warned that central banks of industrialized nations need to maintain easy money policies to offset fiscal contraction or risk a massive global recession. Lagarde also pledged the IMF's $1 trillion in lending capacity to help boost growth.
Top News
In other news around the markets:


Economists at Goldman Sachs (NYSE: GS) believe that the recent downgrade of Spain's credit rating means that the nation is closer to requesting official aid than previously thought. The bank believes that "the S&P downgrade is likely to put pressure on the government to request financial assistance from the ESM. This would allow Spain to benefit not only from ECB interventions in the bond market via its OMT program, but also from the rules on rating requirements on collateral that can be used in ECB operations."

Eurozone industrial production rose 0.6 percent in August, higher than forecasts of a 0.4 percent contraction expected by economists.

The Deputy Governor of the People's Bank of China released an official statement, saying that growth was expected to be 7.8 percent in 2012, above the official target of 7.5 percent. The bank cited loan growth and money supply growth as two reasons that the economy will continue to grow.

S&P 500 futures rose 2 points to 1,430.24.

The EUR/USD was higher at 1.2966.

Spanish 10-year government bond yields fell to 5.694 percent.

Italian 10-year government bond yields fell to 4.996 percent.

Gold fell 0.08 percent to $1,769.10.
Asian Markets
Asian shares were mostly higher overnight, save for the Japanese Nikkei. The benchmark index in Tokyo fell 0.15 percent on comments from the IMF that more monetary stimulus needs to be done for the Bank of Japan to achieve its one percent inflation target. China's Shanghai Composite Index rose 0.1 percent and the Hang Seng Index rose 0.65 percent in overnight trading. Australian shares rallied 0.07 percent and the Korean Kospi rose marginally by 0.01 percent.
European Markets
European shares were mostly lower however Spain's Ibex Index rose 0.27 percent on the Goldman comments. Meanwhile, the Italian MIB Index fell 0.4 percent and the U.K. FTSE 100 Index fell 0.29 percent. The German DAX fell 0.43 percent and the French CAC fell 0.44 percent.
Commodities
Commodities were lower in early Friday trade as futures pulled back after recent strength. WTI Crude futures fell 0.23 percent to $91.86 per barrel and Brent Crude futures dropped 0.93 percent to $114.63 per barrel. Copper futures slid 0.61 percent to $372.85 per pound on fears of Australia's resource boom fading. Gold was lower and silver futures fell 0.5 percent to $33.91 per ounce.
Currencies
Currency markets seemed to be in reversal mode overnight, as moves in the euro and the Aussie dollar of the past few days seemed to reverse as the euro caught a bid and traders sold the Aussie. The EUR/USD was higher at 1.2966 and the dollar gained slightly against the yen. Overall, the Dollar Index fell 0.21 percent, back below the 80 level, on weakness against the euro, the Swiss franc, and the Swedish krona. Comments from the Royal Bank of Australia on the nation's resource boom fading hurt the Aussie dollar, sending it lower across the board but notably against the euro and the Canadian dollar.
Pre-Market Movers
Stocks moving in the pre-market included:


Shares of JP Morgan Chase (NYSE: JPM) rose 1.9 percent pre-market, ahead of the company's earnings release this morning.

Shares of Pfizer (NYSE: PFE) rose 0.44 percent as the company filed an appeal with the government attempting to block the requirement that its CEO be forced to testify at a hearing for its anti-smoking drug Chantix. Supposedly, the drug caused a Minnesota man to commit suicide.

Shares of Clearwire (NASDAQ: CLWR) fell 0.45 percent in the pre-market following a day in which the stock gained more than 70 percent on the news that Sprint (NYSE: S) is set to be acquired by Japan's Softbank. Clearwire is largely dependent on the performance of Sprint.


Earnings

Notable companies reporting earnings Friday include:



JP Morgan Chase (NYSE: JPM) is expected to report third quarter EPS of $1.21 vs. $1.02 a year ago.

Wells Fargo (NYSE: WFC) is expected to report third quarter EPS of $0.87 vs. $0.72.

Economics

On the economic calendar, producer prices and consumer sentiment are the only relevant data releases due out. Also, the Fed's Jeffery Lacker is set to speak this afternoon and the Treasury's monthly budget statement is set to be releases as well.

Good luck and good trading.
Posted-In: Earnings News Bonds Guidance Futures Commodities Previews Forex Best of Benzinga
View Comments and Join the Discussion!