Benzinga Market Primer, Thursday October 11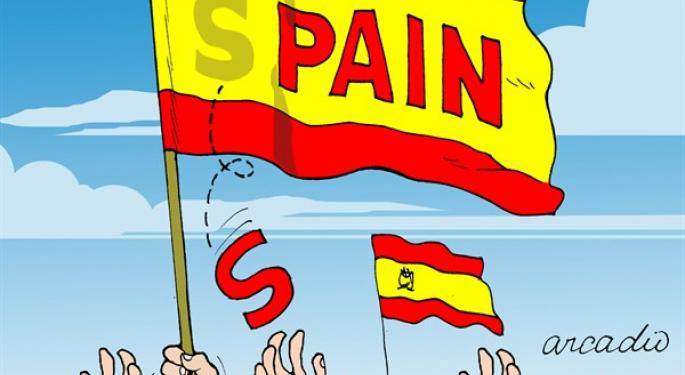 U.S. equity futures rose in early Thursday trading as comments from the World Bank's President, Dr. Jim Young Kim, indicated that he believes that China will be very aggressive in trying to restore growth once the political transition has taken place within the first half of 2013. The comments from the President came just three days after the World Bank slashed growth estimates for Asian economies including China.
Top News
In other news around the markets:


S&P downgraded Spain's long term credit rating to BBB- from BBB+, leaving it just one notch above junk. S&P notably said that it is now the lack of credit, not necessarily the cost of credit, that has caused this downgrade, a scary assessment raising fears that Spain is nearing being locked out of credit markets for good.

In its monthly bulletin, the European Central Bank noted the continued malfunctioning of the transmission policy of monetary policy in the Eurozone and how the OMT is a solution to help repair this mechanism.

The German Economic Institute, a think tank in the central European nation, has released a new report highlighting that Greece will still need a third bailout and most likely a second debt restructuring before the debt crisis is over.

S&P 500 futures rose 5.3 points to 1,431.60.

The EUR/USD was slightly higher at 1.2885 but was lower than this time yesterday.

Spanish 10-year government bond yields fell to 5.829 percent.

Italian 10-year government bond yields fell to 5.095 percent.

Gold futures rose 0.29 percent to $1,770.20 per ounce.
Asian Markets
Asian shares were mostly lower overnight, as shares slid following the downgrade of Spain and the comments from the World Bank President Kim. The Japanese Nikkei fell 0.58 percent and the Chinese Shanghai Composite Index slid 0.81 percent while the Hang Seng Index rose 0.38 percent. Also, the Korean Kospi fell 0.78 percent and Australian shares fell 0.16 percent.
European Markets
European shares were mixed in early trading after opening lower following the downgrade of Spain. The Spanish Ibex Index fell 0.52 percent and Italy's MIB Index fell 0.38 percent. Meanwhile, the German DAX rose 0.68 percent and the French CAC rose 0.32 percent. Also, U.K. shares measured by the FTSE 100 Index rose 0.36 percent.
Commodities
Commodities were largely stronger in early trade following a broad sell-off Wednesday. WTI Crude futures rose 0.59 percent to $91.97 per barrel and Brent Crude futures rose 0.58 percent to $114.99 per barrel. Copper futures also were higher in early trade, as futures rose 0.5 percent to $373.65 per pound. Gold was higher in early trade and silver futures rose 0.33 percent to $34.22 per ounce.
Currencies
Currency markets continued the trend of Aussie dollar strength in early Thursday trade, however the euro was also stronger broadly. The EUR/USD was higher and the dollar fell against the yen as a slight risk appetite grew in currency markets. Overall, the Dollar Index was flat overnight after trading higher throughout the session, as investors have sold the dollar over the last few hours. The EUR/AUD continued its multi-day slide, trading down to 1.2529 after trading near 1.28 last week. However, the euro was stronger against the pound and the yen.
Pre-Market Movers
Stocks moving in the pre-market included:


Wal-Mart (NYSE: WMT), whose shares rose 0.77 percent pre-market as the company released positive guidance Wednesday.

Shares of Apple (NASDAQ: AAPL) rose 0.54 percent after a technical bounce Wednesday. Apple has its next earnings report in two weeks on October 25.

Hewlett-Packard (NYSE: HPQ) fell 0.56 percent in the pre-market, as the company is no longer the largest PC maker, recently overtaken by Lenovo.


Shares of Boeing (NYSE: BA) fell 0.24 percent pre-market, hurt by speculation on new potential suitors for BAE, the British defense contractor that has just seen its merger plans with EADS break down.

Earnings

Notable companies reporting earnings Thursday include:



Fastenal (NASDAQ: FAST) is expected to report third quarter EPS of $0.37 vs. $0.33 a year ago.

Safeway (NYSE: SWY) is expected to report third quarter EPS of $0.43 vs. $0.38 a year ago.

Economics

On the economic calendar, investors will get a whole host of data released to hopefully bring further clarity on the state of the U.S. economy. International trade data, initial jobless claims, import and export prices, and the EIA energy reports are all due out Thursday morning. Also, Fed members Jeremy Stein, Charles Plosser, and James Bullard are all set to speak.

Good luck and good trading.
Posted-In: Earnings News Bonds Guidance Futures Commodities Previews Forex Best of Benzinga
View Comments and Join the Discussion!