Benzinga Market Primer, Tuesday October 2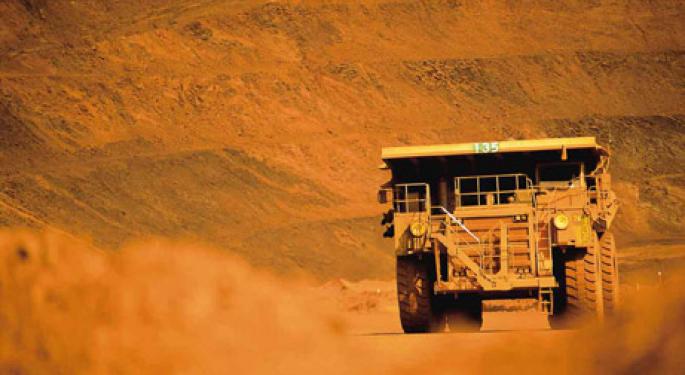 U.S. equity futures rose in early Tuesday trading as the Royal Bank of Australia somewhat surprisingly eased policy overnight and peripheral pressures in Europe continued to subside. The Royal Bank of Australia overnight cut its benchmark interest rate 25 basis points to 3.25 percent, warning that a protracted slowdown in China could mark the peak of the resource boom in the country.
Top News
In other news around the markets:


Moody's claims that Spain's banks need more capital than the stress tests revealed, so much so that it would be greater than the maximum amount agreed upon during the bailout negotiations over the summer.

The New York Times reported overnight that Senators from both parties are working on a deficit reduction plan similar to the one proposed by the Bowles-Simpson committee that would reduce the debt by $4 trillion over the next decade. The plan would include cuts to sensitive items such as Social Security and Medicare.

Spanish Prime Minister Mariano Rajoy has told his political party he will not seek a bailout by the end of the weekend. Markets anticipate Spain requesting a bailout so that the ECB can purchase its bonds.

S&P 500 futures rose 6.8 points to 1,444.49.

The EUR/USD was higher at 1.2915.

Spanish 10-year government bond yields fell to 5.749 percent.

Italian 10-year government bond yields fell to 5.028 percent.

Gold fell slightly to $1,781.30 per ounce.
Overseas Markets
Asian shares were mixed overnight, with Australian shares leading following the rate cut by its central bank. The Japanese Nikkei fell 0.12 percent while the Australian S&P ASX Index gained 1.01 percent. The Hang Seng Index gained 0.38 percent and Singapore shares gained 0.7 percent. Also, European shares were mostly higher following a weak opening to the session, led by a rally in peripheral indexes. Spain's Ibex gained 1.14 percent while Italy's MIB Index gained 0.95 percent. The German DAX rose 0.42 percent and the French CAC rose 0.05 percent. Do note that more details on the proposed merger between EADS and BAE Systems is due out in the next few days, which could have a strong impact on both U.K. and French markets.
Commodities
Commodities were mostly stronger in early Tuesday trade, led by copper. WTI Crude futures rose 0.3 percent to $92.76 per barrel and Brent Crude futures rose 0.02 percent to $112.21 per barrel. Copper futures rose 0.4 percent to $380.05 per pound following the RBA rate cut. Gold was effectively flat and silver futures fell 0.18 percent to $34.89..
Currencies
Currency markets were decidedly dollar-bearish in early Tuesday trading, as investors bought riskier currencies and sold the safe haven of the dollar. The EUR/USD was higher and the dollar rose against the yen. Overall, the Dollar Index fell 0.13 percent, led by gains by the pound, the euro, and Swedish krone. The Aussie dollar was broadly weak in early trading following the rate cut, with the AUD/USD falling to 1.0301, down over 0.5 percent overnight. The Aussie was also weak against the euro, the yen, and the Canadian and New Zealand dollars.
Pre-Market Movers
Stocks moving in the pre-market included Monsanto (NYSE: MON), which gained 0.73 percent pre-market as a new report showed that use of its chemicals is increasing, especially among genetically modified crops. Freeport McMoRan Copper and Gold (NYSE: FCX) rose 0.7 percent in the pre-market as copper prices rose following the RBA rate cut. J.P. Morgan Chase (NYSE: JPM) shares fell in pre-market trading by 1.67 percent, as the New York Attorney General launched a lawsuit against the bank related to the sale of mortgage backed securities by Bear Sterns, now owned by the bank.
Earnings
Notable companies reporting earnings Tuesday include:


Mosaic Co. (NYSE: MOS) is expected to report quarterly EPS of $1.15 vs. $1.17 a year ago.

Sycamore Networks (NASDAQ: SCMR) is expected to report a quarterly loss of $0.13 per share vs. a loss of $0.09 per share a year ago.


Resources Connection (NASDAQ: RECN) is expected to report quarterly EPS of $0.12 vs. $0.06 a year ago.
Economics
On the economic calendar, the ISM New York Purchasing Managers Index is due out, however this number will have already been overshadowed by the stronger than expected ISM Manufacturing Index released Monday. Data on domestic and total vehicle sales will also be released during the day, moving automakers and suppliers. Also, the Fed is set to purchase $1.75-2.25 billion of notes under its QE programs and the treasury is set to auction $40 billion in 4-week bills. Two other events to keep note of are the commencement of the World Trade Organization's General Council meeting, which will last through the fourth of October, and the SEC is hosting a roundtable on the future of market technology, focused notably on high frequency trading.
Good luck and good trading.
Posted-In: Earnings News Bonds Futures Commodities Previews Forex Global Best of Benzinga
View Comments and Join the Discussion!