All May Not Be Lost Following Draghi's Inaction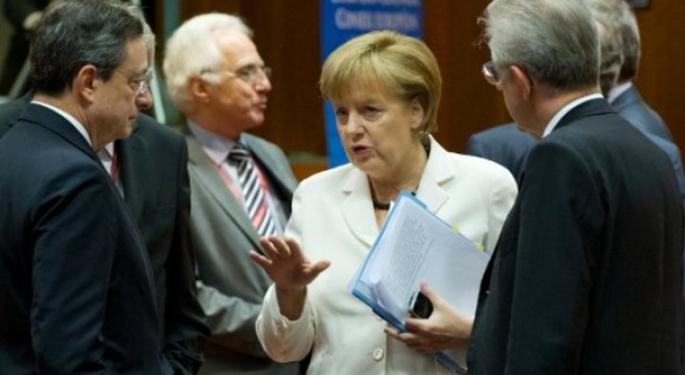 At first glance, traders seem to be disappointed with the European Central Bank President Mario Draghi's decision not to launch a new round of bond purchases. However, hidden inside the rhetoric lies a concrete plan for Draghi to save the Eurozone and protect the euro.
Draghi stated, "Risk premia that are related to fears of the reversibility of the euro are unacceptable, and they need to be addressed in a fundamental manner. The euro is irreversible."
This statement is a huge step for the ECB to take. As Draghi said, no matter what, the euro will remain. In saying this, he may be indicating that nations that submit to bailouts and oversight through the joint bailout funds will be protected by the ECB.
Combined with comments from German leaders indicating that it is within the European Financial Stability Facility's (EFSF) mandate to buy bonds, it seems that the rumored plan for the EFSF to purchase bonds in the primary markets (at auction) and the ECB to use its Securities Markets Program (SMP) to stabilize yields in the secondary market remains intact and on the table. Draghi even asked the fiscal authorities to stand ready to activate the EFSF/ESM in the bond markets today. So just because it did not happen yet, does not mean that it will not happen in the near future.
There is one pre-condition that puts the burden of this crisis back on the politicians: for the EFSF/ESM combination to purchase bonds, the nation's that are being supported must give in to strict budget oversight from European authorities. For the bailout funds to support Spain and Italy, they would need to submit to a bailout and have the European authorities, mainly the Germans, have oversight and control over the budgets -- just like Greece, Ireland, and Portugal. By submitting just for oversight and a small amount of capital injection to stabilize finances, Spain and Italy could save themselves.
There is one problem with such a plan: it puts the burden back on the politicians. In Italy, Mario Monti was elected as a technocrat and has stated that he only plans on serving as long as the term that he was appointed for. Thus, he may be more willing to submit to oversight knowing that he does not have a political career to defend. However, markets appear to be pricing in more trouble for Spain, as measured by its sovereign bond yields, and Italy may wait for Spain to turn to European authorities first. In this case, the ball is now in Spanish Prime Minister Mariano Rajoy's court.
Economically and financially, a bailout and oversight is the most logical decision. It would bring back market confidence to Spain and allow bond yields to fall to somewhat normalized levels. Politically, there are lots of problems to such a move. Should Rajoy submit to such conditions and austerity, he would be out of a job in the next election. Any move to European support would be a kiss of death to his political career, something he may be unwilling to give up.
So, the real fight will be fought out in the Spanish capital of Madrid over the next few weeks. Surely, Draghi will be in communication with Spanish officials during that time period, if not Rajoy then finance minister Luis de Guindos Jurado. In that time, Draghi will continue to prepare a plan to suppot Eurozone finances without angering conservative Bundesbankers and without allowing the euro to fail. Every action, or inaction, seen today is a continuation of the pattern of the European debt crisis: leaders will only do enough to prevent a total catastrophe.
Draghi may be preparing such a nuclear option, but will need Rajoy and Monti to act decisively to allow its launch. Maybe, just maybe, Draghi will do what is necessary to preserve the euro.
View Comments and Join the Discussion!
Posted-In: News Bonds Forex Global Econ #s Economics Hot Intraday Update Best of Benzinga