Benzinga Market Primer, Friday July 27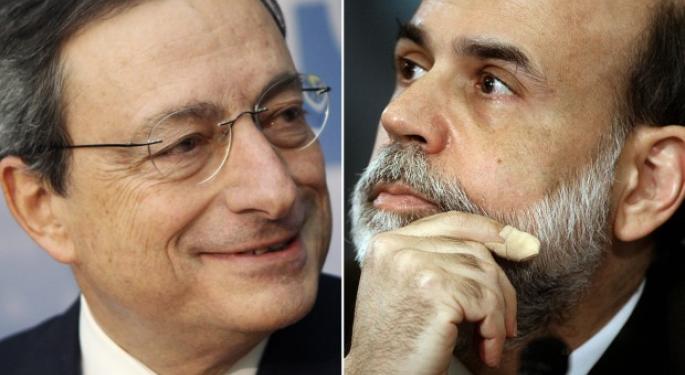 U.S. equity futures rose slightly early Friday ahead of the U.S. GDP report and on news that the bailout funds in Europe are preparing to buy Spanish and Italian bonds on the secondary market. Le Monde, the French newspaper, cited "sources" saying that the European Financial Stability Facility (EFSF), the temporary bailout fund, could first be used to buy Spanish and Italian bonds on the primary market, meaning at auctions. This could then be transferred to the European Stability Mechanism (ESM), the permanent bailout fund, and the ECB could step in and support the most troubled nations also.
Other news around the markets included:


The Bundesbank sees the EFSF buying bonds as "unproblematic," however the ECB buying is "unacceptable."

Greek leaders agreed to 10 billion of the 11.5 billion euros in new cuts suggested by the Troika to get the bailout program back on track.

Japan returned to deflation after five months of positive inflation, signaling the Bank of Japan could do more to spur the economy.

French consumer confidence fell in July to 87 from 89 in June, less than economist expectations of 90.

Spanish unemployment rose to the highest since the nation became a democracy, with the unemployment rate rising less than expected to 24.6 percent from 24.4 percent, below estimates of 24.9 percent.

S&P 500 futures +3 to 1357.

Spain 10-year yield 6.869 percent.

Italy 10-year yield 5.983 percent.

Gold up $6.70 to $1,626.50.
Overnight, Asian shares rose as most domestic indexes rallied following the strength in Europe and New York on Thursday. Hong Kong and Korean stocks rose more than 2 percent each, however Chinese shares lagged and continued to trade near multi-year lows. European shares were mixed in early trading following a day of large gains. Spanish shares, measured by the Ibex index, fell 0.58 percent and Greek shares fell 0.4 percent while Italian shares rose 0.44 percent.
Commodities showed tepid gains following a day of large gains, as WTI Crude oil rose 0.29 percent to $89.65 and Brent Crude rose 0.57 percent to $105.86. Copper futures and silver futures also rose with gold, all on hopes of further central bank easing next week.
The EUR/USD retreated early Friday after rallying from near 1.21 to 1.2330 on the hopes that the ECB will step up its efforts to aid Spain and Italy. It has since retreated and traded to 1.2270 as of writing. More notably, the GBP/USD jumped more than 200 pips on the news to 1.5719 just 72 hours after England reported its worst economic contraction since 2009. Overall, the dollar index is reversing the large losses yesterday and has rallied 0.05 percent.
In earnings, Facebook (NASDAQ: FB) reported largely in line earnings but held an unusual conference call that left investors more puzzled than wowed. Amazon )NASDAQ: AMZN) missed earnings expectations but the stock rose afterwards. Notable earnings Friday include:


Human Genome (NASDAQ: HGSI) is expected to report Q2 EPS of -$0.38 vs. -$0.42 a year ago.

Merck and Co. (NYSE: MRK) is expected to report Q2 EPS of $1.01 vs. $0.95 a year ago.
On the economic front, investors await the U.S. second quarter GDP report. Economists expect the economy to have grown a measly 1.2 percent in the quarter, well below the previous 1.9 percent annualized rate. A weak number would most likely see weakness in risk assets at first followed by a recovery/rally on hopes of further central bank easing.
Good luck and good trading.
Posted-In: Earnings News Bonds Guidance Futures Commodities Previews Forex Best of Benzinga
View Comments and Join the Discussion!