Ireland Issues First Long-Term Debt in 2 Years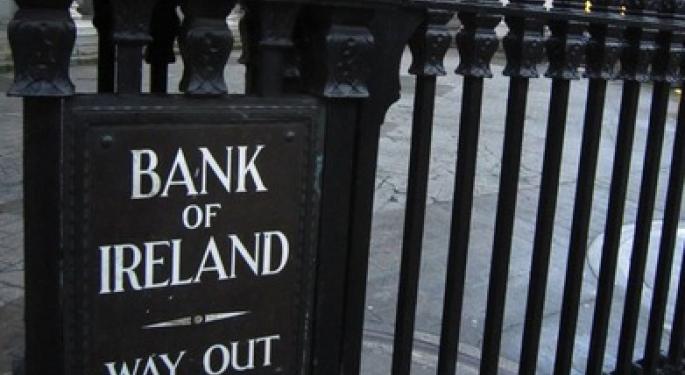 The Republic of Ireland returned to long-term sovereign debt markets Thursday with an auction of 5-year bonds. Ireland's National Treasury Management Agency announced the sale of a 5-year bond at an interest rate of 5.9 per cent and opened its existing 8-year bond maturing in 2020 to new investors. Also, Ireland offered investors in the 2013 and 2014 bonds the option of switching their holdings into the new 5-year bond or the existing 8-year bond.
The announcement comes just a few weeks after Ireland sold its first bills in just as much time. Since Ireland received a sovereign bailout in 2010 to aid its ailing banking sector, the nation has been shut out of the sovereign debt markets. However, the announcement of the bond auction shows that austerity may be working and it could be the poster child for what a Spanish bailout may look like.
Ireland's debt was under control until then Prime Minister Noonan decided to nationalize all of the banking sector's debts. This created a situation where Ireland could no longer fund itself in the public markets and so went to the European Union for financial aid. Now, internal devaluation through wage cuts and other measures has made Irish exports more competitive and has created to an export-driven economy.
Prior to 2008, Ireland experienced a massive credit bubble fueled by real estate lending. Contractors built up lots of property, even in places where there was no demand for it. As soon as the global credit collapse began, the money dried up. As the loans started to underperform, the big Irish banks started to face losses and the government stepped up to backstop them.
The agency said that investors committed 5.23 billion euros to the sale. This consisted of 4.19 billion euros in new capital for the two different bonds. The other 1.04 billion euro was converted from the existing bonds into the 8-year bond under the swap proposal. The news comes after Ireland's benchmark 9-year bond (they don't have a 10-year bond outstanding) yielded less than 7 percent for the first time in years and just a day after the 2-year bond yield fell below 4 percent for the first time since the bailout.
Posted-In: News Bonds Financing Offerings Forex Global Econ #s Hot Best of Benzinga
View Comments and Join the Discussion!