European Central Bank May Opt For Negative Deposit Rates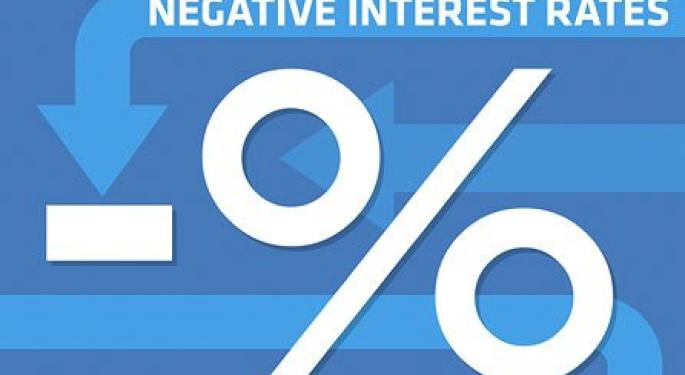 A Reuters article Tuesday suggested that the European Central Bank (ECB) could be considering making deposit rates negative. Such a move would be a direct policy action taken to boost lending.
In the fourth quarter of 2011, European credit markets were frozen and lending dropped off of a cliff. The ECB proceeded to launch the two Longer-Term Refinancing Operations, three-year one percent loans aimed at unfreezing credit markets. These were successful for a while, however the effects of these operations waned quickly. Now, the ECB is hoping to find a more long-term solution to the lack of credit growth in Europe.
By making deposit rates negative, the ECB is effectively taxing banks for keeping deposits at the ECB. The rate on deposits was lowered to zero earlier this month, sending deposits at the ECB to multi-month lows. Making the rate negative could see further deposit flight from the ECB. In forcing banks to pull cash out of deposits, the ECB is hoping to raise the opportunity cost of hoarding cash and not lending for banks.
If lending growth were to restart, it would be a positive for Europe. However, it would be important to see where the lending growth actually happens. Peripheral nations such as Spain are still deleveraging and have worse credits at the household level than do safer countries such as Germany and France. Lending in those countries would boost growth but also could help to spur inflation. If inflation were to rise across the continent, it could lead to the re-inflation of Europe, rather than the current policy stance of deflating the periphery back into competitiveness.
By re-inflating the periphery, Germany can still allow the periphery to readjust and become competitive without sending those nations into further depression. However, Germany would have to accept the prospect of higher inflation, a tough pill to swallow for the conservative Germans. Ever since Germany experienced hyperinflation under the Weimar Republic in the 1930's, the Germans are largely against anything above 2 percent inflation.
Higher inflation would be a negative for the euro, as inflation devalues the currency. Investors who see a further rate cut could short the EUR/USD ahead of the next ECB meeting.
Posted-In: News Bonds Short Ideas Forex Global Econ #s Economics Markets Best of Benzinga
View Comments and Join the Discussion!