Spanish and Italian Borrowing Costs Rise
Spanish and Italian borrowing costs rose at auction on Tuesday, as the debt-ridden nations try to stay solvent and avoid the same fate as Greece, Ireland, and Portugal. The rise in borrowing costs follows the downgrade of 28 Spanish banks by Moody's, the formal request for bailouts by Cyprus and Spain, and the world's oldest bank--Banco Monti dei Paschi di Siena--asking for government support to plug a 1 billion euro capital shortfall.
Spain sold 3.077 billion euros ($3.850 billion) of three- and six-month Treasury bills, at the upper end of the EUR2 billion-to-EUR3 billion target range, against total bids of EUR8.325 billion. Yields on 3-month bills rose to 2.362% from 0.846%, levels that analysts are citing as unsustainable. This compares to the 0.085% that the U.S. pays on debt of similar maturity. Also, yields of 6-month bills rose to 3.237% from 1.737% at the last auction.
Italy also sold short term debt and saw yields rise. The Italian government sold EUR2.991 billion in May 2014-dated zero-coupon notes, known as CTZ, at a yield of 4.712%, up from 4.037% at the previous auction May 28. With yields climbing in peripheral nations, it will put further strain on authorities to support the embattled nations. The EUR/USD is lower on the session, and any indication that a new bond buying program were to come to fruition may send the pair trading higher. Italy also plans on issuing 6-month and 10-year bonds this week, events that could create volatility and move risk assets around the world. Any indication that 10-year bond yields are climbing or that demand for them is lessening could spook traders.
Finland, one of the last remaining AAA rated issuers of debt, is planning to sell its first 30-year bonds later today. Investors have been clamoring for safe bonds as the European Debt Crisis rages on. Yields on safe-haven bonds such as those of the U.S., Germany, and Japan have seen yields fall to record lows in the wake of these fears. Finland originally said that it would issue bonds of a new maturity later in the year, however, demand has been so high that they did not want to wait.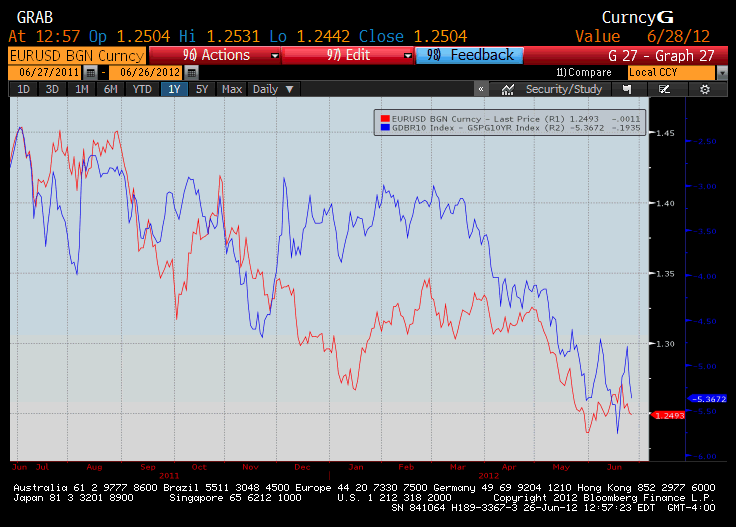 The divergence in yields between core and peripheral European nations continues, as investors flock to safe havens. As can be seen from the chart, the spread between German and Spanish bond yields (blue line) has moved closely with the EUR/USD spot rate (red line) over the past year. Thus, if investors believe that the flight to safety will continue and the spread between German and Spanish yields will continue to widen, a good trade may be to short the EUR/USD.
Posted-In: EMUNews Bonds Offerings Forex Economics Markets Trading Ideas Best of Benzinga
View Comments and Join the Discussion!