Consumer Prices in March Rise as Expected
The Consumer Price Index is a measure of the average change in prices over time of goods and services purchased by households. The Index serves as a headline figure for inflation.
With the economic volatility associated with rising price levels, the Fed often will raise interest rates to check inflation, given a high growth economic environment. On the other hand, low or falling CPI is indicative of declining prices, and may suggest an economic slowdown.
Below is a list of today's headline reading compared to analyst estimates:
Consumer Price Index MoM 0.3% vs 0.3% Est
CPI ex Food & Energy MoM 0.2% vs 0.2% Est
Consumer Price Index YoY 2.7% vs 2.7% Est
CPI Ex Food & Energy YoY 2.2% vs 2.7% Est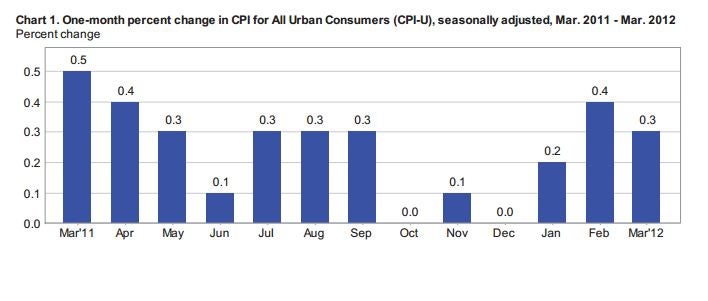 According to the Bureau of Labor Statistics, the Consumer Price Index for All Urban Consumers increased 0.3 percent in March on a seasonally adjusted basis. Over the last 12 months, the all items index increased 2.7 percent before seasonal adjustment.
The indexes for food, energy, and all items less food and energy all increased in March. The gasoline index continued to rise, more than offsetting a decline in the household energy index and leading to a 0.9 percent increase in the energy index. The food index rose 0.2 percent as the index for meats, poultry, fish, and eggs increased notably.
The index for all items less food and energy rose 0.2 percent in March after increasing 0.1 percent in February. Most of the major components increased in March, with the indexes for shelter and used cars and trucks accounting for about half the total increase for all items less food and energy. The indexes for medical care, apparel, recreation, new vehicles, and airline fares increased as well, while the indexes for tobacco and household furnishings and operations were among the few to decline in March.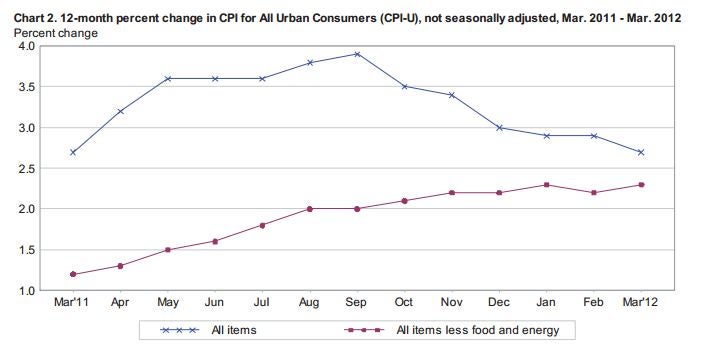 US equity futures saw little change after the 8:30 a.m. ET release. Currently, Dow Jones Industrial Index Futures are trading about 71 points lower in pre-market trading.
ACTION ITEMS:Bullish:
Traders who believe that CPI is a leading indicator for the US economy, you might want to consider the following trades:
Trade the US Dollar (NYSE: UUP). If after a long string of higher inflation, the Fed will likely increase interest rates to stabilize growth, given a favorable economic environment. However, since the Fed promised to keep rates low until 2014, increasing inflation should cause the US Dollar to weaken.
Bearish:
Traders who believe that CPI is not a leading indicator for the US economy, you might want to consider the following trades:
Also, short big-ticket appliance makers like Whirlpool (NYSE: WHR) as demand is more elastic.
Neither Benzinga nor its staff recommend that you buy, sell, or hold any security. We do not offer investment advice, personalized or otherwise. Benzinga recommends that you conduct your own due diligence and consult a certified financial professional for personalized advice about your financial situation.
Posted-In: News Bonds Futures Commodities Forex Events Econ #s Economics Best of Benzinga
View Comments and Join the Discussion!