UK Retail Sales Brings A Nighttime Trade Opportunity
Nothing generates economic activity more than consumer spending. As such, traders should pay attention to any country's Retail Sales. The monthly release of the UK Retail Sales report is Friday, January 20, at 4:30 AM ET. But even if traders pay attention to it, do they really want to trade it in the middle of the night? Unlikely.
Using Nadex GBP/USD spreads, traders can enter the trade the evening before at 11:00 PM ET for a 7:00 AM ET expiration utilizing a strategy. The trade can go for a $35 profit potential or more. To set up the Iron Condor strategy, one spread is bought and one spread is sold. The ceiling of the bought spread should meet the floor of the sold spread and be where the market is trading at the time.
The market tends to react, make a move after this news event and then pull back. This setup is ideal for that kind of move. Max profit is made when the market returns to center between the two spreads. The market can settle within a 70-pip range and still make some profit. As long as there is the same number of spreads being sold as being bought, more spreads can be traded.
If the market takes off and goes beyond 35 pips above or 35 pips below where it was at entry, and it settles there, then there is risk for loss. However, the market can move as far as 70 pips up or down before more risk is incurred than profit potential. That is where stops should be placed after having entered the trade.
The spread scanner allows traders to easily identify which spreads will and will not work for the strategy. The spread scanner's filters can sift through all the available Nadex markets and will bring up the GBP/USD market with the 7:00 AM ET expiration. Then, the red and green colored bars with numbers give an obvious visual of the risk reward for each spread whether selling or buying. Simply look for the spreads with a reward potential of $17 or more. Click on the ticket icon, verify the floor and ceiling parameters and enter the trade. It's painless for beginners as well as advanced traders.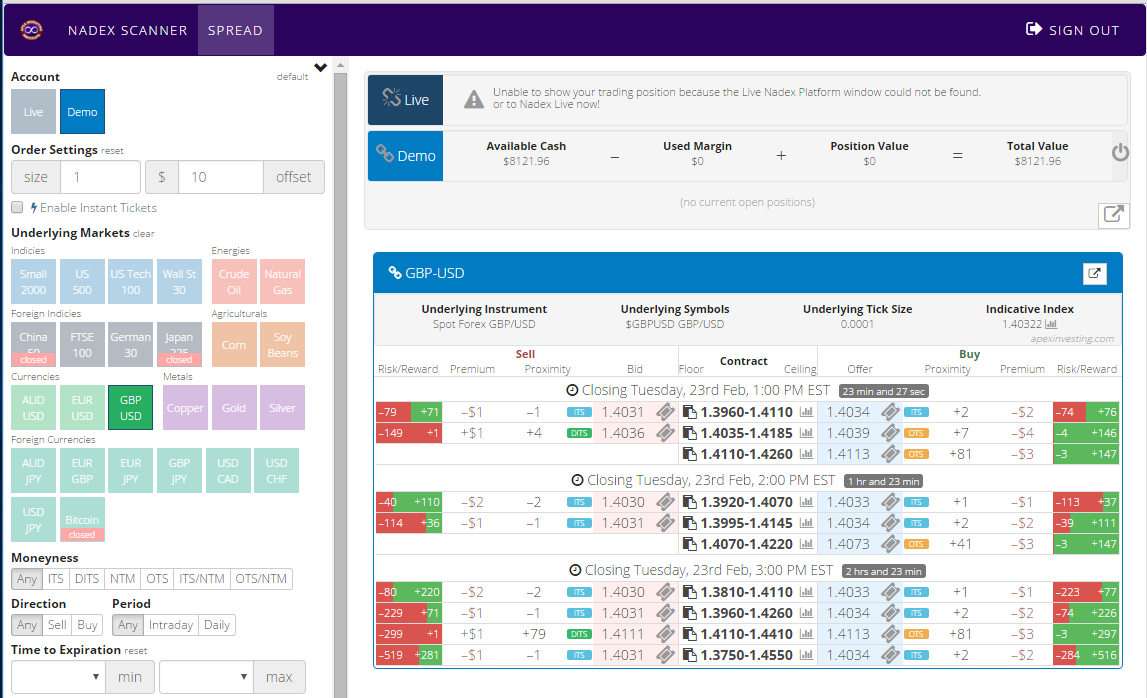 For free access to day trading education and the spread scanner, visit Apex Investing, a community of traders helping traders to achieve their trading goals.
Posted-In: apexinvestingBinary Options Eurozone Futures Commodities Options Forex Markets