Recent Volatility Causes Forex Margin Increases
Every market has seen volatility lately. Because of this, the Commodity, Futures Trading Commission (CFTC) along with the National Futures Association (NFA), the Chicago Mercantile Exchange (CME) and the Intercontinental Exchange (ICE) have all increased margins.
The effective date for many of these margin increases is December 5, 2016. ICE will increase margin requirements on all Russell markets. Since CME and ICE implemented margin increases, the NFA will increase its required minimum security deposits for the Mexican peso, Japanese yen and New Zealand dollar. The new requirements are as follows:
Mexican peso 8%
Japanese yen 4%
New Zealand dollar 3%
The increases will happen at 5:00 PM CST and remain in effect until further notice. NFA announced one decrease as well. CME and ICE reduced the required minimum security deposit for currency pairs involving the Swiss franc, so NFA will equally lower its requirement to three percent, down from five percent. This change goes into effect at 5:00 PM CST December 5, 2016 with the same qualification of being in effect until further notice.
All Forex brokers in the US are also following the guidelines being set forth by the NFA, CFTC and others. TD Ameritrade notified their clients of the upcoming increase. They warn that if the trader wants to trade in the markets listed below, "please ensure that your account has adequate available funds to meet the higher requirements. If you do not have the available funds to hold a position, the standard auto liquidation policy will apply."
Rather than trying to stay on top of all of these changes and worrying about having enough money in a margin account, it is possible to trade with Nadex. Risk is defined up front and is capped, making margin calls unnecessary.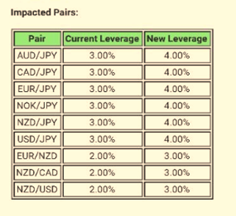 Before a trade is entered, profit and loss potential is known beforehand. It is also possible to exit the trade early to cut losses and protect profits.
Nadex offers binary options as well as spread trading. If a trader is new to trading, a free demo account can be opened, with the opportunity to learn without risking real money. When the trader is ready to start trading live, a live account can be opened with as little as $250.
Apex Investing offers free training for learning how to trade with Nadex or any other instrument you choose.
Posted-In: apexinvesting binaryBinary Options Eurozone Futures Commodities Options Forex