Freight Market Watchers Agree, 2019 Will Be A Year Of The Same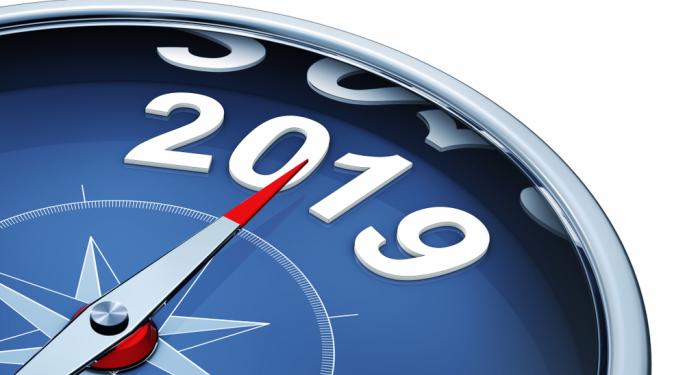 More of the same. That was the consensus in a quick informal poll of listeners to FTR's State of Freight webinar on Thursday when they were asked what the most likely outcome was for the U.S. economy in 2019. Of those responding, 81 percent believe the economy will be no worse than it is today, with 33 percent of those believing it will be "close to or better than 2018."
Those views fall in line with FTR Senior Economist Bill Witte, who said that even if the economy slows next year, it won't be any worse than it currently is. "[Next year] is essentially going to be a sequel to 2018," he said, adding that he thinks unemployment still has a further dip in it, and that will help household balance sheets.
"There are a lot of uncertainties, more uncertainties next year than this year," he added. "But on the other hand, the reason I think it will be the same is the economy has a lot of momentum and momentum will carry us through the first half of the year… and the labor market is tight, and it will continue to remain tight."
Only 4 percent of respondents to the webinar survey believe there will be negative growth next year, while 15 percent think there will be growth, but it will be weak.
In its 2018 outlook webinar last year, FTR asked participants what they believed would pose the greatest risk to the economic recovery in 2018. In 2017, 53 percent said the political environment was the greatest risk. While that didn't pan out, the concern remains for 2019. In this year's poll, 40 percent think the political environment poses a great risk, but topping the responses this year are trade concerns, with 46 percent worried about trade.
"One of the things about the trade situation is it's creating a lot of uncertainty. And uncertainty in itself [is worrisome to businesses]," Witte said, which could be contributing to a slowdown in business investment and offsetting some of the expected benefits of the tax cuts.
Avery Vise, vp-trucking for FTR, noted tariff impact is likely to be "commodity specific," although supply chains face the biggest impact of a trade war.
"The longer-term risk is changes to supply chain sourcing which could be very disruptive," he said. "This is one of the biggest risks of all in 2019 as far as transportation is concerned."
Both men agreed that the likelihood of any major disruption next year is minimal and more long term into 2020-2021.
In terms of economic performance, FTR pegs a 15% chance of faster growth by the fourth quarter of 2019 and a 15 percent chance of slower growth. It is more bearish over a two-year period, with just a 10% chance of faster growth and a 40% chance of slower growth.
"We're not looking at any kind of cliff event," Vise said. "What it almost will become is a reset from where we are today. The growth we see from today to the end of next year would be wiped out … so we're not really looking at things being worse than they are today."
That could change, of course, depending on the winds of change. Those winds include a continued trade war with China, financial market difficulty, significant changes in the exchange rate of the dollar, international debt problems, significant changes in oil prices, and a federal budget deadlock.
If the U.S. reaches a trade deal with China, oil prices remain stable, and there is a new deal on tax cuts, those will provide positive momentum to the markets, Witte noted.
"Lower prices (oil) are bad because we are now an oil-producing country," he said. "The stock market has been up and down, up and down, and now up again. It hasn't moved to a significant extent to [impact] the economy, but I think we will see more ups and downs. … the question is if we will see a significant decline."
A higher dollar could crimp exports as well, and Witte noted that there are more things that could go wrong to derail the economy than could go right. However, "our base outlook is pretty solid simply because of the momentum the economy has," he said. "And even if things go wrong, the impact probably doesn't hit in 2019."
The political environment with the Democrats taking over the House also jumbles the picture a bit.
"It's anybody's guess; it clearly changes things," Witte said. "On the positive side, it makes sense to me that the Democrats will want to lay down a record of constructive achievements and that opens the possibility to deal making. The two things that come to my mind are an infrastructure package … and it's conceivable the Democrats may go to some kind of change on the personal tax changes, extending them permanently. That's the optimistic view."
Witte noted that the stronger hold on the Senate the Republicans now have after the midterms might help the Trump administration fill some of the open agency positions, which could help with more deregulation efforts. Vise, though, doesn't think there will be much change on the legislative front, noting that while Republicans held all three chambers, the only major piece of legislation to emerge was the tax reform bill.
"The advantage of the Senate is somewhat offset by the House going Democratic, so you have the status quo," he said.
One piece of regulation that is likely to see the light of day in 2019 is a change to the hours-of-service rules. An Advanced Notice of Proposed Rulemaking (ANPRM) was introduced last month seeking input on how to adjust HOS to better accommodate drivers. This might include splitting the sleeper berth time and elimination of the mandatory 30-minute break.
"That's on a fast track and I don't see the election changing that," Vise said. "There is going to be no ability for the House to stop that."
Don't expect changes to happen soon, though. "I would imagine that by the end of next year we will have a rule considerably loosening hours of service," Vise added. "There will clearly be a lawsuit filed … so they are not going to rush this to have a court, even a favorable court, say you didn't consider this [or that] … there is a considerable record they are going to have to build."
Vise said to watch during the lame duck session of Congress over the next month-plus for possible movement on 33-foot twin trailers and a possible decision on the meal-and-rest break rule that California has been fighting. Vise doesn't think it is likely anything will happen, but lame duck sessions can yield surprises.
Posted-In: Markets
View Comments and Join the Discussion!