Dating Is Good Business On Wall Street — Now Users Can Also Turn A Profit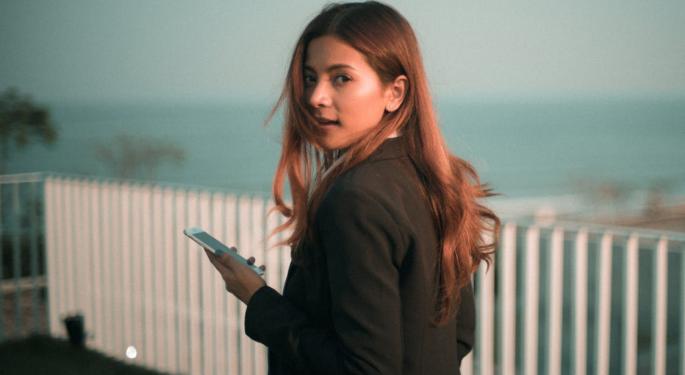 Online dating is one of the most popular ways for singles to find others looking for some kind of relationship or another — it is just so easy and convenient. The proliferation of online dating platforms such as Match Group Inc (NASDAQ: MTCH), Tinder, and OKCupid has fueled an increase the number of people searching for romantic partners online.
However, as popular as online dating is, experts believe that dating site questionnaires and match-making algorithms are not always competent enough to help people find their perfect partners. Reuben J. Thomas, assistant professor of sociology at the City College of New York notes that "there is no built-in social support network to reinforce the relationship of an online couple as there is for a couple who met through friends or family or a religious congregation."
In another interesting piece, Casey Johnston of The Future notes that "it takes 3000 swipes to maybe, maybe get one person's ass in the chair across from you" when using the Tinder app to find potential dates. This piece looks at how daters can improve the odds of finding a perfect match and earn money by in their search for partners.
The business of online dating is good business
The chart below shows the performance of InterActive Corps (NASDAQ: IAC) the parent company of Match Group properties Tinder, OkCupid, PlentyOfFish, and Match among others. The chart shows how IAC has fared in relation to the broad Wall Street market in the last five years.
From the chart, you'll observe that IAC has delivered gains of 254.8 percent in the last five years. In contrast, the Dow Jones Industrials and S&P 500 are only up 80.24 percent and 79.24 percent respectively in the same period. Technically, investors would have had better returns investing in dating companies than investing in "serious" tech or industrials on Wall Street over the last five years.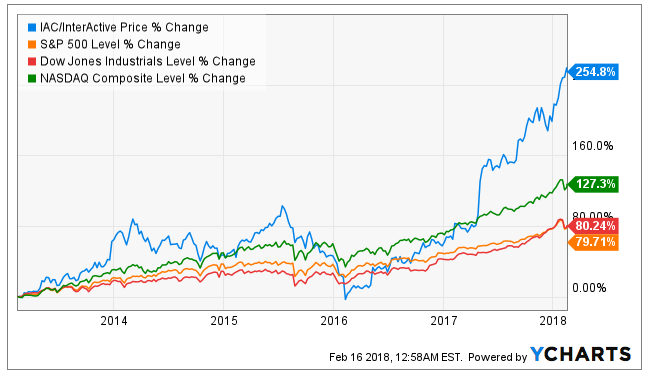 It's an understatement to say that online dating is big business. Researchers at IBISWorld submit that the online dating industry is a $3 billion business. Revenue for online dating companies has heald steady at about 5 percent growth, which generally comes from two sources: subscription and advertisements.
Make Money By Matchmaking
Humans are ultimately better at spotting chemistry than machines, and a new blockchain based platform is out to unlock value from the unmistakable ability of humans to be matchmakers. Ponder is a decentralized matchmaking platform where people are incentivized to matchmake both friends and strangers. Ponder believes that social referrals done by other humans as opposed to AI leads to the best matches and the perfect matches have better odds of blossoming into better relationships.
Ponder has already managed to raise $1.5 million in seed funding and is setting up shop and as a platform where people can make introductions at scale by taking informal social matchmaking activities to the mass-market. The Ponder platform, which boasts more than 70,000 users of its Beta version, aims to find success by encouraging matchmaking through game mechanics and financial rewards.
Users login to Ponder using Facebook and they chose if they are "Interested in playing matchmakers" or "looking for love." Matchmakers will see a stream of friends and strangers that they can suggest as potential matches based on their interests. The people matched are then notified, if they like each other, the matchmaker earns a $10 success fee. If the people matched continue their relationship to the point of getting married, the match maker earns a $1000 bonus.
But matchmaking goes beyond spotting chemistry or looking at people that might be interested in pursuing romantic relationships. Matchmakers on Ponder will eventually be extended to include people who need to forge business partnerships, professional headhunters, and people looking for roommates among others.
Get paid to receive messages from potential dates
Luna is another interesting play in the blockchain-powered dating ecosystem. Luna believes that online dating suffers from two major deficiencies, namely: poor user-matching algorithms and ill-defined rules of engagement leading to attention imbalance, fake accounts, and misuse of personal data. The unfortunate reality is that many dating platforms do not have a barrier or cap to initiating contact with other users.
Secondly, the matching algorithms used by some online dating services are not refined and can be subject to manipulation. The fact that there are often more males than females on a platform also creates a scenario where the "more attractive" females get many low-investment messages, irrespective of whether the sender is a potential match or not. The funny part is that you never really know if you are messaging nice looking people or properly composed and edited photographs.
Luna has created a solution focused on solving the attention deficit in the messaging aspect of dating by incentivizing and gamifying the dating process. On Luna, its costs Stars to send messages, and there's a cap on the number of messages that recipients can receive daily. Hence, people would have to put some thought into the possibility of a match before they send a message. The recipients of messages in-turn "earn" the stars attached to the messages in their inbox when they read the messages. Hence, recipients of messages are incentivized to respond to messages in a timely manner to keep conversations flowing.
View Comments and Join the Discussion!
Posted-In: Blockchain marketacrossMarkets Tech General Best of Benzinga