Jobs Watch: Key Payrolls Data Up Tomorrow As Market Ends Summer On Upswing
The stock market keeps shaking off hurricanes and North Korean missiles, and starts the last day of meteorological summer riding a four-session rally. The S&P 500 Index (SPX) is now only about 1% below its all-time highs recorded a few weeks back.
Nasdaq, with its heavy mix of info tech stocks, did even better Wednesday and posted gains of more than 1%. Netflix, Inc (NASDAQ: NFLX) climbed 3% and Apple Inc (NASDAQ: AAPL), one of the biggest holdings of TD Ameritrade investors, reached a new all-time high. Biotech stocks added fuel, with the Nasdaq Biotechnology Index up 2% (see chart).
With yesterday's gains, the major indices are all hugging the unchanged level for August, so we'll see if there's any sort of end-of-the-month rally. From a technical perspective, now that the SPX has eclipsed resistance just above 2450, resistance at 2475 remains the next potential brake on the rally train, according to research firm CFRA.
Next up: Monthly payrolls data for August. The report, due early Friday, comes after two consecutive months of 200,000-plus jobs growth. It's been nearly two years since the economy posted three consecutive months above 200,000, and analysts don't expect that to happen. Estimates generally range from 170,000 to 190,000, with a consensus of 183,000, according to Briefing.com. That would be down from 209,000 in July, but still a healthy number.
Unemployment is projected steady at 4.3%, Briefing.com said, with hourly wage growth up 0.2%. These numbers all look kind of vanilla and would signal continued economic growth like we've seen lately and no major wage pressure. As far as market impact, watch the close today for signs of people getting long ahead of the report, and also for any pop in bonds, gold, or volatility heading into the number.
Some of Wednesday's strength might be chalked up to a bullish estimate for August jobs growth by the ADP, which is often seen as a preview of the government's monthly payrolls report (see below). Renewed hopes that Congress and the president might address tax reform this year also contributed to the bullish flavor.
Additionally, the government lifted its estimate for Q2 economic growth to a healthy 3%, from 2.6% previously. That 3% growth estimate — which showed rising consumer and business spending — initially helped raise expectations for a Fed rate hike. Chances for another hike by the end of the year rose above 40% in the futures market late Wednesday, but fell back to around 36% by Thursday morning.
Today's Personal Consumption Expenditures (PCE) prices data for July might also shape the Fed's thinking when it comes to rate hikes. PCE prices, which rose just 0.1% in July, are among the Fed's most closely watched indicators. Judging from today's report, inflation remains light, but there's still plenty of time until the Fed's December meeting, and several more inflation reports before then. Some analysts still believe a third 2017 rate hike is a possibility. The stronger consumer confidence numbers reported earlier this week add to the positive tone about economic vigor.
The wildcard could be Hurricane Harvey and its potential impact on Q4 economic growth. You hate to turn here in the middle of a tragedy, but once people are safe, there's a lot of speculation about the hurricane's ultimate impact on the economy. Certain businesses — including hotels, restaurant chains, airlines, and the energy and insurance sectors — could feel the effects well into Q4 as cleanup continues. Meanwhile, package delivery is messed up, so that has implications for package delivery companies and online businesses. Also, 75,000 people are expected to be late on their mortgages, so that could affect the financial sector. People are suffering a tragedy and their safety is most important, but on the back end there's a lot of chaos connected to the region's economy.
Oil remains near one-month lows, and that reflects a drop in demand from offline refineries in the area. From a broader perspective, the rest of the country isn't going to stop driving or flying because of the hurricane, and eventually that oil could be needed. Gasoline futures spiked to $2 a gallon late Wednesday. That's the highest in two years and might mean your next stop for gas costs a bit more. Any long-term rise in gas prices could have negative implications for the economy, but it's still early to start worrying.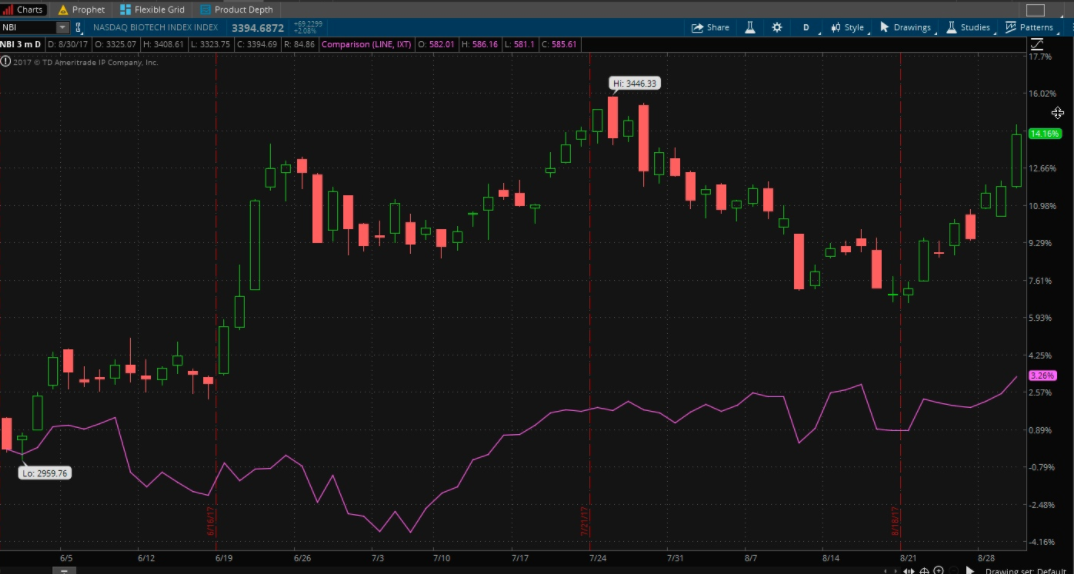 FIGURE 1: BIOTECH BONANZA. The Nasdaq Biotechnology Index, tracked here over the last three months, rose 2% Wednesday and has been outpacing even the information technology sector (purple line). This could be a sign that more investors are comfortable with some of the more aggressive and volatile sectors. Data sources: Nasdaq, Standard & Poor's. Chart source: The thinkorswim® platform from TD Ameritrade. For illustrative purposes only. Past performance does not guarantee future results.
Estimate Falls for Q3 GDP: It's an open question how Hurricane Harvey might affect gross domestic product (GDP) moving forward. Yesterday's Q2 GDP estimate from the government was a backward look, but the Atlanta Fed's GDP Now indicator predicts 3.4% growth this quarter. That was updated last Friday from the previous 3.8% estimate, as weak housing data started to weigh on growth estimates, the Atlanta Fed said.
Looking Back At Katrina as Harvey Fades: Sometimes GDP gets a bump from storms because rebuilding efforts can inject vigor into local economies. After Hurricane Katrina in late August 2005, GDP growth fell to 1.7% in Q4 from 4.1% in Q3 — the quarter in which the hurricane occurred — but rocketed to 5.6% in Q1 of 2006. While it's tough to isolate exactly why growth surged, it might have reflected some impact from the hurricane. On the other hand, GDP growth sputtered the following few quarters, perhaps a sign that some demand got pulled forward. While past isn't precedent, one item might be worth noting. Since 1954, the S&P 500 Index (SPX) has posted an average gain of 7.3% and a median gain of 8.4% in the six months following a U.S. hurricane, according to Ned Davis Research. The firm studied 44 storms. Read more here about the storm's possible impact on stocks and the economy.
Digging Into Jobs Data: As always, study where the job growth came in tomorrow's payrolls report. In July, the leading sector for growth was food services and drinking places, but health care and professional services also came in strong. We'll see if manufacturing and construction gained ground, and also keep an eye on the U6 unemployment rate, which accounts for both unemployed and underemployed workers. It held steady at 8.6% in July, and if it fell in August that could be a positive sign of more people seeking work in a growing economy.
TD Ameritrade and all third parties mentioned are separate and unaffiliated companies, and are not responsible for each other's policies or services. The information is not intended to be investment advice or construed as a recommendation or endorsement of any particular investment or investment strategy, and is for illustrative purposes only. TD Ameritrade, Inc., member FINRA/SIPC.
Posted-In: JJ Kinahan TD AmeritradeMarkets
View Comments and Join the Discussion!