Big-Name Tech Surges Post Earnings, Lifting Stock Averages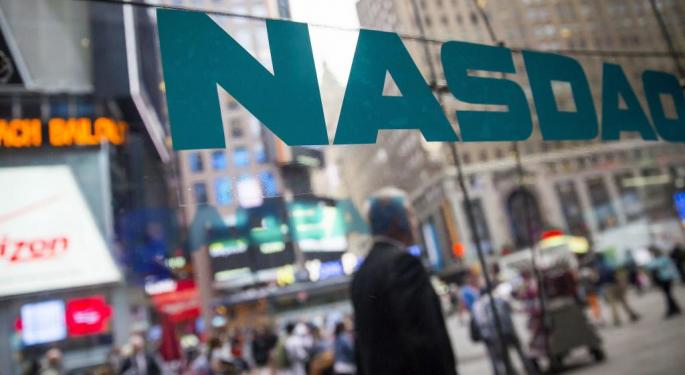 U.S. stocks appeared headed for Friday and weekly gains, boosted by a tech powerhouse threesome that delivered Street-beating earnings in Thursday's after-hours session.
It's an impactful series of results that builds on what has been a string of better-than-expected earnings news from a cross-section of the economy this week. Or had the Street just generally crunched conservative numbers heading in to this reporting round? Remember, global headwinds drove many company execs and stock analysts back to the drawing board.
Nonetheless, tech optimism was expected to be most apparent in the Nasdaq Composite (COMP), and spread to the broader averages. This followed a gain on Thursday for the Dow Jones Industrial Average ($DJI), in figure 1, that neared 2%. The percentage gain and the Dow's some 320-point advance were the largest for the blue-chip barometer since September 8.
Europe's higher trade added to general global equity market optimism after the European Central Bank left the door cracked for more economic stimulus measures as needed. In fact, one measure, the Stoxx Europe 600 index, was headed for its third straight weekly gain.
Stimulus hopes didn't stop there. Early financial media reports said China's central bank has cut benchmark interest rates there. Earlier, China's Shanghai Composite closed up 1.2%. Japan's Nikkei 225 logged a 2.1% advance Friday, as a weaker yen versus the dollar helped its exporters. Both oil and gold traded higher.
The CBOE Volatility Index (VIX), the market's "fear gauge" plunged over 13% to 14.45 on Thursday and is indicated to remain lower. VIX, which tends to track opposite the S&P 500 (SPX), is back in territory seen for much of the early part of 2015. It's defying what many expected to be a "new normal" for VIX, a return to territory near 20 that had been closer to a long-running historical average.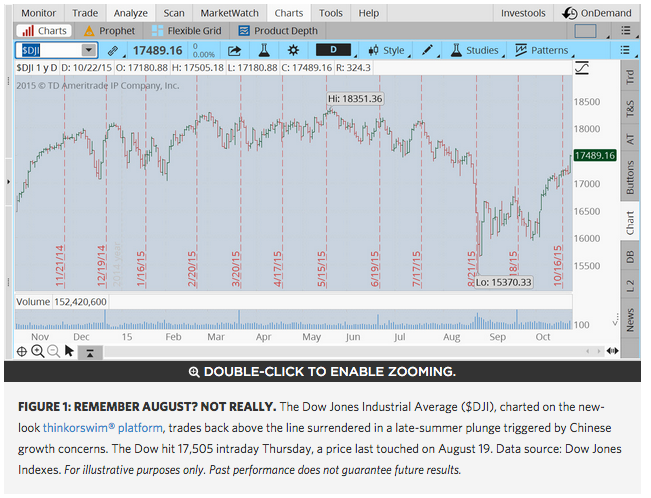 Amazon Surprises. Again. Retailer-and-more Amazon.com (NASDAQ: AMZN) is up for sharp gains early Friday, building on a post-bell Thursday advance that followed another quarter for unexpected black ink. AMZN made $79 million, its second straight profitable quarter as it detailed a reduction in spending, bucking a trend that had it funneling nearly every dollar made right back into the company. Sales in the quarter were up 23% from the year-ago comparison. Its Amazon Web Services cloud-computing unit reported a 79% sales increase to $2.09 billion. That topped industry analyst expectations for just under $2 billion. The division's operating profit of $521 million was nearly as much as the total for Amazon's North America retail operation, company stats revealed. AMZN, echoing comments from eBay (EBAY) earlier this week, was optimistic for holiday web sales overall. AMZN shares are up over 80% year to date.
Alphabet Spells Out Quarter's Details. Alphabet Inc. (NASDAQ: GOOGL), newly named parent of Google, reported adjusted earnings of $7.35 per share. Analysts had expected the company to earn $7.20 on that basis, according to Thomson Reuters. A year earlier, the company earned a comparable $6.25. Revenue rose 13% over a year ago, to $18.68 billion in the reporting quarter. This was its first earnings since the company formerly known as Google Inc. reorganized as Alphabet. Refresher for those keeping score at home: the company separated its core business—Google, which includes its search business and YouTube—from its more experimental divisions, such as Nest Labs. Google (NASDAQ: GOOGL), the company's largest and most profitable business segment, was expected to show improved margins with its separation from Alphabet's "moonshots" business lines, according to Street analysts.
Microsoft: Don't Count Out "Old" Tech. Microsoft (NASDAQ: MSFT) shares kissed a 15-year high in the immediate reaction to a post-close Thursday earnings beat. MSFT is also an early Friday gainer after that Thursday report revealed adjusted earnings of $0.67 a share compared with $0.65 in the year-earlier quarter. Revenue decreased 12% to $20.38 billion, and was $21.7 billion on an adjusted basis, which excludes Windows 10 revenue deferrals. Analysts polled by Thomson Reuters had expected per-share profit of $0.59 and revenue of $21.03 billion. The "Intelligent Cloud" segment--which includes include public, private and hybrid server products and services, such as Windows Server, Azure and Enterprise Services recorded a revenue increase of 7.6% to $5.89 billion. Operating profit grew 14% to $2.4 billion.
Inclusion of specific security names in this commentary does not constitute a recommendation from TD Ameritrade to buy, sell, or hold.
Market volatility, volume, and system availability may delay account access and trade executions.
Past performance of a security or strategy does not guarantee future results or success.
Options are not suitable for all investors as the special risks inherent to options trading may expose investors to potentially rapid and substantial losses. Options trading subject to TD Ameritrade review and approval. Please read Characteristics and Risks of Standardized Options before investing in options.
Supporting documentation for any claims, comparisons, statistics, or other technical data will be supplied upon request.
The information is not intended to be investment advice or construed as a recommendation or endorsement of any particular investment or investment strategy, and is for illustrative purposes only. Be sure to understand all risks involved with each strategy, including commission costs, before attempting to place any trade. Clients must consider all relevant risk factors, including their own personal financial situations, before trading.
TD Ameritrade, Inc., member FINRA/SIPC. TD Ameritrade is a trademark jointly owned by TD Ameritrade IP Company, Inc. and The Toronto-Dominion Bank. © 2015 TD Ameritrade IP Company, Inc. All rights reserved. Used with permission.
Posted-In: Markets Movers Best of Benzinga
View Comments and Join the Discussion!