What You Should Do In A Market Downturn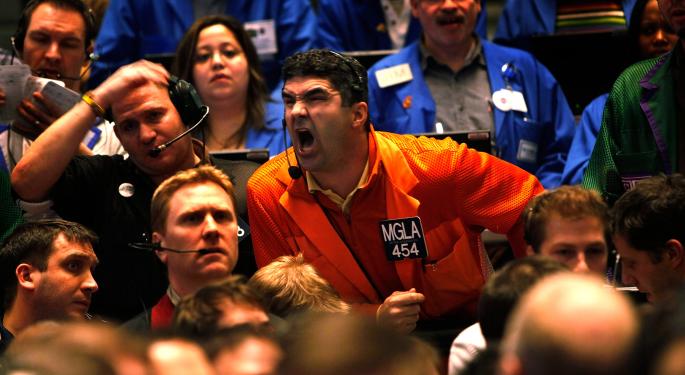 This post is sponsored by Betterment
It's a fact that people make decisions differently when calm and collected (academics call this a 'cold state') compared to when they're reacting to an emotional situation, such as a market downturn.
You don't need to be a behavioral economist to know which state of mind results in better decisions. So, whenever possible, it's smart to discuss those potentially nerve-wracking situations as far ahead of time as possible to set up a plan you can stick to.
When it comes to your investments, it's helpful to acknowledge today that you will go through that stressful situation tomorrow or in seven—or 17—years from now. This preparation will help you be less stressed, perform better and give you the ability to tune out the short-term noise in the future. Remember, one broken egg doesn't ruin the whole dozen.
On average you are better off staying invested at the correct risk level for your investment horizons than trying to maneuver and avoid a temporary market loss. Not only is adjusting your portfolio allocation a form of market timing, it also will cost you money—selling shares to move to a less risky position means a tax bill.
Instead, a better plan is to have a good long-term plan and stick to it.
Try the feeling on for size.
I want you to plan for a market downturn in advance and not react when it happens. Spend some time imagining how this would feel:
It's Friday morning, and in the past week the S&P 500 has fallen 20 percent. When you hear the morning news, it's nonstop about how badly the markets are doing. The paper is comparing the drawdown to 2008. Frankly, it's scary as hell, and when you look at your investments they are down 18 percent to where they were earlier that week.
What will you do?
(A) Increase your stock allocation or throw money into the market hoping to get some bargain prices.
(B) Nothing. Time to go work and conduct business as usual.
(C) Decrease your stock allocation to all cash.
I hope it's clear that the prudent thing to do is option (B), at least as long as you are already at your correct stock allocation. Reacting to market drawdowns by moving to cash is like swerving your car after you have hit the pothole. It won't help you fix the damage that is already done, and it's likely to cause a new accident or problem in the future.
That said, there are beneficial steps you can take in response to a market downturn.
Rebalance opportunistically.
Market drawdowns are one of the most frequent causes of rebalances, as the losing asset become underweight relative to the stable assets. Rebalances should be an automatic and systematic way to buy lower and sell higher. However, in taxable accounts, selling can trigger taxes, even if the asset is substantially below its all-time high.
Liquidate your legacy losers.
The most common barrier to consolidating your investments is capital gains tax. Take advantage of a short-term market drawdown and let go of an under-performing mutual fund, or diversify away from a single stock position. What can you do today? Prepare a short list of investments you would like to liquidate, and the price at which you will give them the pink-slip. The 'tax switch calculator' shown below can help with the details of this decision. Given the costs for each option, it will let you know if it's better to stay or switch, given how long you're investing for.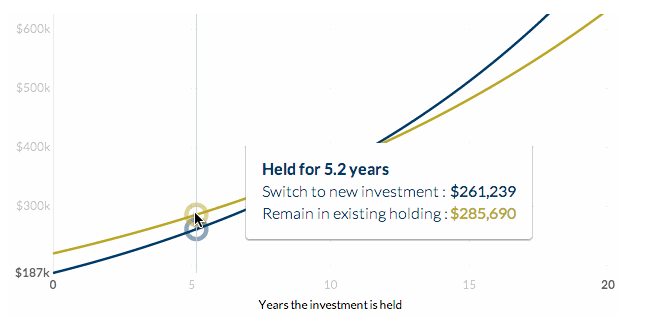 Interact with the investment switching costs calculator on Betterment.
If you can't stand the heat… turn it down.
While the best investment strategy is typically to stay invested, some people could find the stress simply to be too much. If you think you might make an extreme decision—such as moving to 100% bonds—if the drawdown continues, then it's okay to reduce your risk temporarily. Adjust from 90% stocks to 60% stocks, for example, for a 60-day period. Make sure you set a reminder to revisit your portfolio at that point. While we don't believe it will improve your performance from a 'cold' view, it means you'll be less likely to make an emotional decision, and you'll have a higher return per nights lost sleep.
Take a vacation from your portfolio.
My own research has shown that people are more likely to monitor portfolios during volatile periods. The only problem is that with high-frequency monitoring, your portfolio will seem riskier to you than it actually is. A better strategy is to log in less during volatile periods—a strategy that successful investors with higher emotional intelligence follow. Sometimes it pays to be the ostrich.
The core reason investing has higher expected returns compared to a cash account is that it is the compensation for bearing risk. Your "job" as an investor is one of the easiest ones in the world, at least physically—you must do nothing. That said, it's not emotionally easy. It's very uncomfortable to not react, even when it's the right choice. So choose your reaction with a calm heart and a clear mind.
¹Explore historical returns here. For full disclosure on how we compute historical performance, please see here.
²Tax loss harvesting will only occur for qualified customers who have turned on the service for their account. Learn more about our tax loss harvesting.
This article originally appeared on Betterment.
Dan Egan is the Director of Behavioral Finance and Investments at Betterment, the largest, fastest-growing automated investing service, helping people to better manage, protect, and grow their wealth through smarter technology. Dan has spent his career using behavioral finance to help people make better financial and investment decisions. He is an author of multiple publications related to behavioral economics. He lectures at Columbia University, New York University, Wharton Business School and the London School of Economics on the topic.
Determination of largest automated investment service reflects Betterment LLC's distinction of having the most accounts, based on Betterment's review of account numbers self-reported in the SEC's Form ADV, across Betterment's survey of RIA automated investment services. Determination of fastest-growing automated investment service reflects Betterment LLC's distinction of obtaining the largest number of new accounts since January 1, 2014, based on Betterment's review of account numbers self-reported in the SEC's Form ADV, across Betterment's survey of automated investing services.
More from Betterment:
9 Ways Goal-Based Investing Leads to Success
A Short History of Technology and Investing
Advice for a Market Downturn: Have a Calm Heart and Clear Mind
Find out more about Sponsored Posts.
Posted-In: BZ SponsoredMarkets Best of Benzinga