Walgreen Co. Or CVS Caremark: Which Would You Rather?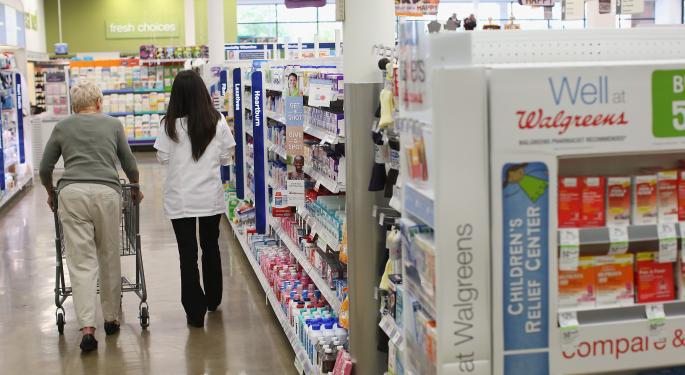 The business of chain drugstores has been a veritable model for how just about any retail business should envision itself.
Over the past 75 years, chain drugstores have seen staggeringly consistent growth while becoming an increasingly pervasive part of America's cultural landscape. With all the success this market has seen in the last three-qarters of a century, there is no reason to expect it to slow down anytime soon.
Two of the most prolific leaders in the drugstore space are CVS Caremark (NYSE: CVS) and Walgreen Co. (NYSE: WAG). From a distance, these two powerhouses are neck-and-neck in the stock game, but upon closer examination one may actually be a better overall fit for an investment portfolio.
So which would you rather add to yours…Walgreen Co. or CVS Caremark?
Related: Amazon Or Alibaba: Which Would You Rather?
There is a lot of similarity between these two companies, to the extent that they almost look like corporate fraternal twins. Both companies have an absolutely enormous, nearly unavoidable presence across the country -- and both are adjusting well to the changes in the nation's healthcare infrastructure that are being implemented through Affordable Care.
They are also both in the planning stages of onsite primary-care facilities that would ideally be staffed with both a general practitioner and a physician's assistant. According to the proposed model this would give customers access to basic but professional health care within the pharmacy, which would obviously increase the level of convenience exponentially.
Walgreen's has more than 8,000 stores in the United States and Puerto Rico -- which makes it the biggest chain in terms of revenue -- and the stock's performance has almost always been indicative of the company's dominance in the market. Experts are predicting retail revenue to hit the $75 billion mark by the end of 2014, which would equate to growth of roughly five percent over 2013 with earnings per share expected to be up by more than 30 percent.
Of course, the proof is in the pudding and only time will tell. But while the company has expanded its presence and coughed up nearly $9 billion on retail and wholesale distribution acquisitions since 2012, the question remains whether or not it will be able to continue to ebb and flow so smoothly with the ever-changing healthcare picture in the US.
Then there is the runner-up in the retail drugstore race, CVS Caremark. But make no mistake, "runner-up" is a fairly loose term here, since the company's 7,660 stores in the United States, Puerto Rico and Brazil make it a very close runner-up to Walgreen Co., that is getting closer all the time.
Despite their second-place position in the retail sector, CVS does edge out Walgreen's as the country's biggest pharmacy healthcare provider, and they have the stock numbers to prove it. The brand's expansive pharmacy benefit management services accounted for fully $126 billion, or nearly 55 percent, of its sales in 2013.
They also operate the most extensive network of retail health clinics in the country with more than 800 currently open and plans for an additional 150 by the end of 2014 and a total of 1,500 by the close of 2017.
Loading...
Posted-In: drugstore drugstore chain healthcare medicine Pharmaceutical pharmacyMarkets Best of Benzinga
View Comments and Join the Discussion!