Which Would You Rather Blunder Edition – AOL Or Time Warner?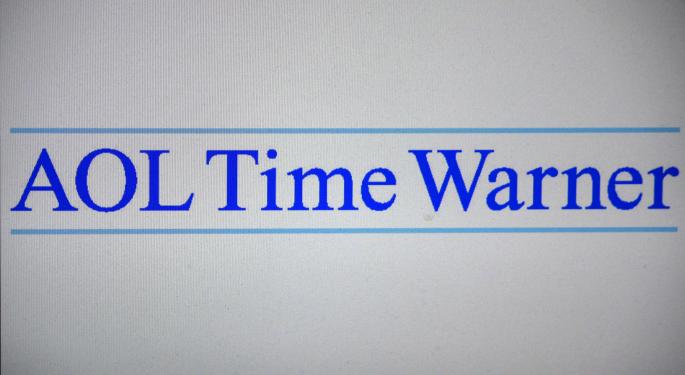 It has been about five years since one of the worst corporate mergers in history was officially terminated.
It is hard to imagine now, but at one time America Online (NYSE: AOL) and media giant Time Warner (NYSE: TWX) were actually the same company.
While this is not the venue to get into all the nitty gritty of how this monstrosity of a company came to be, it is interesting reading for anyone who likes disaster stories. Here, we will take a look at what the two companies' stocks have done since the break-up, specifically over the past 15 months or so.
AOL's Content Keeping It In the $40s
America Online is no longer primarily an internet service provider. Instead, the company has taken content production as its mandate, and has become a veritable farm of internet content.
The company began 2013 trading at $30.24, down from highs in the $40s in late 2012. By mid-February the stock was again flirting with $40 per share, and it continued to trade between $37 to $40 until late May. Summer 2013 was relatively uneventful for the stock, which continued in a 10-15 percent trading range until mid-fall.
See also: No Leg Work Wednesdays How IBM Blew The Deal With Microsoft
From late October into early November AOL experienced a surge in share price, jumping $10 practically overnight – to the $45 trading range – which is where it finished the year. Though the company's stock spiked to over $53 per share in mid-January 2014, it quickly fell back to the low $40s, where it is currently trading.
Time Warner's Great 2013, Not Much 2014
Time Warner began 2013 trading at $48.71. The company's stock trended upwards throughout the year, with some momentary bumps along the way.
The stock crossed the $60 per share mark in late April, and abruptly rand out of steam, before going on successive runs in the summer and into the fall. By the end of the year Time Warner had crossed the $70 per share mark, and closed out 2103 at $69.67 for a 43 percent gain.
2014 didn't bring much good news for Time Warner shareholders, as the stock has thus far failed to move past its 2013 close. In fact, most recent trading has the stock down about $4 for the year.
Can Either Win At Mobile?
In the years since the dissolution of their much maligned merger, both AOL and Time Warner have invested heavily in generating revenue through internet content. But investors may get increasingly nervous as internet users switch from PC based web access to mobile web access.
These kinds of seismic changes have signaled the ends of many businesses, and both of these companies will be on the chopping block if they are not able to produce innovative ways to keep readers' attention in a changing technological landscape.
Posted-In: AOL AOL Time Warner Time WarnerMarkets Best of Benzinga
View Comments and Join the Discussion!